Wage Boost: Pound Sterling Sent Higher Against Euro and Dollar as Pay Increases Hit 10-Year High
Image © Auremar, Adobe Stock
- Wage growth hits ten year high
- Economy seen achieving full employment
- Data bodes well for Sterling, but only if Brexit saga fades away
U.K. wages grew faster-than-expected in August according to the latest labour market statistics released by the Office for National Statistics, news that allowed Sterling to recover more of the losses suffered at this week's open.
The Pound was seen trending higher against the Euro, U.S. Dollar and a host of other major currencies after the ONS reported the Average Earnings Index, with bonuses included, grew 2.7% in August, up on the 2.6% in the previous month and ahead of the 2.6% forecast by economists.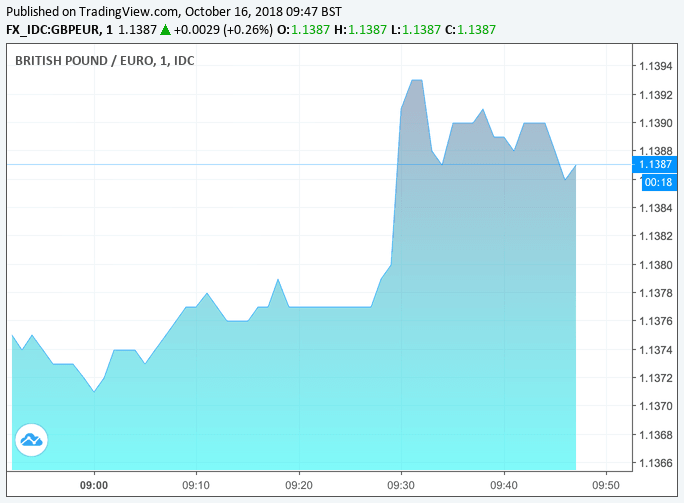 Above: Sterling catches a bid against the Euro following the release of wage data. Image (C) Pound Sterling Live, TradingView.
Average earnings, excluding bonuses delivered a more impressive 3.1% growth, ahead of a previous reading of 2.9% and a consensus forecast for 2.9%.
The ONS also said that UK unemployment fell by 47K to 1.36 million in the three months to August.
The unemployment rate remained unchanged at 4%.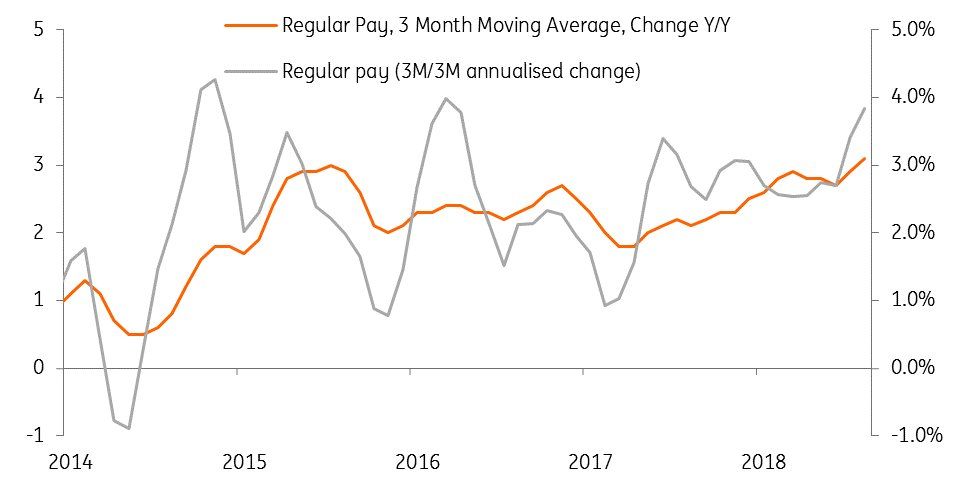 Image courtesy of ING Bank N.V.
Rising wages suggest the economy has reached full employment. There is simply no longer the pool of free labour available to fill job openings that there once were, hence companies are having to offer higher wages to attract talent.
"Has the UK finally reached full employment?" asks economist Kallum Pickering with Berenberg Bank, "yes, it would seem so," is the answer.
The ONS reports employment gains dropped off in August (-5k) after only modest gains in July (+3k), a development that might appear concerning. But the ONS reports vacancies are at record levels and pickering says this negates the risk of some sinister turn in employment dynamics.
Record vacancies, rising wages but a nudge lower in employment gains only serve to suggest the economy is running at full employment.
This is a key condition that must be met for the Bank of England to consider increasing the pace at which it raises interest rates. Such a move is predicated on the assumption that rising wages tend to fire up inflation; raising interest rates tends to act as dampener on those inflationary pressures.
"U.K. wage growth has really motored along over the summer as firms increasingly encounter skill shortages. That'll keep the BoE on a tightening track - but Brexit 'no deal' uncertainty makes a rate hike very unlikely before March 2019," says James Smith, an analyst with ING Bank N.V. in London.
A side effect of higher interest rates is of course the support it lends Sterling.
At the time of writing the Pound-to-Euro exchange rate is quoted at 1.1329 in the past 24 hours.
The Pound-to-Dollar exchange rate is quoted at 1.32, having been as low as 1.31 earlier in the past 24 hours.
However, the Bank of England, and the U.K.'s robust economy, will only really likely be a factor coming into play for the Pound in 2019.
"The central Bank has indicated that one interest rate hike per year is a good rule, for now, but Sterling's performance will be judged by Brexit outcomes going into 2019. All eyes now shift back to May's cabinet meeting today, and the EU Summit starting tomorrow night. Can the pound hold on to its current levels? It will be a tall order, there is still a lot to be decided and the market can be fickle when it comes to any lack of detail," says Hamish Muress, currency analyst at OFX.
Brexit is working to keep Sterling capped as investors demand a premium for holding the currency in the event negotiations go sour.
But, remove the uncertainty and suddenly you see a currency that is undervalued relative to economic performance. This suggests the upside which could come from the removal of Brexit uncertainty is notable.
Following today's UK wage data, Joel Kruger, currency strategist at LMAX Exchange, says swapping Euros for Pounds may be a smart currency play looking ahead to 2019.
"One of our favourite currency plays looking out into 2019 is swapping Euros for Pounds. On a technical basis, the Euro-Sterling exchange rate looks like it could be in the process of rolling over from longer-term cyclical highs. Fundamentally, growth and wages are picking up in the UK and we remain optimistic a Brexit deal will get done, leaving plenty of room for relative outperformance in the Pound. This play also comes with the added 'positive carry cherry' on top, which means every day you hold short EUR/GBP exposure, you're getting paid," says Kruger.
Advertisement


Lock in Sterling's current levels ahead of potential declines: Get up to

5% more

foreign exchange

for international payments

by using a specialist provider to get closer to the real market rate and avoid the gaping spreads charged by your bank when providing currency. Learn more here
Featured Content
Mortgage Direct - a Spanish mortgage broker specialising in the provision of mortgages for expats - have confirmed they have secured their Spanish license.