EUR/USD Bounces Off 2018 Lows as Italian Parties Scramble to Avoid Second Election
-Italian parties scramble to form government, avoid second election.
-Bond yields ease lower and EUR/USD rises but traders remain cautious.
-Markets eye return to French-election-lows in likely summer of discontent.
© artjazz, Adobe Stock
The Euro-to-Dollar rate bounced off 2018 lows Wednesday amid reports Italy's two largest political parties have made an eleventh hour dash to agree a new government that would enable the Mediterranean nation to avoid a months-long period of uncertainty and fresh elections over the summer.
Reports from Il Corriere della Sera, La Repubblica, Ansa and Il Sole 24 Ore claimed Wednesday that League and the Five Start Movement (M5S) are in talks to agree a new government, but that both parties could also back a so called caretaker government if the discussions fail - so long as fresh elections are held by September or October. A third option is a separate coalition led by the centre right but that also features parties from across the political spectrum.
"In general, we believe the above three options could help stabilise market sentiment, at least in the near term, including option 3, provided such a government was joined by a strong pro EU and fiscally responsible Finance Minister like Carlo Cottarelli or somebody else with a similar standing," says Fabio Fois, a senior economist at Barclays.
The Euro-to-Dollar rate was quoted 0.55% higher at 1.1601 during the morning session Wednesday after having fallen as low as 1.1512 Tuesday.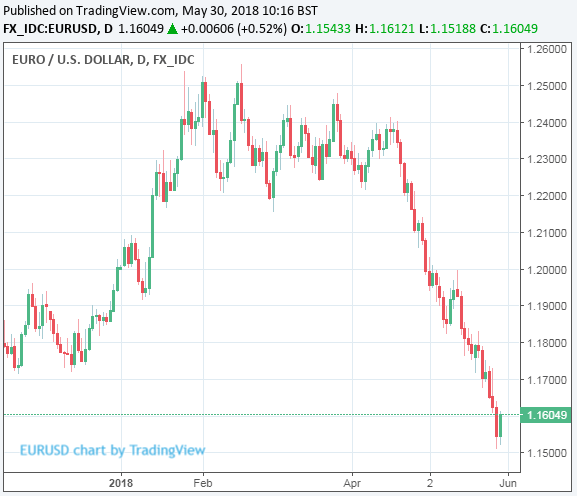 Above: Euro-to-Dollar rate shown at daily intervals.
This comes after President Sergio Mattarella used executive powers to prevent Italy's two largest political forces from appointing a critic of the Euro, Paola Savona, as finance minister. Mattarella subsequently nominated former International Monetary Fund official, Carlo Cottarelli, as a caretaker Prime Minister Tuesday.
The nomination of Savona had already set markets on edge but the veto of his appointment led to the breakdown of coalition talks and a small meltdown in currency and bond markets. Fears are that another election might be seen as a referendum on Italy's use of the Euro and that it could lead to an even greater mandate for Eurosceptic parties.
"All of this takes place today as the Italian debt office is scheduled to auction EUR 1.75bn worth of 5yr debt; EUR 2.25bn of 10yr and EUR 2bn of 8yr floating paper. The auction is at 10am and the results 30mins later will be watched closely by the market to gauge how much of this sell-off reflects the extent of a turn in investor sentiment," says Derek Halpenny, European head of global markets research at MUFG.
Italian 2 year bond yields rose from 0.28% Monday to 2.01% Tuesday and the 10 year rose from 2.68% to 3.0% in response to Tuesday's politics. This represents a sharp increase in government borrowing costs and is important because Italy runs a budget deficit that could easily spiral out of control were yields to rise even further during the months ahead, which may ultimately command even greater austerity from Italy.
Above: Italian 2 Year Government Bond Yield.
Austerity is at the heart of Italy's developing political crisis. Years of fiscal largesse, a brutal economic crisis and European Union budget rules have seen deep and far reaching austerity measures imposed on Italy, mostly by technocratic caretaker governments of the past, but also by the previous Democratic Party regime led by Matteo Renzi.
Both M5S and League have pledged to roll back many of these austerity measures, particularly reforms to the pension system, placing them on a collision course with Brussels budget hawks who have the power to reject the Italian government's spending plans. M5S and League have historically opposed the Euro so economists are mindful of a possible nightmare scenario in which conflict over public spending leads to an Italian referendum on the single currency.
"Our team feels that we're headed to new elections in the September/October window – with the prospect of the same outcome. Together, the Five Star Movement and the Northern League have 57% support in the polls and it seems unlikely that the current volatility in Italian debt markets will force them to alter course," says Chris Turner, head of FX strategy at ING Group.
Turner and the ING FX team say it is too early to predict what kind of electoral agenda the two main parties will present next time around, but that Euroscepticism is unlikely to form a central pillar of any manifesto. However, despite this, there is still a risk that fresh uncertainty forces the Euro back to levels not seen since the French election later this summer.
Above: Euro-to-Dollar rate shown at weekly intervals.
"On paper then it looks as though the trade-weighted EUR will fall back to levels seen last Spring, before the Macron-related rally. That means another 3% downside for the EUR, sending EUR/USD to 1.12 – all other things being equal. But a lot of bad news looks to be already in the price," Turner adds.
There are reasons to think Italian politics could yet send the Euro lower. Not least because of the impact that renewed financial market volatility and economic uncertainty might have on the European Central Bank timetable for exiting its quantitative easing programme.
Markets had been looking to the September month for an ECB announcement that it will shutter its quantitative easing bond buying programme before the end of 2018, paving the way for a possible interest rate rise some time in 2019.
This had been the foundation stone of the Euro's 17% rally between April 2017 and April 2018. But a resurgence of so called Eurozone breakup has not only contributed to a 6.5% fall in the EUR/USD rate during the last eight weeks alone, it also now looks to have placed a question mark over the ECB policy outlook.
"The threat of further rating downgrades hangs over the BTP market (and is largely priced-in), and the ECB's plans for providing forward guidance on policy normalisation are up in the air. Which means that the risk of EUR/USD reaching 1.10 by the end of the summer is significantly higher than the possibility of a recovery to 1.20," writes Kit Juckes, chief FX strategist at Societe Generale.
Juckes warned on Tuesday of a possible fall to 1.0860 in the Euro-to-Dollar rate over the summer months as a result of Italian politics and their impact on the ECB policy outlook.
Advertisement




Get up to 5% more foreign exchange by using a specialist provider to get closer to the real market rate and avoid the gaping spreads charged by your bank when providing currency. Learn more

here