Goldman Sachs: "EUR/USD is still in a Well-Defined Uptrend" but Staying Neutral at this Juncture
Technical studies conducted by Goldman Sachs confirm the EUR/USD exchange rate to be in a strong uptrend.
Analysts in the bank's Securities Division say that while the uptrend is intact, they are however neutral and awaiting clarity and there are two scenarios to consider at this point:
"The pullback has been pretty shallow so far… Either this is an incomplete 4th wave which could range sideways for a while longer or its only a more minor iv of v since June and hasn't yet started its corrective process."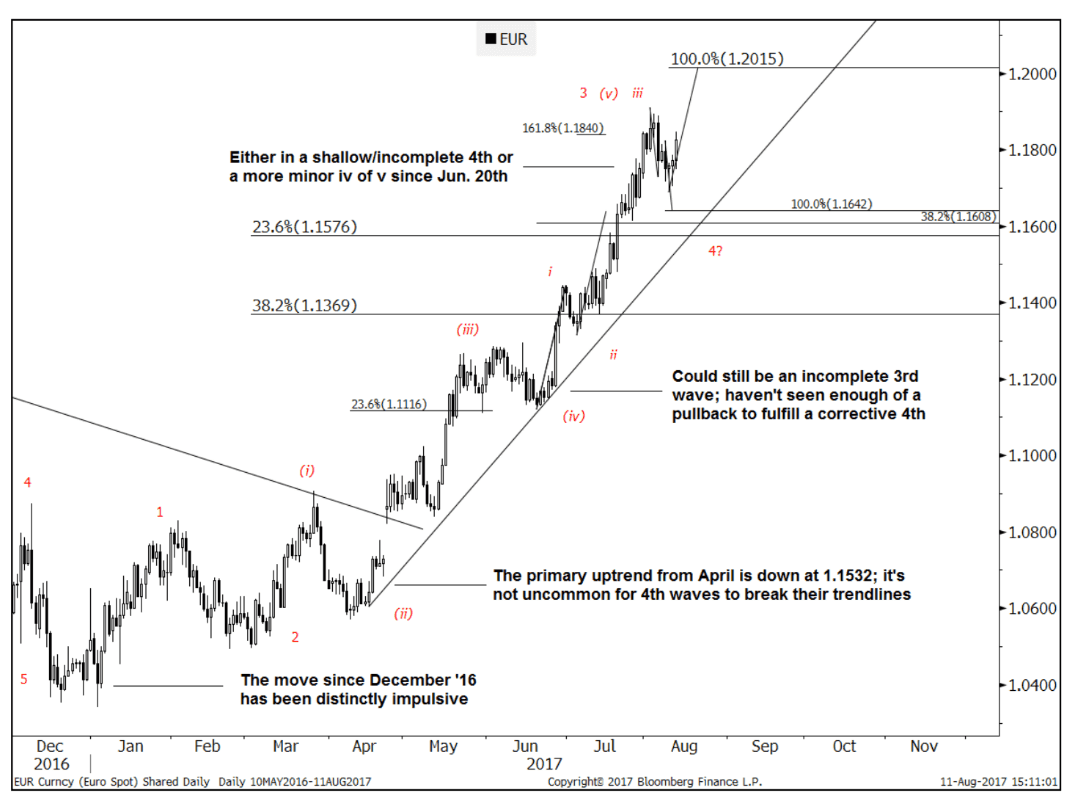 At the time of writing the Euro to Dollar exchange rate is at 1.1816.
"Either way, the retracement to date isn't material enough to qualify as a complete correction. It either needs to range sideways for a while longer or see a steeper/deeper pullback," say Goldman Sachs.
Analysts eye the next big pivot support is 1.1626-1.1532.
This area includes the April uptrend, an ABC off the high and 23.6% retrace.
It's a strong confluence of levels which should be difficult to break (at least on the first few attempts). Anything lower might open up a deeper retracement down to 1.1369 (38.2%).
"Because this is after all a 4th wave, it shouldn't go much lower than there," say Goldman Sachs.
Shallow Pullback
Our own studies meanwhile anticipate further gains but after a potential pullback.
EUR/USD is rallying higher as recent data has been positive for the Euro-area whislt increasing geopolitical risks have weighed on the Dollar.
The exchange rate has recovered after pulling back steeply from the 1.1909 highs - and is currently trading at 1.1822.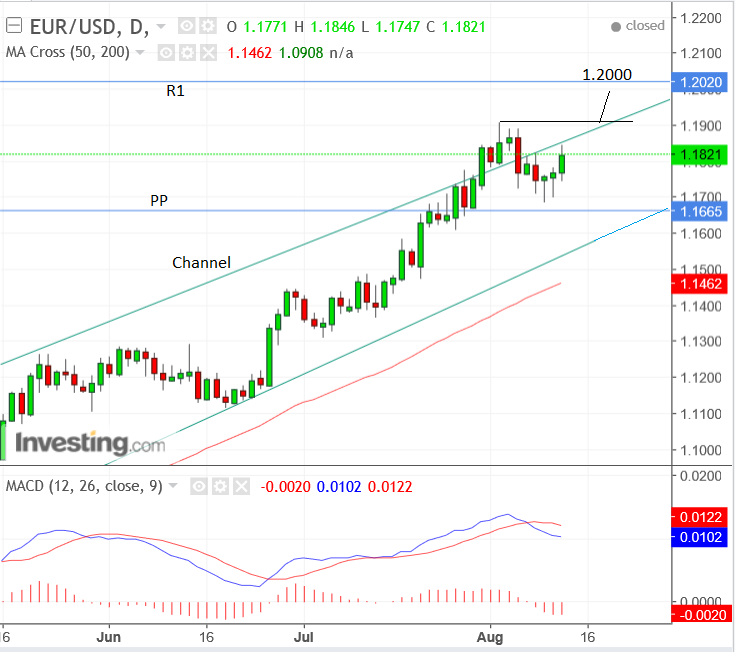 The uptrend is still intact despite the steep pull-back, and whilst another small corrective leg lower is possible, it would only be to complete the correction, down to support in the1.1700-1.1665 zone perhaps, before the uptrend resumed.
Ultimately we see the channel extending higher, with the possibility of a break above the 1.1909 highs, leading to a move up to the psychologically significant 1.2000 level, which is also at the level of the R1 monthly pivot.
Monthly pivots are areas of support and resistance on price charts where the exchange rate often stalls or reverses due to increased supply or demand at those levels.