Pound to Remain Resillient Against the Euro says Soc Gen's Juckes
© IRStone, Adobe Stock
Pound Sterling looks increasingly protected from significant decline against the Euro argues a leading foreign exchange analyst from the City of London.
Société Générale's Kit Juckes tells clients on Monday, February 26 that there remains little "encouragement for Sterling bears" in the current environment; in other words there is little justification to push the Pound lower.
Juckes makes the call having observed that the GBP/EUR exchange rate is tracking the difference between yield on German and UK bonds - and the findings confirm the exchange rate is well placed at current levels.
Indeed, at the time of writing the Pound-to-Euro exchange rate is quoted at 1.1395 - close to where it has traded for much of the past five months as neither the Euro nor the Pound seem to be capable of gaining the upper hand.
As we can see below, the EUR/GBP is highly correlated with dynamics in UK and German bond yields:
But, if we look at EUR/USD we see an example of where such a relationship has broken down: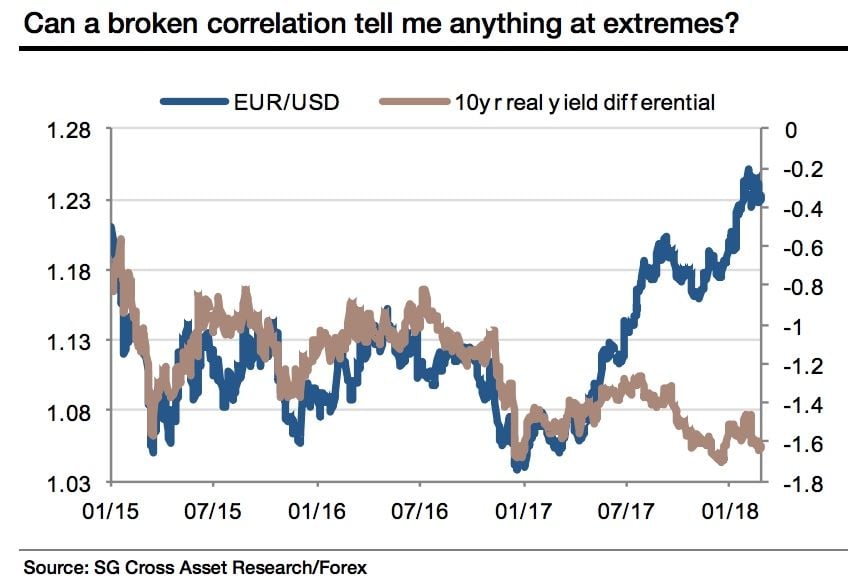 Until this relationship breaks down as relates to EUR/GBP the case for a steady exchange rate appears intact.
Bond yields levels are largely a function of central bank policy; therefore policy at the Bank of England matters and of late we have heard a number of updates from Bank of England policy members that appear to be supportive of higher UK yields.
Last week members of the Bank of England Monetary Policy Committee appeared before Parliament's Treasury Select Committee and the takeaway was deemed positive for Sterling owing to a more 'hawkish' than anticipated tone being struck.
Then over the weekend another 'hawkish' development occurred as Deputy Governor Sir Dave Ramsden, says he sees the case to raise interest rates sooner than he previously thought.
This is significant - Ramsden had previously voted against raising interest rates when the Bank moved to raise rates 0.25% in November.
It suggests the door to higher interest rates has opened a little wider which in turn pushes UK yields in a direction that is supportive of the Pound.
It's "helped the pound despite the usual depressing Monday morning Brexit headlines," says Juckes. Further the developments provide "no encouragement for Sterling bears, other than to argue for going long EUR/GBP close to 0.87."
Going long EUR/GBP close to 0.87 implies selling the Pound against the Euro at 1.15.
In short - the Pound can go higher back towards the top of its multi-month range before capitulating again.
More of the same then.
Advertisement


Get up to 5% more foreign exchange by using a specialist provider to get closer to the real market rate and avoid the gaping spreads charged by your bank when providing currency. Learn more here.