Sterling Sharply Lower on Broadbent's 'Non-Comments' - Pound to Euro Rate Breaks Key Support
Pound to Euro exchange rate today: 1 GBP = 1.1240 EUR
Euro to Pound Sterling exchange rate today: 1 EUR = 0.8898
The British Pound has recorded a new eight-month low against the Euro.
The decline comes as a key support level that had been defending the currency pair from registering notable declines finally breaks opening a door to a rapid decline; a scenario we have been warning about on Pound Sterling Live for a number of days now.
The trigger it would seem was Bank of England policy-maker Ben Broadbent who avoided joining the growing interest rate debate at an appearance in Aberdeen.
With no economic data to latch onto, markets were clearly looking for Broadent to offer the Pound some support by joining other Bank of England members in hinting that higher interest rates might be appropriate in the near-future.
"His speech in Aberdeen, the seat of the UK oil industry, gave no direct reference to his views on the outlook for UK monetary policy, however, he was very concerned about the UK's trade prospects after Brexit, something that is most likely shared by the export-orientated audience in Aberdeen. It doesn't seem like a stretch to assume that if Broadbent is concerned about Brexit's impact on trade then he is unlikely to make things harder for exporters by voting to raise interest rates any time soon. Thus, the hawks on the committee, now just McClafferty and Saunders, could remain in the minority for some time," says Kathleen Brooks, Research Director at City Index.
The sell-off in Sterling is a reflection of disappointed expectations but is nevertheless slightly bizzare if you consider that it is a reaction to a non-event.
Which brings us back to technicals - GBP/EUR has been teetering on the edge of support for some days now and even the slightest trigger could see a capitulation.
Sterling has managed to stay above the key €1.13 level for six months: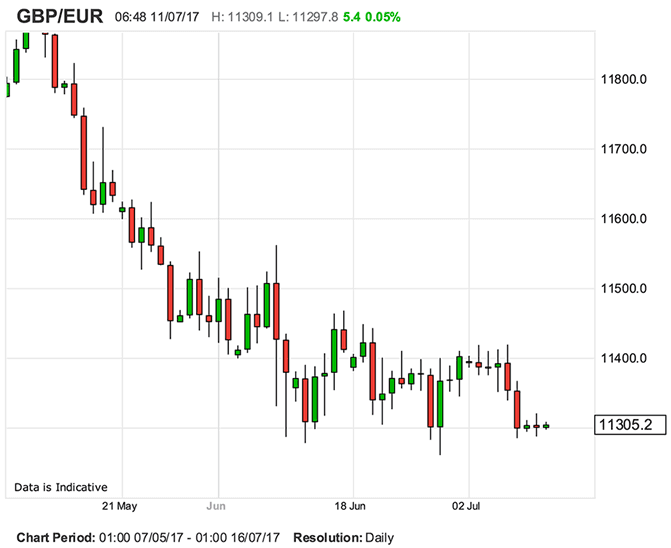 We warned this situation wouldn't last as directionality was always ultimately likely to make a comeback.
The only question was in which direction would the exchange rate go?
Technical analyst Lucy Lillicrap at AFEX has studied the markets and warned that the longer-term fall in value in the GBP/EUR conversion is ultimately not done.
Lillicrap studies the structure of the market and uses past moves as clues as to future direction.
"Some support is emerging at 1.1250 for now at least to keep Sterling prices here effectively range bound initially but the structure of prior advances still does not appear obviously trend like," says Lillicrap in a briefing to clients of AFEX dated July 10.
Lillicrap is charged with minimising risks for those with international payments at AFEX and is a noted technical analyst in the field of FX forecasting.
She believes the entire recovery sequence seen in GBP/EUR from last October when it recovered from flash-crash lows that saw the rate nearly hit 1:1 is merely corrective.
"Further deterioration is anticipated going forward," says Lillicrap.
Indeed, this is now playing out it would appear.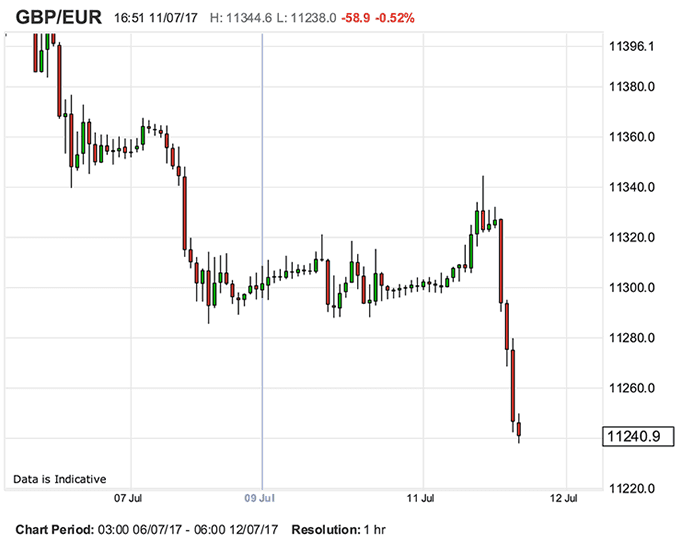 Keep an eye on the 1.1245/55 level - if this support gives way the AFEX analyst believes the psychological 1.1000 level should come into focus again thereafter as that longer term GBP downtrends resume.
"Note: an extension back through 1.1550 secondary resistance is probably necessary to delay this awaited sell-off," says Lillicrap.
Get up to 5% more foreign exchange by using a specialist provider. Get closer to the real market rate and avoid the gaping spreads charged by your bank for international payments. Learn more here.