British Pound Outlook Upgraded at Deutsche Bank, Parity Against Euro to be Avoided
The Pound to Euro exchange rate is no longer likely to fall to parity as the recent shifts in the UK's political landscape represent a positive outcome for Sterling.
According to George Saravelos at Deutsche Bank the recent call for a snap election by Prime Minister Theresa May represents something of a "game changer" for the Pound.
Recall that Deutsche Bank have long been bearish on Sterling and have forecast the EUR/GBP exchange rate will fall to parity.
Analysts have long argued that the Pound is exposed to notable downside thanks to the complexity of the Brexit negotiations ahead and at some point the markets must price in the 'hardest of Brexits' i.e the UK defaulting to World Trade Organisation tariffs.
It is believed that the UK and Europe will ultimately avoid falling on WTO rules, but the journey to the actual agreement is what counts and it will be fraught with risks for Sterling.
However, the election and potential majority it offers Prime Minister May is likely to smooth that journey.
"Crash Risks" Reduced
Deutsche Bank do not see the election as a mandate for hard Brexit as many political opponents to Theresa May have suggested.
"Instead, assuming current polling proves correct, it should result in a larger Conservative majority. This will have three material implications, in our opinion," says Saravelos.
The three implications are as follows:
"First, it makes the deadline to deliver a "clean" Brexit without a lengthy transitional arrangement by 2019 far less pressing given that no general election will be due the year after.
"Second, it will dilute the influence of MPs pushing for hard Brexit, strengthening the government's domestic political position and allowing earlier compromise over key EU demands for a transitional arrangement.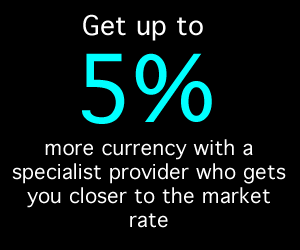 "Third, it strengthens the PM's overall negotiating stance who in recent weeks has clearly fallen in line with the European negotiating approach. This will involve a settlement of the Brexit payments and other divorce aspects first, to be followed by a lengthy transitional period during which the final outcome of Brexit will emerge."
Satavelos argues this sequenced approach materially reduces the "crash risk" of Brexit negotiations as well as strengthening the Prime Minister's hand in pursuing an orderly (and very lengthy) withdrawal.
All of the above in turn reduce downside risks for the U.K. growth outlook over Brexit negotiations.
"We have been structurally bearish on sterling for the last two years but are now changing view. We are closing out all our bearish FX trades. We intend to review our sterling forecasts in coming days," says Saravelos.
Featured Content
Mortgage Direct - a Spanish mortgage broker specialising in the provision of mortgages for expats - have confirmed they have secured their Spanish license.