FTSE 100 Inspires Pound to Euro Rate Recovery BUT Forecasts See 1.30 Then 1.26 Still Possible
Pound Sterling Live's latest forecasts for the British pound against the euro, US dollar, Australian, New Zealand and Canadian dollars.
GBP rates remain highly attuned to the dual influence of global risk sentiment and increasing jitters over a potential Brexit from the European Union.
We have observed before that the trend in the pound to euro rate has mirrored that of the FTSE 100.
The GBPEUR has tracked the FTSE 100 lower since early December and we believe only once the global equity sell-off ends will this pair find respite. A good indicator of this relationship is the exchange rate's behaviour on Tuesday the 19th - the rate is over half a percent higher thankss to a 1.6% surge in the FTSE 100.
If the FTSE can hold these gains and advance further then the British pound could well defend the 1.30 zone. However we have been tracking the exchange rate using weekly timeframes which confirm momentum is firmly pitted against the UK currency.
"GBP has suffered a dramatic fall from grace since the middle of November - the cumulative 7% drop in the trade-weighted index in fact marks GBP's worst performance since the tail-end of the financial crisis in late-2009," says Paul Meggyesi at JPMorgan in London.
Risk therefore matters for GBPEUR, and it is important to note that there are some out there who blame the risk flow from GBP into EUR as being one of the reasons why GBPUSD is bleeding.
"The buying of the EUR/GBP is playing havoc with both the EUR/USD and GBP/USD at the moment. I think this GBP/USD has 1.40 written all over it, but at the same time how many down days in a row can we see? Its about 10 in a row at the moment," says Scott Pickering, a professional trader with over 20 years experience in the banking and finance industry.
While GBPEUR and GBPUSD struggle in this time of market selling there is relief to be had against the NZD, AUD, ZAR and CAD. These commodity block currencies continue to suffer on Chinese exposure - so for GBP losses in one corner are being balanced by gains in the other.
Latest Pound/Euro Exchange Rates
* Bank rates according to latest IMTI data.
** RationalFX dealing desk quotation.
Domestic Data: Two Key Events to Watch
Turning away from global themes, the main focus for the pound this week will be the jobs and wages report on Wednesday and the CPI data out on Tuesday, as these will be fundamental to the outlook for monetary policy.
A substantial rise in wages would help to circumvent fears that the BOE are increasingly drawing back from a rate hike in 2016, as would a higher inflation reading.
Failure in either, however, would have the opposite result – pushing back yet further the expected date for lift-off.
Tuesday's inflation data (CPI) needs to surpass the previous month's month-on-month 0.0% reading and 0.1% year-on-year reading if pound sterling is to advance against the euro and US dollar.
The Bank of England remains highly attuned to UK inflation, and only when it starts rising strongly will the Bank likely raise interest rates. The British pound has fallen largely because expectations for that interest rate rise have been pushed back towards 2017.
Core CPI was at 1.2% in November where it is likely to have remained in December.
"We see no change in December's inflation figures, with 0.1% y/y expected for total and 1.2% for core inflation.
This leaves inflation 0.3p.p. below the BoE's November forecast as energy prices continue to weigh on the outlook, and while we see inflation remaining below 0.5% until mid-2016," say TD Securities in a client note.
On Wednesday Employment data will be released, including Employment Change (3m/3m) in Dec (207k prev), and ILO Unemployment Rate (3m to Nov) (5.2% prev).
In addition, Weekly Earnings Ex Bonus (3m/yoy) in November will come out, after showing 2.0% growth in the previous month; and Avg Weekly Earnings (with Bonus) was 2.4% previously.
TD expect employment to improve but wages to fall further:
"The UK labour market remains healthy, and we expect the unemployment rate to drop to 5.1% in November (with a small chance of a 5.0% print), while total pay excluding bonuses should continue to decelerate to dip below 2% y/y.
"Improving labour market conditions have supported momentum in retail sales through recent chopiness, but we see downside risks to consensus on account of warm weather that delayed clothing sales in the month."
Chart Predictions
Pound to Euro Forecast
The GBP to EUR conversion appears to be moving back down again in the direction of the dominant short-term down-trend.
Having broken clearly below the neckline of a large head-and-shoulders reversal pattern, which is clearly visible on the weekly chart, the pair looks set to run lower, with 1.3000 initially in focus and then 1.2615 – which is the level of the 200-week MA at 1.2615.
A break below the 1.3110 level – or the 1.3090 for a more conservative trader, would provide confirmation of a continuation down to the initial target at 1.3000.
Momentum, as measured by MACD is faithfully supporting a continuation down, in line with forecasts.
Pound to Australian Dollar Exchange Rate Forecast
The pound to Australian dollar exchange rate has been consolidating at the top of a descending channel.
The MACD has crossed the zero line after converging bullishly on the last swing low, suggesting further upside and lending credence to the potential for a break out above the channel.
A break clear above the 200-day MA, confirmed by a breach of 2.1100 would also probably confirm a complete breakout from the descending channel, signalling a new more bullish environment and a probable move up to an initial target at 2.1200 where the R2 Monthly Pivot is situated.
Above that there might even be further gains to an eventual target at 2.1750.
For more down-side, I would want to see a break below 2.0450, which would probably signal a move down to the lows of the channel at 2.0200.
Pound to New Zealand Dollar Exchange Rate Forecast
The GBP to NZD's chart shows the beginning a counter-trend move following the completion of an A-B-C down-move.
https://www.poundsterlinglive.com/nzd/3383-nz-dollar-forecast-week-ahead
The pair has moved steadily higher in this corrective phase.
Currently it is expected to move up to a target at the 50-day MA at 2.2480.
Given he cluster of resistance from the 50 and 200-day MA's which lie in close proximity to each other, I would ideally wish to see a move clearly above these before predicting more upside.
For confirmation of further strength, therefore, I'd ideally want to see a break above 2.2900 – with an initial target at resistance from historic highs at 2.2988.
Pound to Canadian Dollar Exchange Rate Forecast
This is a big week for the Canadian dollar, and reading our latest piece on what the CAD faces over coming days is important if you have an interest in this market.
The pound to Canadian dollar pair has moved higher after breaking out of a down-sloping consolidation and finding support at the 50-day MA.
It spiked up on Friday, and reached just short of the R2 Monthly Pivot and previous highs at 2.0960, which constituted its next target higher.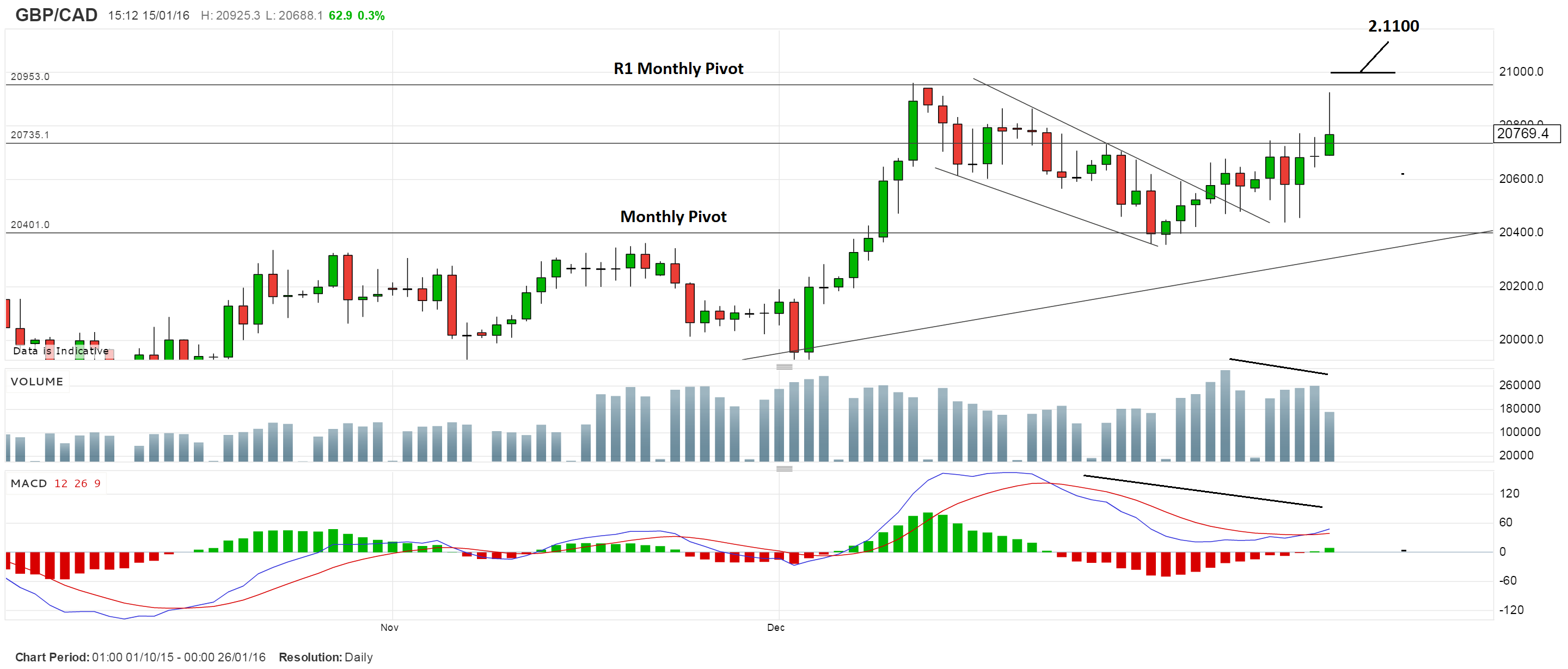 Despite forming a bearish shooting candlestick which could indicate more downside, and the soft MACD and Volume, the up-trend still remains intact and likely to continue higher.
However, for confirmation of more upside, I would ideally wish to see a clear break above R2 - including a margin – so above 2.1020, with an initial target after that at 2.1100.