Pound to Euro Exchange Rate Has its Back Against the Ropes
All eyes are on the euro exchange rate complex which has shown impressive strength over recent days.
The move has ensured the pound sterling has suffered notable selling pressure - the UK currency now has its back against the ropes and the euro will be looking to land that blow-out punch.
The prize will be a break below the 1.35-1.36 support zone - an incredibly strong level that has protected sterling in the past: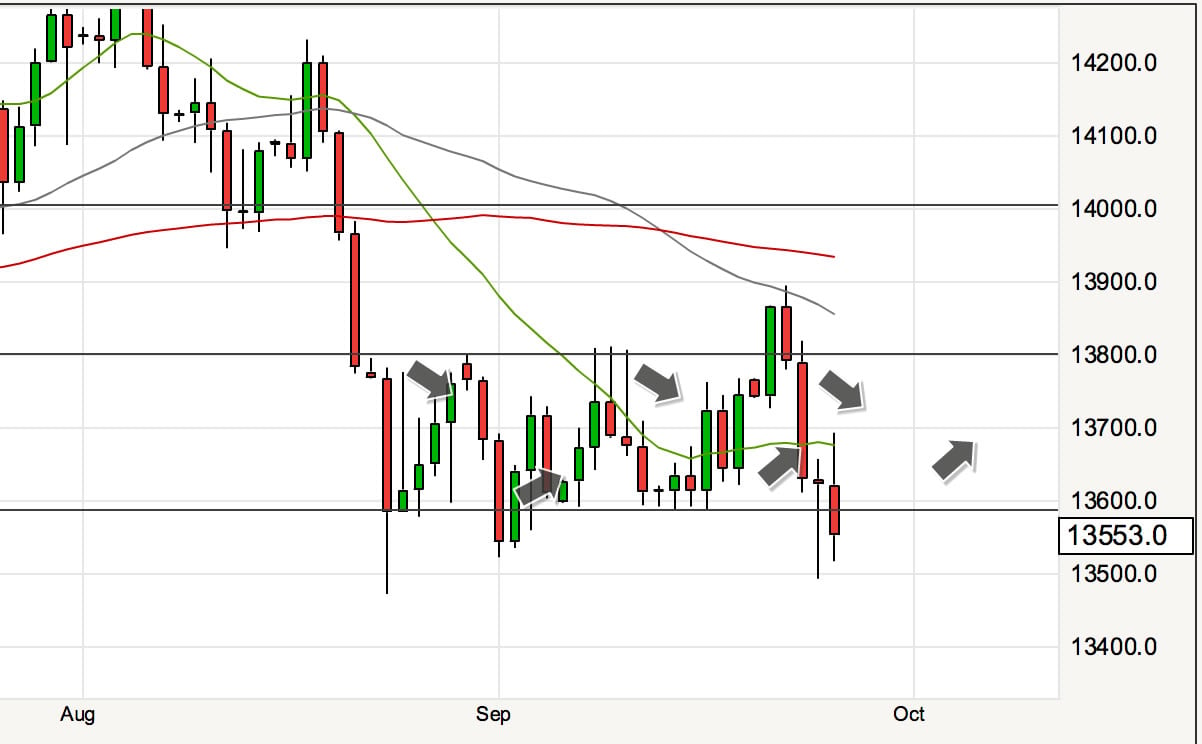 "Further weakness cannot be ruled out and a downside breach of this support level should usher in further GBP weakness, at least from a near term perspective," says Lucy Lillicrap, a risk manager at foreign exchange brokers AFEX.
Note though that heading into the new month the pair will be exposed to fresh data on both the Eurozone and UK economies - the chances for a break below 1.36 are therefore very real.
The base case scenario however favours a continuation of the sideways movement, so a recovery to and above 1.37 is possible.
Latest Pound/Euro Exchange Rates
* Bank rates according to latest IMTI data.
** RationalFX dealing desk quotation.
There is some agreement amongst those we follow that levels below 1.35 are fundamentally unjustifiable.
Lloyds say that the GBPEUR still risks a move below the 1.3486 previous lows, but they still believe a move below there is unsustainable and resistance to strength lies at 1.3661-1.3717.
"Although some questions remain as to the sustainability of recent erosion in broader terms downside risk nonetheless then exists toward 1.3350 thereafter before more substantial buying interest emerges again and another opportunity to bottom out presents itself," says Lucy Lillicrap.
Fundamentals: What Could Drive the Pound Sterling?
The following events will be watched by currency traders looking to price the British pound.
1. Sep PMI Manufacturing & Construction (1 & 2 Oct):
Markets are looking for fairly flat readings of the UK manufacturing and construction PMIs later in the week, but TD Securities tell us they see downside risks.
"We expect the manufacturing PMI to decline from August's 51.5 print to 50.8 (against consensus of a relatively flat 51.3), with a bigger decline expected in the construction PMI from August's 57.3 reading to 56.2 (against consensus of a small increase to 57.5)," say TD.
2. Jul Index of Services (30 Sep):
The services sector has been a key supporter of UK GDP growth, with the IoS remaining steady around 3% y/y growth since the beginning of 2014.
"Risks around consensus' estimate of a 0.2% m/m gain in July are balanced, and won't change that picture. Last month's 0.5% monthly gain was likely a one-off, and the deceleration in July should still keep UK GDP growth on track for a decent 15Q3 showing," confirm TD Securities.
3. ONS Bluebook Revisions to GDP (30 Sep):
Ignore the headlines TD tell us - the Q2 GDP numbers on Wednesday will fully incorporate major historical revisions to the UK GDP which are highly academic, but may generate a lot of chatter about how the UK economy is faring better than first reported.
"We already know that GDP growth from 2011 to 2013 will be revised up significantly (by up to 0.5% per year), which will undoubtedly generate some hawkish headlines. However, barring any major changes to the 2015 numbers, the MPC will see the revisions as purely structural, and won't even entertain the idea of changing their policy stance," say TD Securities.