Pound-to-Euro Exchange Rate Back Below 1.13 thanks to the Fed's Powell (it's not all about Brexit)
Above: File photo of Federal Reserve Governor Jerome Powell. Image © Federal Reserve.
- Events in the U.S. prove key driver of Sterling over recent hours
- Markets ignore Bank of England 'war games'
- Markets bet on amicable solution to parliamentary impasse on Brexit
Global drivers are in charge of the British Pound exchange rate complex with a surge in the Euro overnight forcing the Pound-to-Euro exchange rate back down from multi-day highs.
The Euro went sharply higher overnight in tandem with a big move lower in the U.S. Dollar which suffered at the hands of comments made by the Chairman of the U.S. Federal Reserve, Jerome Powell.
Powell told an audience at the Economic Club of New York that U.S. interest rates were just below the "neutral" level. The neutral level is interpreted as being something of a ceiling for interest rates, therefore markets are betting the pace of Fed rate hikes - a key driver of Dollar strength - could ultimately slow.
The news sent waves through global markets with stocks and currencies that perform well in times of optimism shooting higher.
"If you were looking for a trigger for a December rally in equities, we got it last night from the Federal Reserve. The Dow surged more than 600 points after Fed chair Jerome Powell said rates were currently 'just below' neutral, barely two months after he said interest rates were 'a long way' from neutral," says Neil Wilson, Chief Market Analyst at Markets.com.
Investors swapped out of Dollars and into Euros. Often the EUR/USD leads the EUR/GBP, and this is certainly the case over the past 12 hours.
On the back of the Euro's resurgence the Pound-to-Euro exchange rate slipped back below the 1.13 level and in the process deriving those looking for a stronger Pound of their best rate in days: the exchange rate had actually hit a multi-day high at 1.1350 ahead of Powell's address.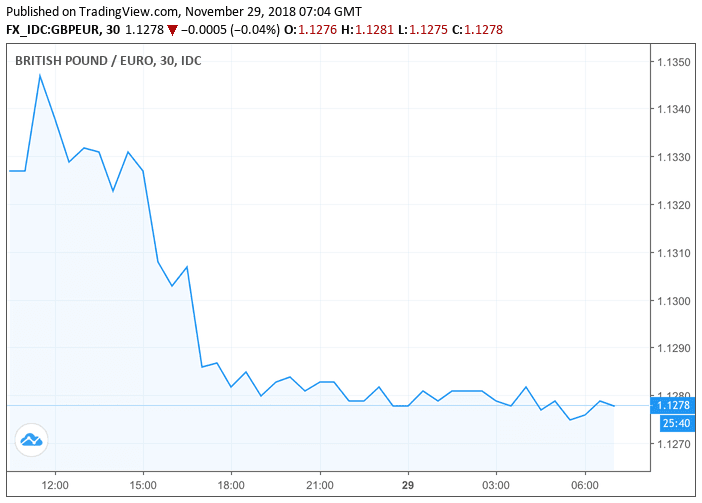 Above: Sterling falls against the Euro as the U.S. Federal Reserve's Powell speaks.
The Pound-to-Euro exchange rate is now quoted as trading at 1.1277 at the time of writing. However, exchange rates available to those wanting to make international payments are seen hovering in the 1.0980-1.1060 area at high-street banks. Independents are quoting just above 1.1150.
Those who suggest the move lower in Sterling has something to do with the Bank of England would be wrong: the Pound motored higher against the Dollar by over 0.75% to reclaim the 1.28 handle at the same time the Bank of England was delivering its latest assessments on what a 'no deal' Brexit would mean for the Pound and the economy.
There was no independent move in Sterling on display with markets quite rightly understanding the Bank of England's analysis do not represent forecasts, instead they are tests on the resillience of the U.K. financial sector.
According to the Bank of England's latest Brexit analysis, aimed at testing the resilience of the UK financial system, if Prime Minister Theresa May fails to pass her Brexit plan Sterling would fall 25% under a worst-case scenario.
The Pound would fall below parity against U.S. Dollar and the Euro on such a decline and would almost certainly see a fall of equal proportions against other major currencies.
Concerning the outlook for the British Pound we are still unconvinced that any major directional move is likely anytime soon as traders are keen to sit on the sidelines in view of the many Brexit outcomes that parliament might deliver.

Markets Bet on Amicable Solution to Brexit
We would expect the 1.1250 area to remain something of a touchstone for GBP/EUR and therefore any moves beyond 1.13 look to be ultimately unsustainable, as was indeed proven by trade in the past 24 hours.
"The still very calm approach of market participants regarding the vote in Parliament can be explained with the fact that for them it is not an event with only two possible outcomes. Instead many scenarios can be imagined, amongst them both GBP positive and negative ones," says Thu Lan Nguyen, an analyst with Commerzbank in Frankfurt.
Pound Sterling ultimately remains steady with some foreign exchange analysts attributing news that Prime Minister Theresa May has backed down in a key Brexit battle with Parliament to ongoing optimism that a hard Brexit can be avoided.
May is apparently abandoning moves to stop lawmakers trying to re-write her plans, according to an official cited by Bloomberg.
The government had intended to try to prevent the House of Commons from changing the terms of May's agreement with the European Union before politicians finally vote on it.
But according to the report, May's team have now dropped this tactic in the face of protests from politicians.
Foreign exchange strategist Viraj Patel suggests the development is marginally beneficial to Sterling as it could allow Theresa May's Brexit plan to pass through parliament.
Now that May has caved in, Commerzbank's Nguyen argues the market is likely to feel more comfortable. "The fall in volatilities on the options market even suggests that an amicable agreement has become more likely from its point of view."
Analyst Piet Lammens at KBC Markets in Brussels says he expects GBP/EUR to continue trading in erratic fashion:
"The UK government is considering to allow amendments to the Brexit text to be discussed in parliament. Question is whether this approach will make the process easier. EUR/GBP will probably remain in a some kind of erratic trading patter near current levels as long as uncertainty on the approval remains as high as it is right now."
Our suspicion is that the market has fully discounting the deal not passing its first test of parliament, something that won't come as a shock to the Pound.
But as we said in an earlier piece - the scale of the loss is something markets might not be quite prepared for.
May losing by a small margin is very different to her suffering a 200+ walloping and we believe the scale of the defeat will determine where Sterling ends the year.
Advertisement




Bank-beating GBP exchange rates: Get up to 5% more foreign exchange by using a specialist provider to get closer to the real market rate and avoid the gaping spreads charged by your bank when providing currency. Learn more

here