More Pressure Heaped on the Pound as UK Retail Sales Suffer Sharp Drop, But this Could be a Knee-Jerk Reaction by Markets
- Pound sold in wake of data release, but this could be a knee-jerk reaction
- Retail sales impacted by weather and rebound in April expected
- Run of poor data sees Bank of England tipped to raise interest rates only once in 2019
© photobuay, Adobe Stock
UK retail sales for the month of March declined by 1.2% according to the ONS, this being more than double the rate of decline foreign exchange markets had been expecting. Economist forecasts had pencilled in a 0.5% decline, while the previous month had registered growth of 0.8%.
"The month-on-month growth rate fell by 1.2% due to a large fall of 7.4% from petrol sales; a likely consequence of adverse weather conditions, which impacted travel," report the ONS. "However, the snow actually helped boost online spending with department stores in particular seeing growth in their web sales."
Online sales accounted for 17.4% of all retailing, seasonally adjusted in March 2018, compared with 15.9% in March 2017; the strongest growth on the same month a year earlier came from department stores at 33%.
If surveys are anywhere near right, today's UK retail sales report for March will be an absolute shocker: pic.twitter.com/wDyuBdlN4j

— Samuel Tombs (@samueltombs) April 19, 2018
Department stores were the only sector to see a positive growth to the quantity bought in March 2018 when compared with February.
Feedback from retailers claim that promotions for Mothering Sunday and Easter helped boost sales. While this is expected in March, retailers commented on the success of online offers increasing sales more than usual, due perhaps to the convenience of purchasing goods online during the adverse weather.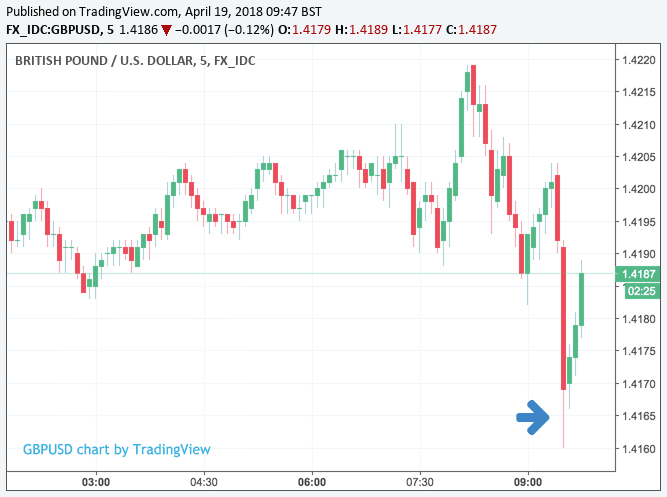 Above: GBP/USD falls on the data release, shows some interest in recovering though.
The Pound's initial reaction has been to fall with the Pound-to-Dollar exchange rate quoted at 1.4177 having started the day at 1.4202. The Pound-to-Euro exchange rate is quoted at 1.1448 having started the day at 1.1472.
"This further adds to the argument that the Bank of England will only hike the interest rate once this year in May and indeed the meeting could in fact be a 'dovish hike' from the Monetary Policy Committee (MPC), whereby BoE would raise interest rates but temper market expectations. Sterling bulls will have to wait until February 2019 for another hike," says Hamish Muress, a currency analyst at OFX.
However, we doubt that this set of retail data will in itself be cause for a significant decline in Sterling owing to the seasonality issues associated with the March, and indeed we have seen the currency recoup its losses at the time of this article's update.
"Today's UK retail sales are an almost worthless print for understanding wider economy. -0.5% MoM amid Easter falling in March, snow impacts simply add to a generally noisy series. Only takeaway of note will be whether accelerating shift to e-tailing proves sticky or a weather impact," says Simon French, Chief Economist with Panmure Gordon.
"We expect the weakness in high-street spending growth to prove short-lived. Note that excluding fuel, sales volumes dropped by a much smaller 0.5% on the month. And if the past is anything to go by, much of the spending lost during the bad weather will be made up at a later date. As such, we expect sales volumes to rebound in April," says Ruth Gregory, UK Economist with Capital Economics.
Gregory adds that with this week's employment and inflation data suggesting clearer signs of a revival in pay growth and falling inflation (note too that the retail sales deflator fell back to 1.9% a 14-month low), consumer spending is likely to receive more fundamental support as the year progresses.
Others agree.
"Better days could still be ahead for the UK high street. CPI inflation moderated to a one-year low of 2.5% in March, whereas regular pay growth picked up to 2.8% in February. With each of these heading in opposite directions, it seems likely that the squeeze on real incomes will not only end in March but will continue to improve across the remainder of the year. Further evidence that inflation is cooling on the high street came from the increase in the retail sales deflator easing to a 15-month low of 1.9% (yoy). With consumers set to be financially better off, the outlook certainly looks sunnier for retailers," says George Brown, an economist with investment bank Investec.
As such, we could see Sterling recover during the course of the day.
"After a sharp two day rejection of new highs, prices are holding over the initial 1.4170 support region. While this holds, a move back through 1.4280/90 would suggest the underlying trend is intact and risks another foray into the medium-term 1.4350-1.4550 resistance zone," says Robin Wilkin, an analyst with Lloyds Bank Commercial Banking.
Advertisement


Get up to 5% more foreign exchange by using a specialist provider to get closer to the real market rate and avoid the gaping spreads charged by your bank when providing currency. Learn more here.
Featured Content
Mortgage Direct - a Spanish mortgage broker specialising in the provision of mortgages for expats - have confirmed they have secured their Spanish license.