Pound Sterling Slips on Wages Disappointment Even as UK Unemployment Falls to Fresh 42 Year Low
-UK unemployment posts surprise fall to 42 year low of 4.2%.
-First "real wage" increase in 12 months seals deal on BoE rate hike.
-GBP dips but GBPUSD close to post Brexit high, GBPEUR a 1 year high.
© IRStone, Adobe Stock
The Pound pared earlier gains Tuesday as traders responded to a mixed labour market report, which showed wage packets growing slower than was expected in February, while the unemployment rate fell to a new 42 year low.
Office for National Statistics data showed UK wage packets rose by 2.8% during the three months to the end of February, which is unchanged from the rate of growth seen in the quarter to the end of January.
Markets had been looking for wage growth of 3% so the number comes as a disappointment for some although, despite this, it is still significant. This is because February marked the first month of "real wage growth", which is where pay packets grow faster than the rate of inflation, for exactly a year.
Headline wage growth miss may take some of the steam out of $GBP's rally for now. But core wage growth came in line with expectations 2.8% YoY (so all bonus noise). And lowest UK unemployment rate since 1975. Should keep $GBPUSD at elevated 1.43-1.44 levels (bit of profit-taking)

— Viraj Patel (@VPatelFX) April 17, 2018
"February's labour market figures provide us with optimism that sustained rises in real wages are now in prospect and should seal the deal on another interest rate hike in May. Pay growth appears to be finally benefiting from the strength of jobs growth," says Ruth Gregory, a UK economist at Capital Economics.
The UK unemployment rate fell by 10 basis points to a fresh 42 year low of 4.2% when markets had anticipated that it would hold steady at 4.3%. This too is significant because the lower that unemployment falls, the tighter the labour market becomes, which bodes well for wage growth further down the line.
"There were no signs of a let up in the pace of hiring. Employment rose by a solid 55,000 in the three months to February, beating the consensus expectation for a 33,000 increase and providing further reassurance that the weakening in employment late last year was a soft patch," Gregory adds.
Markets care about the data because of the influence that changes in unemployment and wages can have on inflation, in that lower unemployment and faster wage growth means higher inflation further down the line. Accordingly, this has implications for interest rates as it's inflation that central banks are attempting to manipulate when they tinker with rates.
"We think that the MPC will judge that the upside news on pay growth and inflation cancels out the recent soft activity data – particularly since the latter has been distorted by a number of temporary factors of late. As such, we continue to think that the MPC will hike rates three times this year, more than markets expect – with the next hike coming in May," Gregory predicts.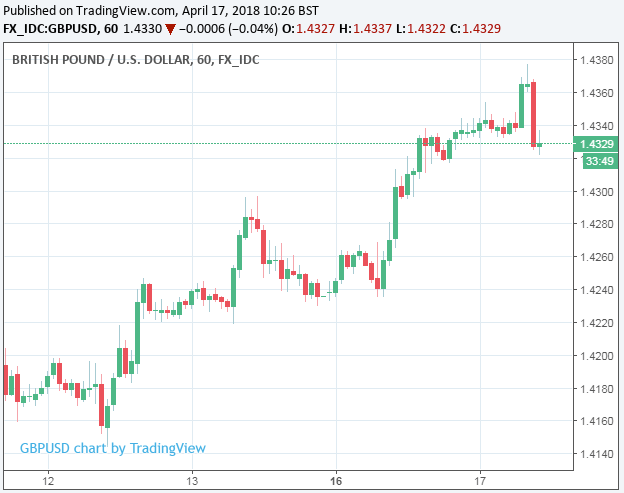 Above: Pound-to-Dollar rate shown at hourly intervals.
Sterling pared back earlier gains and sank to a fractional loss against its developed world rivals in response to the report Tuesday. This saw the Pound-to-Dollar rate quoted 0.04% lower at 1.4336, marking a reversal of an earlier 0.22% gain, while the Pound-to-Euro rate traded 0.11% lower at 1.1567.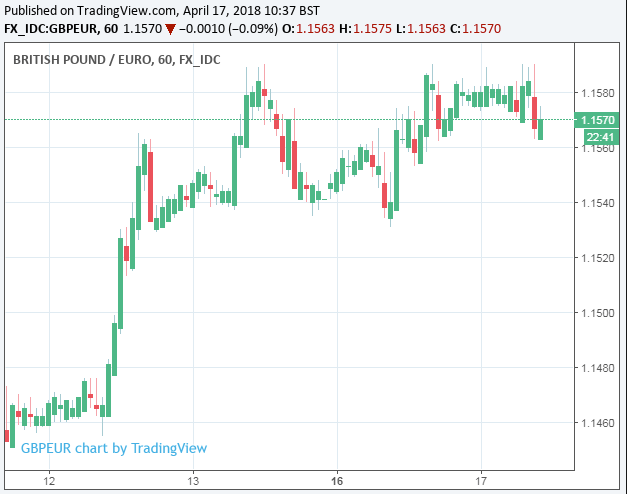 Above: Pound-to-Euro rate shown at hourly intervals
The Pound-to-Dollar rate traded at its highest level since the Brexit referendum earlier on Tuesday while the Pound-to-Euro rate was closing in on the 1.16 level, which would have put the exchange rate close to a one year high.
"The pound was the standout performer yesterday and is currently the best performing G10 currency versus the US dollar on a year-to-date basis. More interestingly, the pound is now also the best performing G10 currency versus the euro," says Derek Halpenny, European head of global markets research at MUFG.
Halpenny suggests Sterling's rise against the Euro is an indication that the currency is now appreciating based on its own merits, rather than the weakness of other currencies. He could be right.
After all, much of the Pound's 10% gain over the Dollar in 2017 came as a result of a weak US currency rather than a strong Sterling. Meanwhile, the British currency actually posted a minor loss against the Euro last year.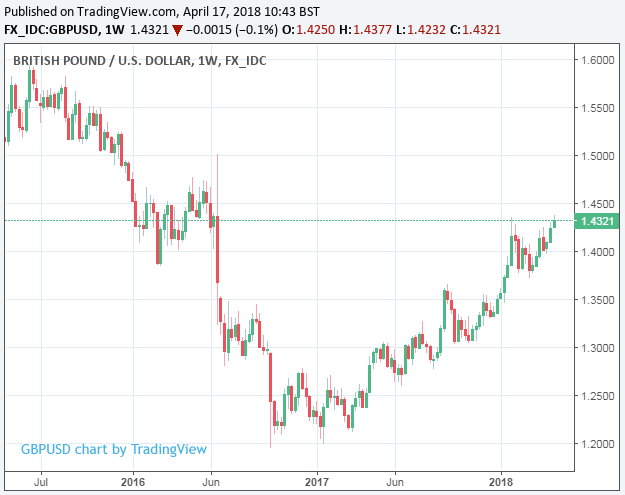 Above: Pound-to-Dollar rate shown at weekly intervals.
BoE to Raise Rates Next Month
Tuesday's data comes just weeks ahead of the May interest rate decision from the Bank of England May that is widely expected to yield another 25 basis point increase in the Bank Rate, which would leave the UK's main interest rate at 0.75%.
Anticipation of a rate hike mounted after the BoE warned in February that it could raise rates further and faster than markets were gave it credit for if the UK inflation picture evolved in line with its most recent forecasts.
Rate setters predicted at the time that inflation would remain above the 2% target until at least the first quarter of 2021 and that it would average around 2.9% for the first quarter of 2018. Since then, inflation has fallen faster than forecast, down from 3% to 2.7%, but the outlook for wage growth has firmed. The next reading is due on Wednesday 18, April.
It is not yet clear whether the steeper than expected fall in consumer prices will be enough to encourag the BoE to "wait and see" for a few more months before raising rates again, or if it will be minded to go ahead out of concern over the faster pace of wage growth. What is clear however, is that a failure to raise rates in May will be bad for Pound Sterling.
Equally, but on the opposite side of the same coin, if the Bank of England were to go ahead with an interest rate rise and signal to markets that it is likely to follow up with another hike before the year is out, then this could provide Pound Sterling with a powerful leg-up into the summer months.
At 1.1585, Sterling remains 13% lower against the Euro than it was on the morning of the Brexit referendum while the Pound-to-Dollar rate is only 1.1% below the 1.45 level it was at before the result became known.
Advertisement




Get up to 5% more foreign exchange by using a specialist provider to get closer to the real market rate and avoid the gaping spreads charged by your bank when providing currency. Learn more

here

.
Featured Content
Mortgage Direct - a Spanish mortgage broker specialising in the provision of mortgages for expats - have confirmed they have secured their Spanish license.