Softer Pound Sterling is Working to Stimulate the UK Economy and FTSE 100
The FTSE 100 is higher on weaker Pound while the currency's decline has aided Manufacturing activity to its strongest level in years as foreign orders increase.
A weak Pound Sterling is delivering a stimulatory boost to the British economy latest data and analysis confirms.
While the default impulse is to consider a falling currency as symptomatic of a deteriorating economy, we must remember it creates the environment for new winners to emerge.
Indeed, one of the main criticism's of the UK economy over recent years is the diminished role played by manufacturing in the overall economic mix.
A rebalancing towards manufacturing could however be underway.
New data confirms that the sector is starting to expand at a notable pace with a surge in export demand being a key driver.
A weaker exchange rate lowers the cost of UK goods on the international market which in turn triggers an increase in demand from global clients.
The Pound has this year fallen to its lowest level since 1985 - therefore UK goods and services are at their cheapest since 1985 in Dollar terms.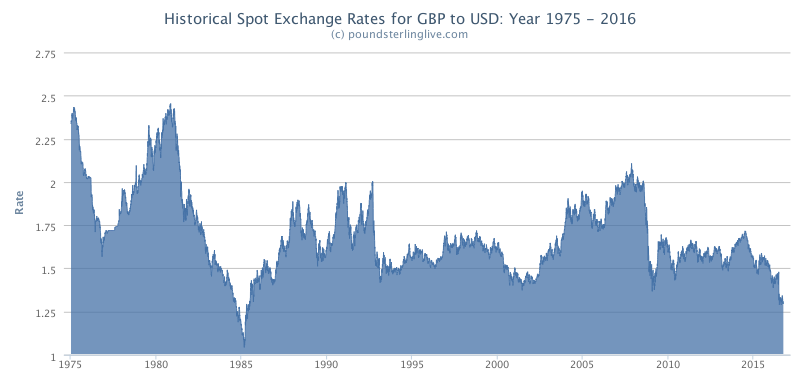 September saw the UK Manufacturing PMI rise to its highest level since mid-2014, recovering further from its EU referendum inspired low in July.
"The weak sterling exchange rate remained the prime growth engine, driving higher new orders from Asia, Europe, the USA and a number of emerging markets," says Rob Dobson, Senior Economist at IHS Markit.
The rebound over the past two months has been encouragingly strong, and puts the sector on course to provide a further positive contribution to GDP in the third quarter.
"The manufacturing sector appears to be benefiting from the fall in the pound that occurred both before and after the EU referendum. Indeed, the new export orders balance averaged 54.2 in Q3 after averaging only 50.4 in Q2," says Scott Bowman, UK Economist at Capital Economics.
FTSE 100 Boosted by Falling Currency
It's not just UK industry that is benefiting from a fall in Sterling as a weaker Pound also makes for a cheaper investment environment for international stock market investors.
As the British Pound reached a three year low against the Euro and is heading towards post-Brexit lows against the USD, the internationally-orientated FTSE 100 has finally seen a breakthrough of resistance at 6950 to post fresh 2016 highs.
Having failed three times to break the mark in September, the index now looks to reach 7000 for the first time since June 2015.
"A slump in sterling made life easier for UK markets, with price action so far this morning seeing high-quality international firms receiving a flood of buyers," says Chris Beauchamp at IG in London.
A stronger stock market is key to supporting domestic investment intentions via the confidence channel.
"Sterling's slump is merely another reason to climb higher, the FTSE 100 index (INDEXFTSE:UKX) approaching its year peak with a 50 point increase after the bell," notes Connor Campbell at London-based spread betting providers Spreadex.
It also aids consumer sentiment in that a well-performing stock market supports a multitude of retail investors through to pensioners and institutional investors.
And, the UK's premier stock market is expected to remain supported.
Shilen Shah, Bond Strategist at Investec Wealth & Investment says:
"The weak Pound may provide some support to the export orientated FTSE 100. Gilt market issuance is likely to increase given the likely weaker UK GDP profile following a hard Brexit, the Bank of England's monetary easing however should keep a lid on Gilt yields rising significantly."