Job Worries Leave Question Mark Lingering Over U.S. Recovery after Sales, Sentiment Recover 
© Tim David Collection, Adobe Stock
Achieve up to 3-5% more currency for your money transfers. Beat your bank's rate by using a specialist FX provider: find out how.
U.S. labour markets haemorrhaged jobs last week, leaving a question mark over an economic rebound that was bolstered in June and July by rising retail sales and a recovering home builder confidence, data showed Thursday.
America's economy shed another 1.31 million jobs in the week ending July 11, Department of Labor estimates of initial welfare claims suggest, after 1.31 million filed for unemployment insurance in the prior week.
"The largest increases in initial claims for the week ending July 4 were in Texas (+20,506), New Jersey (+19,410), Maryland (+10,568), Louisiana (+9,441), and New York (+3,906), while the largest decreases were in Indiana (-22,725), Florida (-17,429), California (-12,571), Georgia (-12,325), and Oklahoma (-8,982)," the Department of Labor said.
Consensus had looked for only 1.25 mn new claims but has consistently proven too optimistic about the pace at which welfare demand would normalise following the attempted reopening of the economy.
Continuing claims fell by 422k to 17.33mn, from a downwardly-revised 17.76 mn in the prior week, and DoL data suggests that some 14.28 mn of those claimants are relying on welfare directly as a result of the pandemic.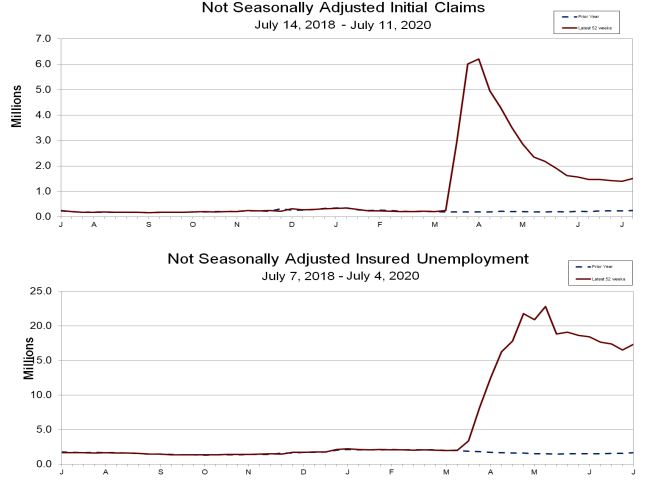 Above: Department of Labor graphs showing initial weekly claims and continuing claims (bottom).
"Initial claims for unemployment insurance in the regular state programs posted a minuscule decline from a level that is still unusually high by historical standards," says Michael Moran, chief U.S. economist at Daiwa Capital Markets. "The number of individuals receiving benefits under the two new special programs (Pandemic Unemployment Assistance and Pandemic Emergency Unemployment Compensation) increased in the latest available week (June 27), although these results could reflect joblessness from earlier periods because of implementation problems in these programs."
Continuing claims are equal to 10% of the total employed population of 142.2 million in June. Continuing claims are the closest indicator of joblessness reflected by the official estimate of the unemployment rate that is published by the Bureau of Labor Statistics on the first Friday of each month. The official jobless rate fell from 13.3% to 11.1% in June, but continued elevated unemployment claims were already a worry then and before a second wave of coronavirus infections swept the country in late June.
"The trend in initial jobless claims has now just about stopped falling; next week could easily see an increase, for the first time since March, in the wake of the continued gradual re-imposition of restrictions across the South and parts of the West," says Ian Shepherdson, chief economist at Pantheon Macroeconomics.
The U.S. recorded 71,750 new infections on Wednesday, close to a new record high, while the total has risen above 3.5 million and prompted some states to reverse earlier decisions to reopen economies. Continued job losses took the shine off a Census Bureau report that revealed a 7.5% rebound in retail sales for the month of June, which came alongside a 7.3% increase in core retail sales and bolsters double-digit increases for both that were reported in May. This left sales 1.1% higher than in June 2019.
"We think sales will rise again in July, but at a much slower rate than in June, because footfall was rising until the latter part of the month. But all bets are off for August," Shepherdson writes in a research briefing.
Above: Pantheon Macroeconomics graph showing selected measures of U.S. retail sales.
"The series of positive US economic data for June continued with retail sales released today," Bernd Weidensteiner, an economist at Commerzbank. "Many economic indicators recovered significantly after the low point in April, with retail sales even showing a V-shaped pattern. However, risks to the economy have increased in recent weeks as the number of infections in the US has risen sharply. High-frequency data already indicate a slower pace."
Retail sales for the April-to-June period as a whole were still some 8.1 percent below where they were last year and fears are that the second wave of infections, and resulting renewal of restrictions on activity, will reverse the recovery later in the second half.
Worries about the labour market also overshadowed a complete recovery in the National Association of Home Builders (NAHB) housing market index, which rose from 58 to 72 in July, taking the barometer of confidence among residential construction firms back to where it was in March prior to the pandemic. But confidence among manufacturers in Philadelphia softened, with the Federal Reserve Bank of Philadelphia index falling from 27.5 to 24.1.
"The surge in Covid-19 cases in a number of states in the second half of June, leading to a re-tightening of restrictions in some areas and likely reduction in consumers' desire to make discretionary purchases, already seems to have weighed slightly on national mobility data during the first half July," says Andrew Grantham, an economist at CIBC Capital Markets. "Uncertainty surrounding the size of unemployment benefits after the end of this month could also be causing consumers to be more cautious since the start of July."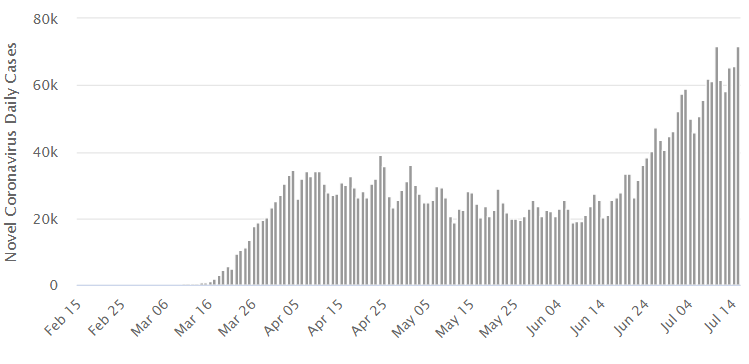 Above: New U.S. coronavirus infections at daily intervals. Source: Worldometers.
---
Achieve 3-5% More Currency: The Global Reach Best Exchange Rate Guarantee maximises your currency purchasing power. Find out more.
Brexit will impact your UK pension if you are living in the EU. Capital Rock Wealth have developed a comprehensive guide to help you navigate the uncertainty ahead.
Find out more

Invest in Spanish Property. A selection of discounted properties due to the covid-19 crisis, online viewings and transactions possible. Download the guide. Download the Guide
Featured Content
Mortgage Direct - a Spanish mortgage broker specialising in the provision of mortgages for expats - have confirmed they have secured their Spanish license.