UK GDP Data Beats Expectation, but Manufacturing and Trade Data Disappoint, Pound Sterling Under Pressure
Image © Adobe Stock
UK GDP data from the ONS out on Friday shows the UK economy grew 0.2% in the month to November, a figure that beats the consensus expectations for growth of 0.1%.
In the three months to November the economy grew 0.3%, in line with expectations.
Commenting on the data, the ONS say the UK economy continues to slow in the three months to November 2018 after performing more strongly through the middle of the year. Accountancy and housebuilding again grew but a number of other areas were sluggish.
"Manufacturing saw a steep decline, with car production and the often-erratic pharmaceutical industry both performing poorly," says Rob Kent-Smith, Head of National Accounts at the ONS. Disappointments in car production should come as no surprise if we consider the recent news from Jaguar Landrover in which the UK's largest motor manufacturer announced it is embarking on a headcount cull in response to falling global demand for its vehicles.
Despite the better-than-forecast GDP numbers the British Pound has moved lower, confirming suspicions that UK economic statistics are a mere sideshow for the currency in the current environment where Brexit is front and centre. Indeed, expectations for the economy to struggle over coming months in the event of a 'no deal' Brexit will overide all backward-looking data.
"The clear loss of momentum in the UK economy since the summer is as expected, given the ongoing lack of clarity on Brexit. For as long as this remains unclear, businesses will continue to defer major investment plans and households will reconsider making big-ticket purchases," says Mike Jakeman, senior economist at PwC.
Other data from the ONS today disappointed with industrial production and manufacturing production data coming in below expectation, although it is worth pointing out at the outset that disappointments here pale in comparison to the poor numbers we have seen coming out of Germany, France and Italy over recent days.
Manufacturing production read at -0.3% in November, markets had expected growth of 0.4%. Industrial production read at -0.4%, where markets were expecting a reading of 0.3%.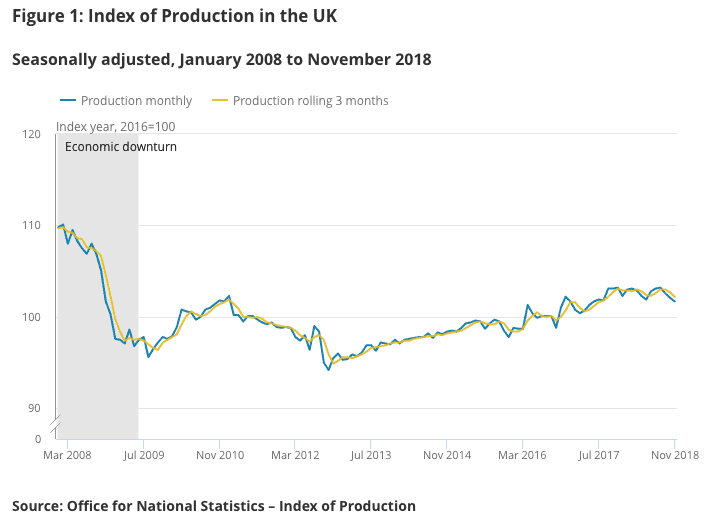 The UK's trade deficit with the rest of the world meanwhile read at £12.02BN in November, much greater than the £11.40BN deficit that markets were expecting.
However, the total trade deficit (goods and services) narrowed £0.2 billion to £7.9 billion in the three months to November 2018 as both goods and services exports each increased £0.1 billion more than their respective imports.
"The broadly stable nominal trade in goods and service deficit, £2.9bn in November from £3.0bn in October (revised from £3.3bn, consensus £2.8bn), suggests there is little evidence so far that businesses are stockpiling by importing more from overseas," says Paul Dales, Chief UK Economist at Capital Economics.