UK Service Sector Could be About to Shrink Suggests Latest PMI Data
Above: Service-orientated firms are the UK's largest employer, and a new report shows hiring in the sector could be slowing. Image © Jacob Lund, Adobe Stock
The IHS Markit Service PMI for November read at 50.4; a few ticks away from the 50 figure that marks the watershed between expansion and contraction.
Markets had expected a more optimistic reading of 52.5, the result is made all the more surprising given that the Manufacturing and Construction sectors both gave positive upside surprises earlier in the week.
According to IHS Markit, both business activity and incoming new work expanded at the weakest rates for almost two-and-a-half years.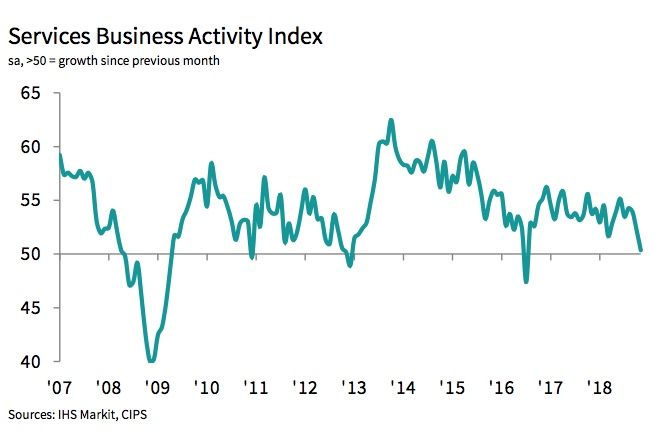 The data bodes ill for the UK economy heading into year-end as the services sector accounts for over 80% of UK economic activity.
Reports from survey respondents suggested that subdued business and consumer spending had held back growth in November. A number of firms reported to IHS Markit that heightened Brexit uncertainty had led to delays with clients' business investment decisions.
There is also a potentially worrying knock-on effect for UK employment dynamics contained in the report. Softer demand growth and rising staff salaries contributed to more cautious hiring policies in November. The latest upturn in employment numbers was only modest and the weakest recorded for four months.
"With the lowest optimism about the future since July 2016 and minimal job hiring, the main driver of the UK economy looks like it's grinding to a halt as it teeters too close to the no change mark for comfort. Respondents have provided plenty of evidence that the prime cause of this slowdown must be firmly placed on the shoulders of Brexit indecision," says Duncan Brock, Group Director at the Chartered Institute of Procurement & Supply, who sponsor the report.
Meanwhile, service providers' optimism regarding the year-ahead outlook for business activity moderated again in November.
There was little notable impact on the value of Sterling, which is understandable as markets remain almost exclusively focussed on the wrangling over Brexit in the UK parliament.
If anything, bad data could be good for the Pound if it galvanises parliament into voting for Prime Minister May's Brexit deal.