Pound to Canadian Dollar at Risk of Sharp Fall Should OPEC Press Ahead with Production Cuts on Wednesday
GBP/CAD is likely to be driven by whether oil producers agree a supply cap at their meeting on Wednesday.
The Canadian Dollar is likely to be volatile this week as one of the most important events on the calendar is the meeting of members of OPEC on Wednesday, November 30 to discuss a collective oil supply freeze.
If they agree a cap on production the price of oil will surge, possibly to as high as $60 per barrel, and this will push up the Canadian Dollar, since oil is the country's largest export.
"Oil-producing nations have pledged to cut production but investors have very little confidence that a substantial deal will be reached by a cartel that is known to backpedal on its promises," says Kathy Lien of BK Asset Management.
If correct, oil prices should struggle and with them CAD.
The Saudi's have pulled out of an important breakfast meeting and the fact Algeria have seen it as necessary to send an envoy to Tehran to try to get the Iranian's on side is a further sign of discord.
"However, if they reach an agreement - even if they fail to reinforce it later - we could see a very strong short squeeze in both oil and the Canadian dollar because investors are aggressively short oil ahead of the OPEC announcement," adds Lien.
Helima Croft at Royal Bank of Canada's Capital Markets division believes OPEC should be able to deliver on the cuts, and this should provide a boost for oil prices, and thus the Canadian Dollar.
"Skeptics began insisting that OPEC would not be able to get a deal over the finish line even before the ink dried in Algiers. Critics contend that the cartel is full of cheaters, a looming wall of crude is coming, and the Saudi-Iran rivalry would effectively kill a deal.
"However, we remain of the view that OPEC will stick the landing on November 30. Our view is primarily based on the belief that the single most important country in OPEC, Saudi Arabia, wants it, and that the ability of a number of suspected cheaters to cheat is constrained. OPEC's leadership is cognizant of the risks posed by failing to reach a deal."
Latest Pound / Canadian Dollar Exchange Rates
* Bank rates according to latest IMTI data.
** RationalFX dealing desk quotation.
Outlook for Sterling
The Pound continues to stay afloat by surprisingly good data.
Last week's Q3 GDP revisions showed no change from the positive preliminary estimates, helping to support confidence further.
Whilst growth remains lopsidedly weighted in favour of Services and out of favour with Construction, the fact that Business Investment beat expectations was reassuring to those who had feared companies would put off investment decisions in the wake of the uncertainty created by Brexit.
One proviso is that analysts are cautioning not to read too much into the data, with both Markit and Capital Economics making the point that Q3 Investment decisions may have already been taken and the real hit to investment is likely to come after Article 50 is triggered, however, overall it cannot be argued the data is weak.
Technical Analysis of GBP/CAD
The pair has pulled back to support from a trendline drawn from the November lows.
It has started to recover and has risen to 1.6881.
The pair still looks vulnerable to breakdown, however, and so we should want to see a break above the 1.7127 highs for confirmation of more upside, with an initial target at 1.7200, followed eventually by 1.7500 and resistance from the R2 monthly pivot.
Monthly pivots are tough barriers to price action, where traders often open orders in the opposite direction to the trend.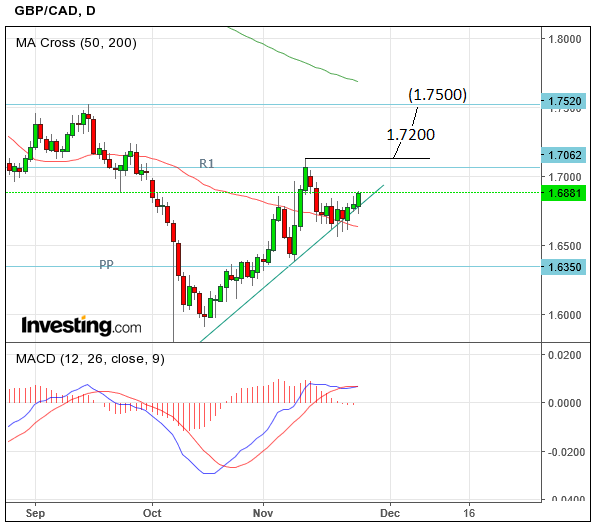 Data for the Canadian Dollar
Canadian Data kicks off on Tuesday, November 29, at 13.30 (GMT) with the Current Account in Q3, which is forecast to show a -16.5bn deficit.
On Wednesday at 13.30, Q3 GDP is released and forecast to show a 0.1% rise mom in September, from 0.2% previously.
Canadian Employment Change out on Friday, December 2, at 13.30, is forecast to show a -30k fall in November.
The Unemployment Rate, released at the same time is expected to remain at 7.0%.
Data for the Pound
The main release in the week ahead is Manufacturing PMI in November on Thursday, December 1, which is forecast to rise to 54.5 from 54.3 previously.
Construction PMI, out on Friday December 2, is forecast to fall to 52.3 from 52.6 previously.