Canadian Dollar Forecast to Offer up More Strength by HSBC's Bloom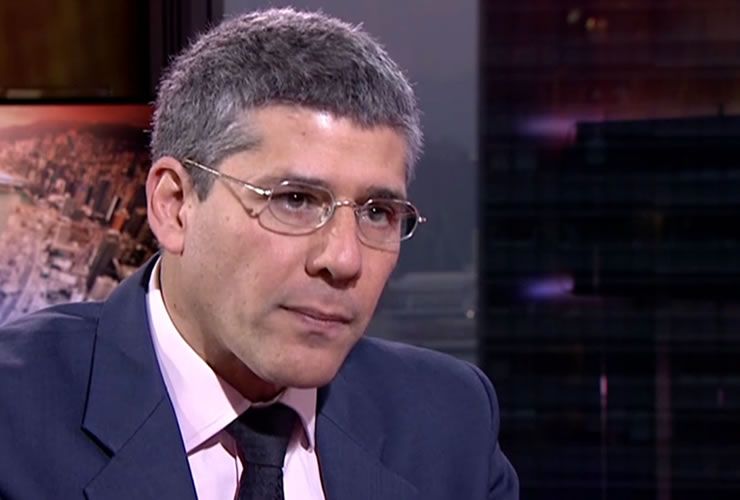 A leading foreign exchange analyst and strategist says the recent strength in the Canadian dollar should not come as a surprise and those who believe it is now over-priced are wrong.
As is often the case when discussing the fortunes of the Canadian dollar, oil prices will be at the top of the agenda.
Indeed, they should as there is a high correlation between the price of oil and the value of the Canadian Dollar.
When oil goes up so does CAD, and vice-versa: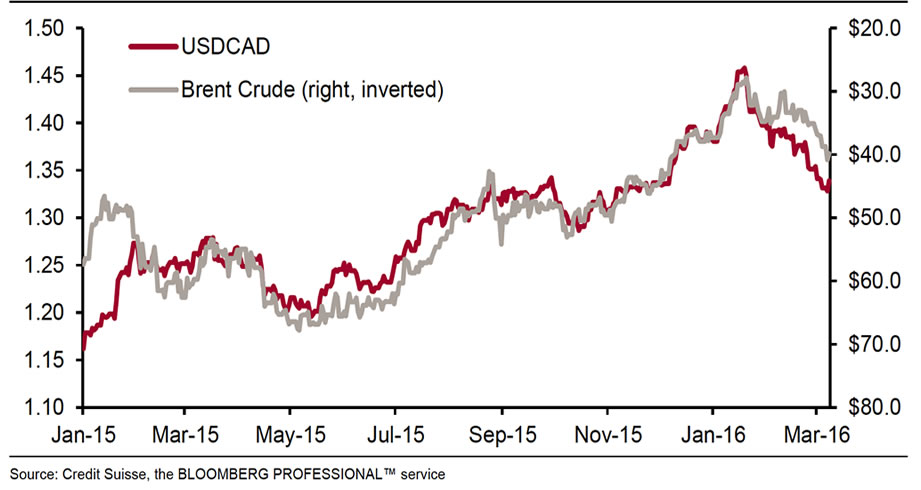 While the price of black gold is important HSBC's Global Head of FX Strategy, David Bloom warns against assigning too much power to the commodity.
When compared to Russia and the Norway, for instance, Canada's reliance on oil revenues is not nearly as great:
"In Canada, oil makes up a significantly smaller portion of exports than in Russia and Norway: it seems to us that the association is exaggerated," says Bloom.
This means the weakness the loonie suffered during oil's slump was over-done, and that despite already recovering by 26% versus the US Dollar in 2016, it will probably appreciate even more, pushing the USD/CAD conversion lower to 1.25.
At the time of writing the US dollar to Canadian dollar exchange rate conversion is at 1.2858.
The new government's fiscal stimulus plan, which amounts to an extra 11.6bn of investment, is also likely to support the Canadian Dollar it is argued, by pushing up inflation and therefore interest rates.
This could lead the Bank of Canada to raise interest rates which is supportive for the loonie, as higher interest rates tend to attract more foreign investors seeking higher returns for their capital.
CAD Strength Overdone
Where HSBC are arguing for a stronger Canadian dollar, there are other big-names suggesting the CAD may have risen too high, too fast
In a recent research note J P Morgan's Danial Hui and Niall O'Connor, argue that CAD strength is, "overdone, and likely to retrace," in the short-term, as the drivers for the 10% rise now looked stretched.
Their base case scenario is for the Federal Reserve to raise interest rates by 0.50% in 2016, which is higher than the market, which now doesn't expect a hike until 2017. Further they the possibility of some 'de-pricing' due to a small chance of the Bank of Canada making a rate cut in 2016.
This will inevitably put pressure on the loonie side of the pair, leading to a recovery in the pair, setting it at odds with the forecast of a continuation lower to 1.25 from HSBC's Bloom.
In addition, they see oil prices dipping and placing extra pressure on the pair.
Some analysts have suggested the Bank of Canada (BOC) could signal it is withdrawing from its pro-stimulus stance when it has its meeting on Wednesday April 11 this week, however, Hui and O'Connor expect the BOC to retain a data dependent view, which means they will continue keeping a watchful eye on economic data, and step in with stimulus if required.
BNP Paribas see Canadian Dollar as Overvalued
Analysts at French bank BNP Paribas hold a similar view to those at J P Morgan, seeing the Canadian Dollar overvalued, although for them by 2-3%, according to their models for estimating fair value, which are based heavily on the price of oil.
"Our fair value models suggest the currency is around 2-3% expensive relative to the current level of oil prices, which we attribute at least in part to an unwinding of short CAD positions," says the Paribas note.
So strong was the decline in the loonie that many sellers were caught 'short' with large positions when the currency suddenly reversed and started going higher at the beginning of 2016. The rapid recovery would have been fuelled by these sellers panicking and off-loading their short Canadian positions. The panic covering of short positions by sellers, has caused the 2-3% overshoot in CAD strength according to analyst Vassili Serebriakov.
"We believe the CAD has overshot the recovery in oil prices and should start weakening again."
More worrying to Canadian Dollar bulls, however, is the French lender's pessimistic outlook for oil longer-term:
"The decline in oil prices is now looking structurally entrenched. This suggests that, unlike in 2009 when commodity prices rebounded quickly, even at current spot levels the CAD does not appear particularly undervalued."