Buying the Pound and Selling the Australian Dollar: A 'Long Trade' that Keeps Giving
The Pound to Australian Dollar exchange rate has been bumped up in value by a further 0.5% on Tuesday, April 25.
At the time of writing GBP/AUD is sitting at 1.6991, just below that threshold level at 1.70.
We have seen Sterling on the move higher for one-and-a-half months now and the rally has foreign exchange strategists at Barclays in London smiling.
"Sterling's recent rally has supported a total gain of about 6% in our long GBPAUD trade since we initiated on 23 March," says Hamish Pepper at Barclays.
When Barclays called the trade they noted that Sterling was benefitting from the downturn in global risk sentiment - it was noted that the currency had become something of a safe-haven for investors.
Barclays entered the trade at 1.60 which, looking at the chart, was a pretty decent entry point: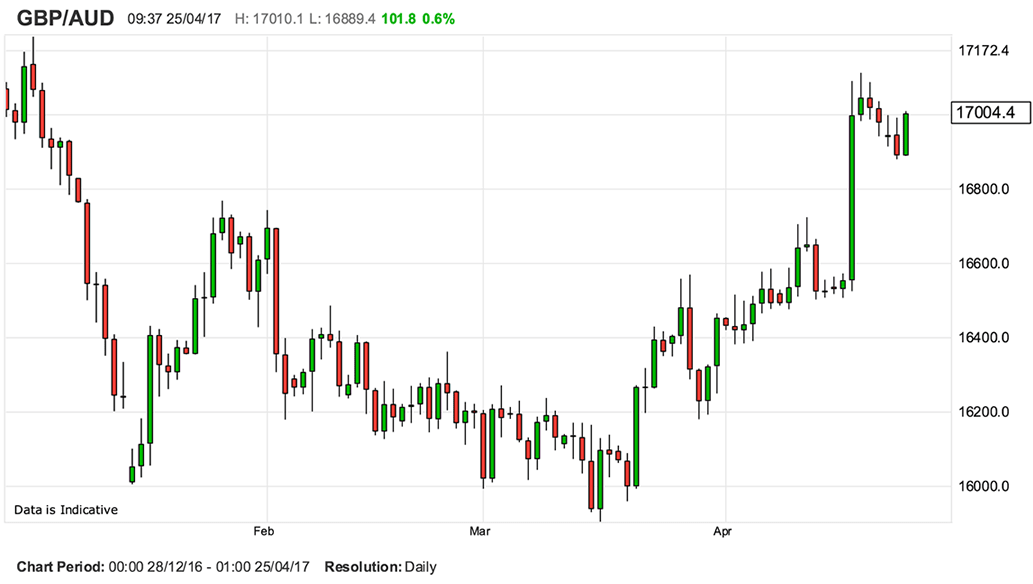 But, can the momentum continue and Sterling continue to claw back value against the Aussie?
Yes says Pepper who has this week told clients he continues to believe a target at 1.75 is valid.
"The positive GBP reaction to last week's announcement of an 8 June snap election is appropriate. In most scenarios the election should improve the government's negotiating position and reduce political uncertainty, creating risks of a faster GBP reversion to fair value than our forecasts imply," says Pepper.
Despite last week's appreciation, Barclays believe GBP remains about 9% cheap on a real effective exchange rate basis.
Barclays argue an outcome consistent with current polls should increase the Conservative government's majority materially, providing Prime Minister May with greater ability to oppose hard-line Brexiters within her party and pursue a more moderate stance.
May's possible direct election is also likely to reinforce the government's negotiating position and would probably occur even in the event of an unchanged Conservative majority.
"The risk of the election delivering a stronger opposition is not necessarily negative for GBP if its unifying theme is pursuing a softer Brexit," says Pepper.