Australian Dollar Jumps Against Sterling Courtesy of Chinese Data Surprise
The Australian Dollar is in a commanding position against Pound Sterling on Tuesday January 3.
As traders returned to their desks from their festive break they were met with some punchy news out of China - an important driver of sentiment towards the Aussie Dollar.
Chinese manufacturing activity improved in December with the Caixin manufacturing PMI easily beating expectations having read at 51.9 - better than the 50.7 forecast by analysts.
This was the fastest rate of growth since 2013 and may put to rest some fears concerning Chinese growth in 2017.
The Pound to Australian Dollar exchange rate has fallen back to the ~1.70 levels we are seeing at the time of writing.
The latest attempt by the conversion to break above 1.72 has therefore failed once more.
The pair is struggling to break above the 1.72 ceiling and whether or not the level breaks over coming days is of utmost interest to us.
Pound Sterling has simply been unable to crack this region since the start of December which implies a significant structural barrier in the underlying market.
Our studies do however confirm the short-term trend for the pair remains bullish and a break above 1.72 is expected as the trend higher since late October remains valid: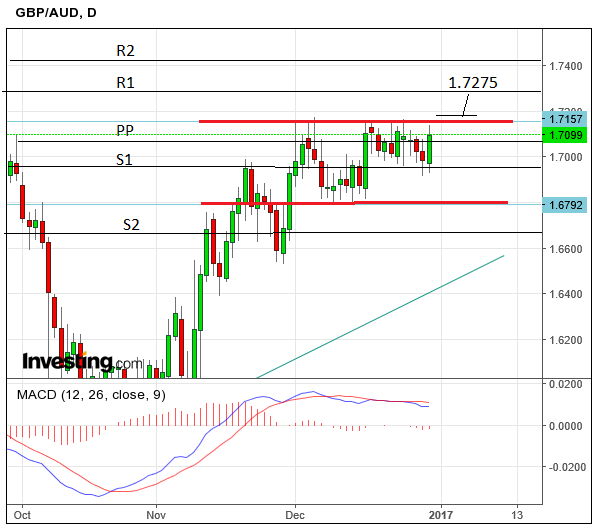 Such a break would reconfirm a continuation up to a probable target at 1.7275, at the R1 monthly pivot, a level traders watch as it often acts as an obstacle to further price movement.
The MACD, a momentum indicator, is flatlining and could be about to fall, signalling weakness in the underlying asset, however, it is too early to say for sure.
Latest Pound / Australian Dollar Exchange Rates
* Bank rates according to latest IMTI data.
** RationalFX dealing desk quotation.
Aussie and other Commodity Currencies to Struggle in 2017
Despite the decent start to the year seen in the Chinese data calendar, concerns remain that the Chinese econony will slow in 2017, and this will likely weigh on the likes of the AUD which derives much of its value from Australian exports to China.
The commodity dollar complex - AUD, NZD and CAD - have been struggling of late and we hear they are likely to continue struggling.
"Part of that has to do with the prospect of further US Dollar strength but the 4% drop in the Chinese Yuan since October and the 7.7% drop since April takes a big bite out of the purchasing power of the Chinese, who play a big role in the outlook for Canada, Australia and New Zealand," says Kathy Lien, Director at BK Asset Management in New York.
Lien notes that Australia and New Zealand could feel the pinch of higher interest rates in the US and weaker Chinese growth.
"Many Australian companies have also borrowed in US Dollars and the cost of borrowing will rise in the coming year. Since we are looking for further U.S. dollar strength, AUD and NZD are likely to move lower and this downtrend will ease the pressure on the Reserve Banks to lower rates. Growth should be slow as job growth remains a problem," says Lien.
Indeed, Australian GDP actually contracted in the third quarter of 2016, much to the surprise of analysts. Will 2017 see the Reserve Bank of Australia cut interest rates in response to slowing growth?
If so, then AUD could struggle over the course of the coming year, allowing Sterling opportunity to remain supported.
Data to Watch for the Aussie this Week
The big data release in the week ahead for the Aussie is the Trade Balance in November, out at 00.30 (GMT) on Friday, January 6, which is forecast to show a deficit of -1.2bn from -1.54bn previously, no doubt reflecting the recent rise in commodity prices.
The AIG Manufacturing Index in December is released on Monday, December 2 at 22.30 and is forecast to fall to 53, from 54.2.
The AIG Services Index is out on Wednesday, December 4 at 22.30 and is forecast to fall to 50.2 from 51.1
Data to Watch for the Pound this Week
The main data releases for this week are Manufacturing, Services and Construction PMIs for December. (Follow our updates here).
The week starts with Manufacturing PMI on Tuesday, January 3 at 9.30, which is forecast to pull-back a basis point to 53.3.
Construction PMI follows on Wednesday, January 4, and is forecast to rise to 53.0 from 52.8.
Services is out on Thursday, January 5, and is forecast to pull-back to 54.7 from 55.2.
Bank of England's (BOE's) Andy Haldane is speaking on Thursday 5.
Lending and Consumer Credit data is out on Wednesday the 4th.
Save
Save
Save