Australian Dollar: Is the Aussie Economy Flat-lining or will 2017 Offer More Growth?
Pound to Australian Dollar exchange rate at time of writing: 1.705
Australian to US Dollar exchange rate at time of writing: 0.7173
The Australian economy surprised everyone in the third quarter by shrinking 0.5% rather than rising by a similar amount as had been generally expected.
The question now facing Aussie Dollar traders is whether the slow-down is just a "pot-hole", a blip, a bit of grit in the gears, or whether it is the start of a more protracted slowdown or even recession.
If the Australian economy set to go through a longer period of below-par growth the Reserve Bank of Australia (RBA) will be obliged to cut interest rates from their relatively high 1.5%, in order to stimulate demand, and this will weaken the Aussie.
If not then the Aussie should remain resilient.
From the list of analyst's responses on Business Insider, it appears the consensus is that the Q3 fall was a one-off, and that the economy will bounce back in the fourth quarter.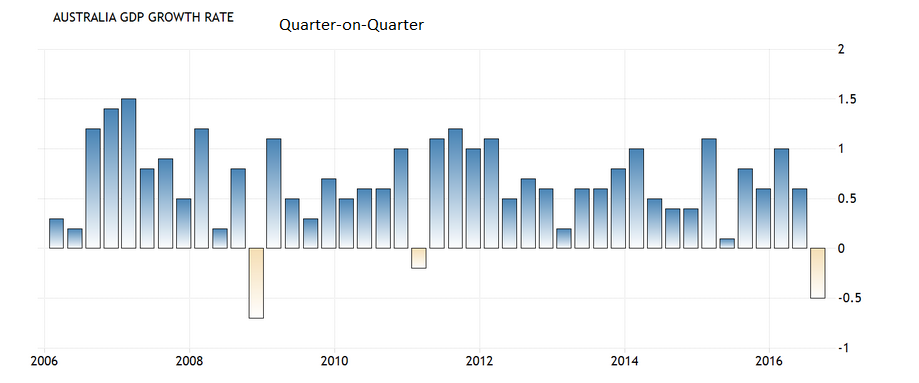 Context
The significance of something can appear exaggerated when it is removed from context.
Several analysts point out that the Q3 data must be viewed within the context of extraordinarily strong growth in Q's 1 and 2.
"The fall in GDP in the third quarter needs to be seen alongside the surprising strength of the economy in the first half of the year, which was partly due to the unusual strength of net exports and public expenditure.
"Now we're in a situation where those components are unusually weak, as they subtracted 0.2 percentage points (ppts) and 0.5 ppts respectively from GDP growth in the third quarter," said Capital Economics' Paul Dales.
One temporary factor used to explain the slowdown is the impact of "inclement weather".
"We do not anticipate another negative print in the December quarter — our early forecast is approximately 0.9% q/q, as a few one-offs such as weather disruptions affecting dwelling and non-dwelling construction, and the unwinding of strong public investment in Q2 ease, although year-ended growth still only picks up to 2% y/y," said NAB's Alan Oster.
Latest Pound / Australian Dollar Exchange Rates
* Bank rates according to latest IMTI data.
** RationalFX dealing desk quotation.
HSBC's Paul Bloxham is dismissive of the Q3 result, saying it was unreflective and came about only because of a meeting of several one-off factors:
"Today's fall seems to reflect a culmination of various one-off factors.
"First, export growth was weak, as coal production was disrupted by a roof collapse at a key mine and various other factors.
"Second, residential construction fell in the quarter, which the statistics bureau noted was due to inclement weather.
"Third, there was a sharp fall in public investment spending, which followed a sharp rise in Q2.
"Finally, mining investment continued to fall as projects are being completed."
Consumption Concerns
Less convinced the Q3 undershoot is just blip along the way is Su-Ling Ong of RBC, who sees the contraction as symbolic of themes which are likely to continue playing out in the year ahead.
The main concern is the lack of "domestic demand" which is at risk of continuing in 2017.
Ong sees it as at risk of weakening further if expectations that the residential sector slows down come to pass since rising house prices have fuelled the consumption boom so far:
"We have long held sub-trend private consumption forecasts consistent with a number of enduring headwinds with a robust housing market keeping the risks pretty balanced thus far.
"This will be a different story in 2017 when the current residential construction upswing peaks and as supply continues to come onstream with pockets of oversupply set to worsen.
"We remind readers that household consumption is the biggest contributor to growth and accounts for almost 60% of GDP.
The softening in residential investment appears to be a more enduring theme picked up on by several analysts.
Capital Economics, in a brief to clients, note:
"There are some parts of the Q3 pothole that may prove more persistent.
"The decline in dwelling investment is consistent with the idea that the peak in the residential construction boom is at hand," said CBA's Michael Blythe.
"Admittedly, there is more worrying evidence of an easing in other areas.
"The 0.4% q/q rise in consumption was the smallest in almost four years and the 1.4% q/q fall in dwellings investment shows that the economy can no longer rely on the housing boom to support growth," said the Capital Economics Economist.
Rebound in Q4
Most analysts do however expect the economy to recover in Q4, and this would likely stabilse the Australian Dollar.
The rise in October Retail Sales already suggests more growth.
Sentiment surveys have also provided positive results for Q4 - such as the sector PMIs - indicating the economy is likely to show positive growth in Q4, averting a recession.
"Looking forward, there is going to be a further ramp-up in resource export volumes, non-residential building approvals are lifting considerably, mining investment is getting closer to a bottom, retail sales growth trends have picked up again, there is still a lot more dwelling construction in the pipeline, state government budgets indicate a lift in public investment and the rebound in commodity prices with the terms of trade up 4.5% in the September quarter tells us that the income recession in Australia is over. So we expect GDP growth to lift back to around a 2.5% pace in the current quarter and through 2017," says Shane Oliver of AMP Capital.
Felicity Emmett of ANZ Bank concurs, saying:
"We expect a bounce in activity in Q4. In aggregate, a mixed bag of numbers, but we expect they will keep the RBA's easing bias intact."
UBS's Scott Haslem is also optimistic about Q4.
"Given upward trends in exports, public capex & residential building, growth will rebound strongly in Q4 (as it did after the last negative print in 2011).
"We expect the RBA will increasingly focus on the improving growth outlook for 2017, and choose to keep rates on hold at 1.5% for the foreseeable future," said Haslem.
Whilst several analysts spoke of the RBA adopting an easing bias, only one expects the Bank to cut rates in 2017.
"Today's figures, in conjunction with slowing employment and weaker business conditions, raise the possibility that the non-mining recovery has run out of steam earlier than expected.
"We remain comfortable with our view that the RBA will need to cut rates further in 2017," says NAB's Alan Oster.
Commodity Rebound
One major positive for economic growth which is not reflected accurately in the Q3 figures is the recent strong recovery in commodity prices, especially heavy metals, such as Iron Ore, which is Australia's largest single export.
When higher commodity prices eventually feed through into the GDP numbers, which is likely in Q4 and possibly 2017 if the rally in commodities continues, this should shore up growth for the Aussie economy and support the currency.
"We doubt that the first recession in 25 years has begun," says Capital's Dales, adding:
"The 0.5% m/m rise in retail sales in October suggests that the fourth quarter started well and a possible 12% q/q leap in the terms of trade, triggered by a surge in commodity export prices relative to import prices in the fourth quarter, will boost national income.
"The odds are that GDP will rise in the fourth quarter."
CBA's Michael Blythe is equally optimistic about the outlook due to rising commodity prices.
"The income drag from falling commodity prices has ended in spectacular fashion with the surge in key bulk commodity prices.
"The spending drag from falling mining capex will soon be complete.
"What lies ahead are the benefits of rising mining production and resource exports," said Blythe.
The Whimper That Wasn't A Bang May Just be a Bump on the Road
The conclusion is that as bad as Q3 was it is probably not the start of a recession and growth is likely to show a rebound in Q4.
The Australian Dollar's surprisingly muted response is therefore probably commensurate with the data, which appears to be more likely to be a one-off than a sign of a deeper contraction.
A key ongoing focus in order to gauge the severity of the slowdown will be the housing market as well as commodity prices.
These will need to remain robust for the economy to rebound from the under-par Q3, and continue rising in 2017.
Save
Save
Save
Save
Save
Featured Content
Mortgage Direct - a Spanish mortgage broker specialising in the provision of mortgages for expats - have confirmed they have secured their Spanish license.