British Pound to Australian Dollar Rate Forecast to Advance Further as 100 Day M.A is Broken and Inflation Expectations Downgraded

Those with GBP-AUD money transfer requirements can be cautiously optimistic that better rates lie ahead as our studies confirm notable shifts in the market.
Large downgrade to inflation in RBA's SoMP suggests that further interest rate cuts almost guaranteed.
Door opened to further sterling gains as technical resistance broken
The Australian dollar was the worst performing currency in the G10 space over the course of the first week of May as a surprise interest rate cut was followed up by some hefty inflation forecast downgrades at the Reserve Bank of Australia.
The weakness allowed the pound to break through the 100 day moving average to hit levels around 1.9570 - the best exchange rate for those buying Aussie dollars since late February.
We wrote mid-week that it would take a fresh trigger to stimulate further GBP buying as there was a heavy layer of resistance in the underlying market that was capping further advances at the 100 day moving average.
The RBA's Statement on Monetary Policy (SoMP) event was just that trigger: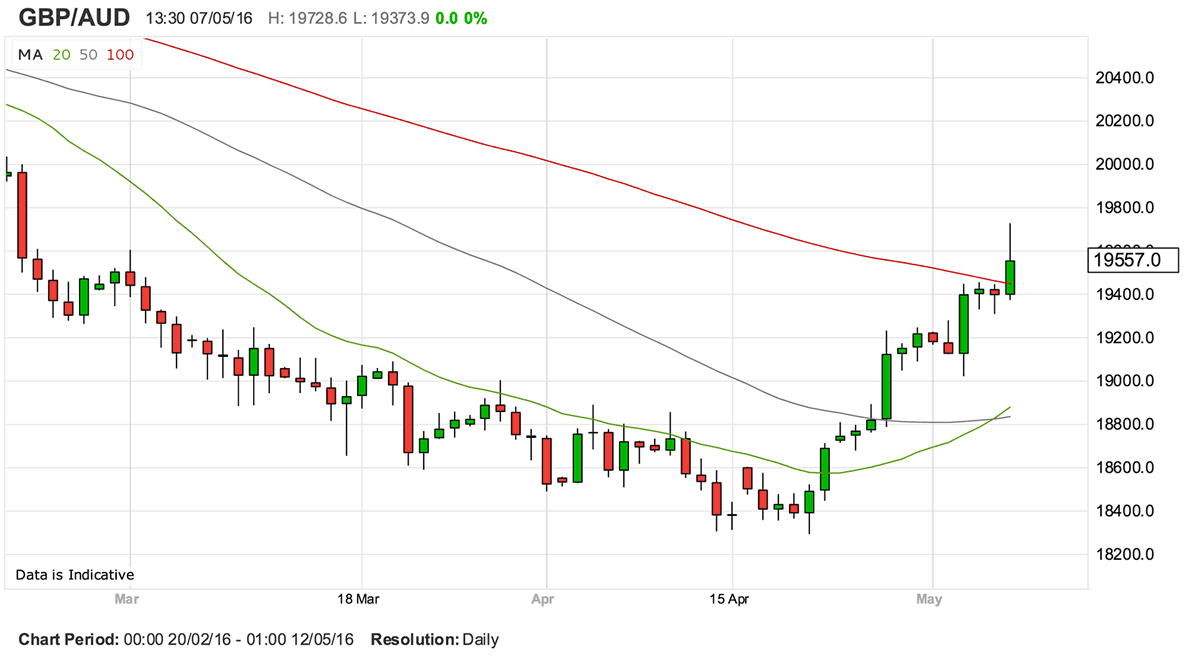 That red line is the 100 day moving average - the average price of sterling over the past 100 days. It is not just a nice number that we can use for comparison purposes; it is in fact a really important point for traders.
Often we see moves fail when they run into moving averages; particularly the bigger numbers. This is because traders tend to place orders to either enter or exit the market around these points.
As such, trends can often fail and reverse when MA's are met. If they are successfully broken then the capitulation by contrarian traders often sparks a fast and unhindered continuation of the previous move.
Look at the graph again - you will see the strong move that came after the 50 day moving average (grey line) was broken confirming that breaks tend to lead to further advances.
We have noted that this indicator has proven quite successful in predicting movements in the GBP/EUR exchange rate over recent months, and it seems it is happening with the GBP/AUD at present.
As far as targets go we would expect the round number of 2.0 to be an obvious choice and speculators will likely look to go short on the pair on the approach of this level.
This could be a good point for those looking to buy Aussie dollars to set up a buy order with their brokers.
Latest Pound / Australian Dollar Exchange Rates
* Bank rates according to latest IMTI data.
** RationalFX dealing desk quotation.
Forecasting More Upside Following Inflation Forecast Downgrades
It appears that a resolution to this point of resistance has been found and we would imagine further gains now lie ahead.
The fundamental driver of these gains will be the RBA which appears intent on cutting interest rates again in the future.
On the 6th of May the Bank cut its December 2016 inflation forecasts by a full percentage point from 2-3% to 1-2% and on these numbers will miss its 2-3% target through the entire 2016 year.
While the Q1 inflation number was weak, the outlook has been revised substantially lower because of a downgrade to expectations of wages growth as well as increased retail competition and moderating housing costs.
"Such a large downgrade to inflation suggests that further easing is almost guaranteed. We now expect another 25bp cut, most likely in August, but the possibility of a cut as early as June shouldn't be discounted," says Felicity Emmett at ANZ Research.
We note that analysts at Deutsche Bank are also confident that the Aussie dollar will fall further against the US dollar, with the US currency looking set for a good month right across the board.
Deutsche Bank agree the Reserve Bank of Australia will have to cut rates quite substantially going forward in order to meet their inflation target set around the 2% area.
And deep interest rate cuts = a weaker Aussie dollar.
"The RBA is therefore likely to need more than a 10% depreciation, consistent with AUD/USD in the low 0.60s," say Deutsche Bank in a forecast note to clients, "it's not too late to go short in our view."
There is a good chance that sterling could piggy-back the US dollar's strength and move well beyond the 100 day moving average.
However, there is of course that overhanging threat of the EU referendum due next month.
It is hard to get too bullish on sterling ahead of this event, and this makes calling a target in the outlook for GBP/AUD a little difficult.
As such, those with outstanding money transfers to Australia should be willing to transact a good portion around current levels.
If you have time to wait, then ensure your broker has an order set for higher levels in the event of further advances.
A stop-loss should be set lower at the 100 day moving average which should now act as support.