Why the Pound to Dollar Rate Will Likely Fall This May
The US dollar is back in demand and we question whether the GBP to USD exchange rate has any fuel left to continue its recent multi-week advance.
The pound to dollar has fallen in May in the last 8 of 10 years
"We anticipate rejection near 1.4559 to lead GBPUSD lower towards 1.4388 going forward" - Hong Leong Bank
US Fed could be leaning towards a June interest rate rise
The US dollar appears to be finding a few more friends after weeks of tepid demand.
The rise in the dollar in early May is due to a number of factors, notably a decline in global commodity prices and hints from US Federal Reserve policy makers that interest rates could rise in June.
Talk of a June interest rate hike would invite further rate rises in 2016 - music to the ears of those hoping for a better dollar conversion as it is the promise of higher interest rates that ultimately stimulate demand for dollars.
The euro to dollar exchange rate fell back to 1.1496 as the dollar finds increased bidding action ensuring the pair is unable to sustain a bullish tone.
However, we note some are arguing that any declines in the euro should be viewed as being temporary in nature and the euro could still advance to levels towards 1.20.
Others are turning nervous on the euro's prospects.
"EUR remains slightly bullish against USD but would very quickly plunge into losses if US data strengthens. Upside bias has not diminished for EURUSD and there is scope to test 1.1561, even 1.1623. Nonetheless, we still caution on growing fatigue approaching these levels that could result in a strong rejection," say analysts at Hong Leong Bank in a foreign exchange briefing released mid-week.
The pound to dollar exchange rate has meanwhile declined from a multi-month high at 1.4770, we note sterling is a passenger to external drivers at present with a multitude of factors driving sentiment.
"We are bearish on GBP against USD anticipating moderate downward retracement from recent gains; expect downsides to accelerate if UK data softens. Technically, GBPUSD faces firm resistances that prevent it from testing 1.46. We anticipate rejection near 1.4559 to lead GBPUSD lower towards 1.4388 going forward," say Hong Leong.
Indeed there are signs on many fronts that the April recovery rally is becoming harder to sustain in the absence of unquestionably stronger data.
UK data has been turning softer of late and we would expect the trend to only turn more positive following the mid-year EU membership referendum.
Latest Pound / US Dollar Exchange Rates
* Bank rates according to latest IMTI data.
** RationalFX dealing desk quotation.
Seasonality: May is Typically a Good Month for the Dollar
Beware - a look at the archives shows that the month of May is typically a bountiful month for dollar bulls.
According to data (thanks to BK Asset Management for this), May tends to be a very good month for the dollar and as the first week of the month progresses, the dollar appears to be reverting to form.
"In 8 out of the last 10 years, the Dollar Index appreciated in the month of May with particularly consistent gains seen in EUR/USD and GBP/USD. Interestingly enough these are two of the currencies that have seen the smallest losses against the dollar. Nonetheless the greenback is rising and enjoying particularly strong gains versus the commodity complex," says Kathy Lien, Director at BK Asset Management.
Data shows that the pound tends to perform poorly against the dollar in May having only risen in two out of the past ten years while the broader dollar index has recorded gains.
This seasonality combined with a more pro-USD shift in Fed interest rate hike expectations could be a clear warning of how coming weeks should progress.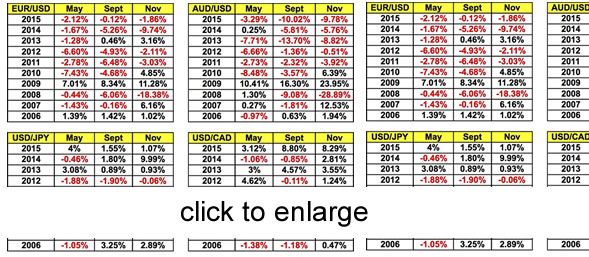 It's Hard to Sell the Dollar Much More Ahead of the Jobs Report
In both the EUR/USD and GBP/USD it is the dollar that is in the driving seat.
"For now the 1.4450 level remains strong support for the unit and today's price action remains classic sell the rumor buy the news dynamic. Nevertheless as we pointed out yesterday we believe the trend in cable has turned for now and any rally is likely to be capped by recent highs above the 1.4700 figure," notes Boris Shchlossberg at BK Asset Management.
The broader dollar complex was helped higher as investors exited out of some of their short USDJPY positioning that is now the largest within the G4.
CitiFX reckon much of the EURUSD declines from recent highs at 1.1620 also owes itself to a short covering bid in USD.
"The USD Index hits a low of 91.92 overnight after having broken through key 92.62 support but the recovery is equally swift and is now back, trading at 92.94. As such, the overnight move may be a false break and we would need to see a more sustained break below 92.62 support to hit targets around the 88.46-89.62 area," say Citi.
Analysts at the world's largest foreign exchange dealer argue a sustained move lower is difficult to see given USD positioning (until last night) is at record shorts heading into Friday's April jobs report.
'Record shorts' imply that the market is already so heavily positioned on one bet that there simply are no longer enough traders available to jump into the market and extend the move. Rather there is an increased risk of a turnaround as traders jump out of an overbooked ship.
Jobs Report Ahoy
The release of US non-farm payrolls data on the first Friday of every month is always the most anticipated economic data release on the calendar.
Economists forecast +200k jobs to be reported in the May release with an unchanged unemployment rate of 5% and for average hourly earnings to grow +0.3%.
With positioning against the US dollar being short there is the potential for a strong rally if the data comes out ahead of expectations.
Indeed, we are seeing most of the big-names we follow suggesting traders are tactically long on the dollar ahead of the employment data release.
"In reality, anything above +180k with average hourly earnings at +0.3%MoM or above would likely be good enough to justify a June hike (setting aside EU political issues and their possible impact on asset market volatility) as another strong result would encourage the Fed to set aside the softer Q1 GDP numbers and go with the better jobs reports," say Citi in a foreign exchange briefing to clients released mid-week.
The Fed: Another Reason Why the Dollar Could be Back in Demand
The promise of higher US interest rates is the fuel any dollar recovery would require.
Over the past 24 hours we have heard from two US Federal Reserve officials that a rate hike should be on the table in June's FOMC meeting.
Dennis Lockhart (Atlanta Fed) and John Williams (San Francisco Fed) signalled that strength in the US economy could warrant a hike in June.
Lockhart said that "I would put more probability on it being a real option" but confirmed he wasn't leaning for or against a June increase until he sees more data.
He confirmed that two interest rate increases this year are "certainly possible".
Williams told a panel at the Liken Institute Global Conference that he would support raising rates at the next meeting if the economy stayed on track.
"It makes sense for us to be moving interest rates gradually back to more a normal level over the next couple years," Williams said, "I actually think that's a sign of strength for the global economy."
However Williams was not all-out positive noting a "broad sets of assets are going to see big movements downward" as interest rates rise and "that's an area that I think is a potential risk."