Pound to Euro Forecast: Failure at 100 day Moving Average

Pound sterling is failing to extend its April rally against the euro despite some better-than-forecast UK GDP Numbers which confirm the UK economy continues to outperform its rivals.
The British pound appears to be stalling around current levels (1.2850-1.29) with a steady supply of sterling being made available to the market on attempts to breach the pair's 100 day moving average.
The inability to break higher comes despite the release of better-than-forecast UK economic growth figures; UK GDP rose 0.4% in the first quarter of 2016 while the annual figure now stands at 2.1%.
Media outlets have rounded on the figures as a sign that the economy has entered a terminal decline and while there are undoubtedly some troubled points in the underlying data, there is a risk of losing sight of the bigger picture.
The UK remains an outperformer when compared to the majority of its G10 peers and there is a good chance economic growth will accelerate once the EU referendum results are made known.
This could well prompt the Bank of England into raising interest rates before the end of the year, and thus trigger massive moves higher in sterling.
We have noted time and again that moving averages are a big deal to the GBP-EUR pair and the last time GBP/EUR breached the 100 day moving average was back in October 2015.
Latest Pound/Euro Exchange Rates
* Bank rates according to latest IMTI data.
** RationalFX dealing desk quotation.
Gains Capped
Technical considerations remain a strong driver in sterling-euro price action at the present time.
The pound appears unable to overcome the huge levels of supply that are triggered when it meets the 100 day moving average, represented by the red line in the below chart: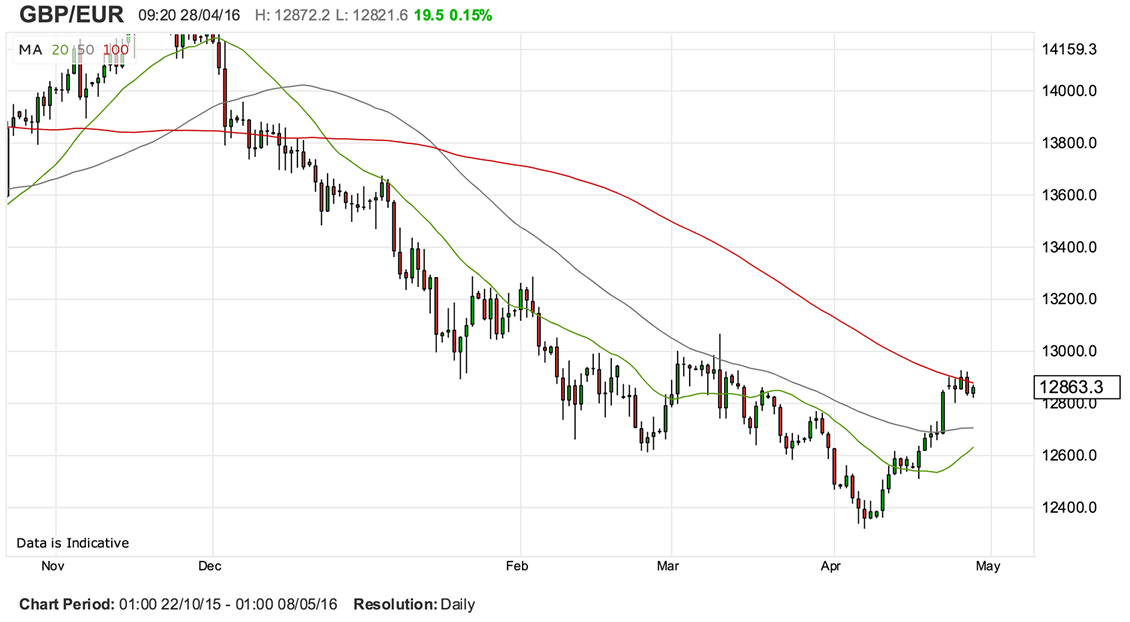 Note how the moving average is directed lower, this tells us that the cap is moving lower too.
We would need a fundamental trigger to prompt the spike in demand needed to overcome the barrier, and with a data calendar devoid of event risk we fail to see any catalyst until the new month is underway.
Indeed, as we note here, the relief rally in sterling has been triggered by the increased odds that the UK votes to remain in Europe. These odds cannot keep growing, indeed they may well narrow as we move closer to the vote.
Pound has More to Offer
Nevertheless, there are some advocates who believe the push higher is by no means over.
CitiFX note that now the GBP to EUR exchange rate pair has broken above 1.2739 resistance and the technical backdrop suggests a re-test of 1.2893 followed by 1.3158.
Ultimately, for the pound we believe questions of sentiment and technicalities will continue to be of utmost importance.
"Interestingly, 12-month BOE rate hike expectations have firmed and the British Pound has traded higher even as UK economic data outcomes has deteriorated relative to consensus forecasts in recent weeks," says Ilya Spivak, Currency Strategist at DailyFX.
Spivak confirms that this apparent mismatch may be accounted for by receding risk of a UK exit from the European Union in the minds of investors.
Indeed, mentions of "Brexit" have become less frequent in global news flow tracked by Bloomberg.
"If the risk premium associated with the June referendum on membership in the regional bloc is truly dissipating, then even soft GDP figures may be unable to inflict lasting pain on the currency," says Spivak.
More Resilient Sterling
The implied probability of a vote for "Bremain" has risen several percentage points to about 75%, according to bookmaker Betfair.
Ladbrokes' indicates a 73% chance of Britain voting to remain post-Obama and William Hill sees "Brexit at longest odds yet of 13/5" and Remain at 2/7.
"GBP finally shows more positive signs of holding onto gains above 1.44 with GBPUSD making an important close above 1.4458 and officially ending a series of lower highs since June 2015. This suggests a near-term trend change," say CitiBank's FX unit in a note to clients.
Overall, there now seems a more decisive sentiment shift in favour of sterling but the key 1.4515 pivot still stands as a major hurdle for the GBP/USD pair to cross for now.
Staying Bearish
Analysts at Standard Chartered meanwhile warn that it is too soon to be outright bulls on the GBP/USD exchange rate, a view echoed elsewhere.
"While some recent polls may have suggested a lower probability of a 'Brexit', we do not believe this will alter the uncertainty with respect to the currency until the June referendum itself," say Standard Chartered in a foreign exchange briefing to their Wealth Management Group clients.
Standard Chartered also continue to expect the BOE to remain on the sidelines until this event.
Concerning the outlook for GBP/USD analysts believe the move higher in GBP/USD will be restricted to the 1.45 resistance region:
"This suggests the pair overall remains in consolidation territory. We expect the pair to trade in the 1.40-1.45 for the time being, a break in either end of this range may be a signal for a resumption of a broader bullish-bearish trend."