Pound to Euro Exchange Rate Rally Failing Where we Thought it Would

The British pound has reached a key point in its ascendency against the euro and the gains that can be realised if it is overcome are sizeable.
The GBP to EUR exchange rate has reached 1.2659 in mid-week trade and we are now at a level that could determine whether the pound really has the legs to extend into something resembling a sustainable recovery.
The strong gains of this week appear to have come to an end courtesy of softer stock market conditions, weak UK employment numbers and the presence of a major technical barrier.
It is this barrier that is instructive to us; the exchange rate now finds itself just below the 50 day moving average at 1.2689.
We have seen how this really is a difficult level for the pair to cross above and have warned previously that we believe this is where the gains will end.
The reason for our view is that recent history offers some interesting lessons when it comes to the GBP/EUR and its 50 day moving average.
On the 10th of March a recovery in sterling met the 50 day moving average at just below 1.30; for two days the currency tried to break above it but the sheer wall of sell orders saw the rally capitulate.
We would expect a similar level of resistance to be written into the market at 1.2692 where the 50 day M.A currently finds itself: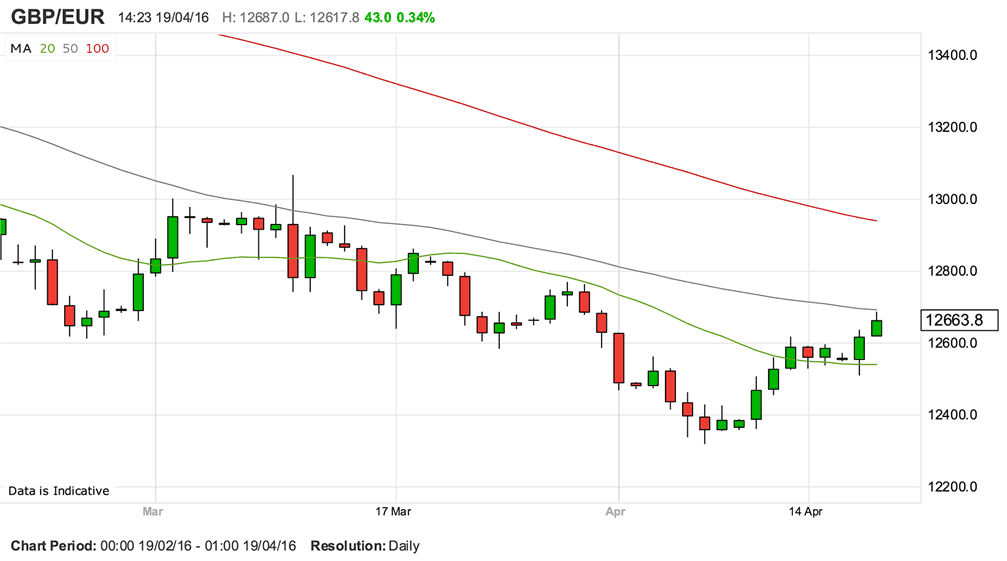 The interesting point to note is that when the GBP/EUR last broke above the 50 day MA, back in October 2015, we witnessed an impressive rally from 1.3597 through to a peak at 1.4318.
This was a classic breakout that traders of moving averages would have expected as the clear-out of the sell-orders at this level left a vacuum within which the rally could really extend.
The question is - will it be the case this time around?
We are Skeptical
There is a major difference between the market setup in April 2016 and October 2015. That difference is Brexit.
The EU referendum hangs heavy over sterling ensuring that there is no fundamental justification for the currency to really rally.
Indeed, back in October markets were betting on a Bank of England interest rate rise that would provide investors with higher yields, this in turn attracted vast inflows of capital which boosted the currency.
This time around even good economic data out of the UK is flatly ignored with the Bank of England clearly in no mood to contemplate raising interest rates.
Indeed, money markets are now only seeing an interest rate rise occurring in 2020!
The downside risks are too significant, in our view, to justify the quantities of trades required to really push the pound higher.
One Thing That Can Help
There is one driver that could deliver higher pound exchange rates, and that is market optimism.
One side-effect of the EU referendum is that traders are now treating the UK currency as 'risky asset' - i.e one that is to be bought when times are good and sold when sentiment sours.
What we are witnessing this April is a decent rally in stock markets, a move that has coincided with a stronger GBP/EUR.
Of note is that there is a decent correlation with the German DAX in particular: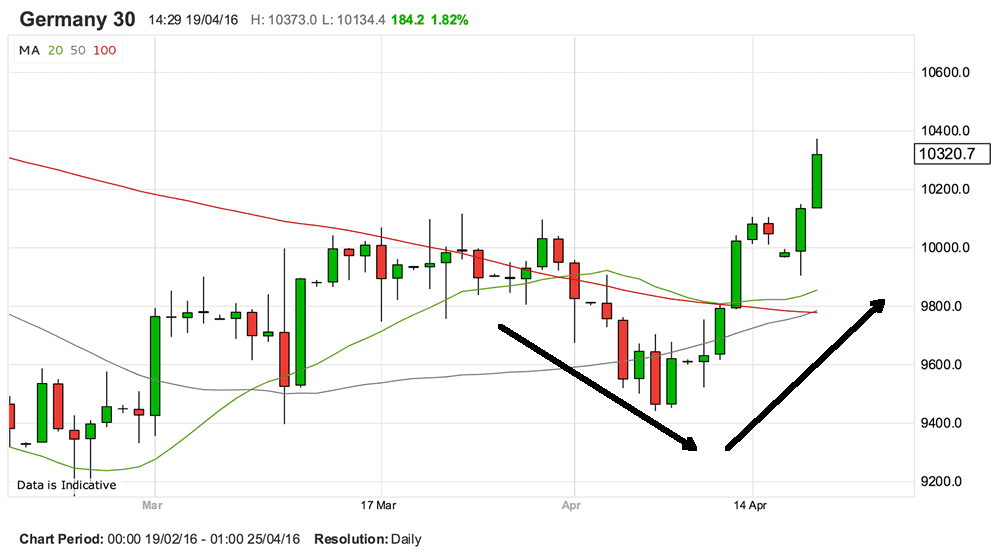 Now this is by no means a perfect correlation, but it does indicate the two are trending together, with both drawing on the 'same kind' of risk.
(i.e A FTSE rally is a little different to a DAX rally owing to the index's strong weighting towards the resource sector).
Therefore we will continue to watch the general sentiment of markets, and particularly German markets, until such a time as this relationship breaks down.
The move above 1.26 in the GBP/EUR comes as European equities climbed to a three-month high on Tuesday thanks to encouraging updates from companies such as French cosmetics firm L'Oreal and advertising group Publicis.
On the macro front German business confidence data beat expectations by coming in better-than-expected.
Germany's ZEW index of investor optimism brightened for a second straight month, rising to a four-month high of 11.2 in April.
Typically we would have expected the pound to fall against the euro on such an event as the euro would traditionally be the inheritor of strength from Eurozone economic data.
But in today's environment where positivity aids the pound sterling more, the euro has lost out.