GBP/AUD Forecast: Under Pressure Following AUD/USD Resistance Break, Inflation Figures Eyed this Week
GBP/AUD looks to test key support on big drop
AUD/USD breaking through 0.70 resistance
CPI inflation is domestic focus this week
Markets looking for inflation to have eased
But CBA says upside surprise is likely
Image © Adobe Images
A significant move higher by the Australian Dollar is unfolding with analysts saying a breakdown in a key resistance level and an ongoing rally in equity markets are behind the move.
The Australian Dollar rallied sharply against the U.S. Dollar as global equity markets accelerated their recovery and AUD/USD was said to be in the process of vanquishing a technical resistance point at 0.70.
"Aussie loving the risk rally & finding fixing demand to boot... slicing through the 70 figure like a hot knife through butter," says Michael Brown, Market Analyst at TraderX.
---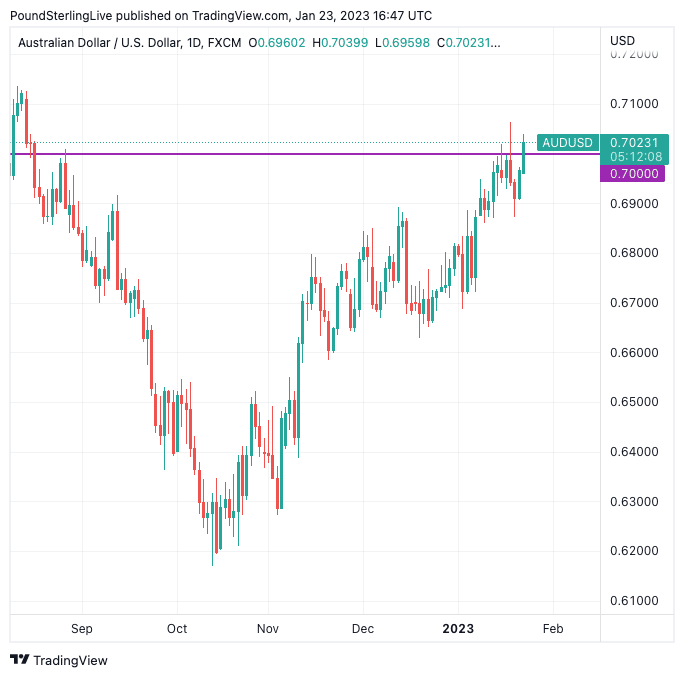 Above: AUD/USD pushes through 0.70. Consider setting a free FX rate alert here to better time your payment requirements.
---
"We expect AUDUSD volatility to stay high as it tracks swings in risk sentiment. AUD upside is intact on resilient fundamentals and improving trade ties with China," says a weekly FX strategy note from Barclays.
The hefty move in the headline AUD/USD reverberated through other Aussie Dollar crosses and the Pound to Australian Dollar exchange rate (GBP/AUD) is recorded 1.0% down on the day at 1.76 at the time of writing.
0.70 is the 'line in the sand' for AUD/USD; for GBP/AUD the key level is a band of support that can be drawn in the region approaching 1.74.
Other Aussie crosses would likely be impacted and GBP/AUD could go as low as 1.7420 should the market see more follow-through gains in AUD/USD, according to an analysis from Commonwealth Bank of Australia.
---
---
This week should therefore see market participants keep an eye on global equity market developments and AUD/USD's ability to advance in the clear air it has encountered now 0.70 has given way.
But CBA says AUD/USD can track higher closer to 0.7100 this week, in part because it expects the Australian CPI inflation reading, due out Wednesday, to be higher than investors are prepared for.
Consensus is looking for headline CPI inflation to read at 1.6% for the final quarter of 2022, down on the previous quarter's 1.8%.
Such a slowdown, if realised, would potentially give the market reason to pare back expectations for Reserve Bank of Australia (RBA) interest rate hikes, a development that could prove a headwind to Aussie gains.
---
Above: GBP/AUD at daily intervals showing the approximate level of support. If you are looking to protect or boost your international payment budget you could consider securing today's rate for use in the future, or set an order for your ideal rate when it is achieved, more information can be found here.
---
But if CBA is correct the surprise should be to the upside for inflation, RBA rate hike expectations and the Aussie.
"Higher inflation may help Australian yields to recover following the large fall following last week's soft employment report," says Joseph Capurso, Head of International and Sustainable Economics at CBA.
"AUD/GBP can test upside support at 0.5740 if markets price in a higher chance of an RBA interest rate hike this week," he adds, referencing the 1.7420 level in GBP/AUD.
"Any upside surprises on inflation could boost the AUD, especially given the sharp repricing in RBA policy rate expectations," says Barclays.