Rising Markets Fail to Lift AUD, Pound-to-Australian Dollar Eyes Another Weekly Gain
- GBP/AUD eyes 1.0% weekly gain
- Extends June-July period of consolidation
- AUD seen breaking relationship with global stock markets
Image © Adobe Images
Achieve up to 3-5% more currency for your money transfers. Beat your bank's rate by using a specialist FX provider: find out how.
The Pound is currently on course to end the week ~1.0% higher against the Australian Dollar, which would make for a second consecutive weekly advance in the pair; the last time we saw back-to-back weekly advances as prior to the financial meltdown of March when the Aussie was in free-fall.
The recovery in the Australian Dollar since early April has been forceful and at times appeared unstoppable, but the June-July period has seen that outperformance end and GBP/AUD consolidate.
Entering August, the conditions for a decidedly more bullish rally in GBP/AUD are growing courtesy of the stabilisation in prices.
That the Pound has advanced against the Australian Dollar in both 'risk off' and 'risk on' markets over the course of the past week strikes as being a potentially significant development for GBP/AUD that hints at some genuine Pound Sterling strength coming through.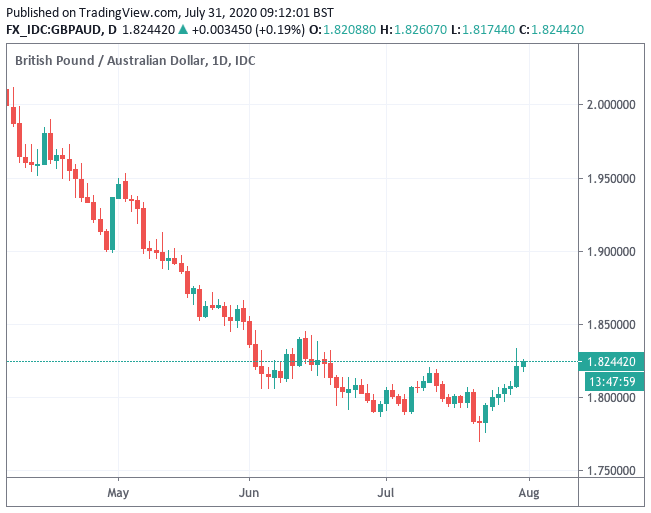 Typically the high beta Australian Dollar - 'high beta' simply means the currency has a strong positive relationship to stock markets, particularly the S&P 500 - would be expected to rally when stocks are climbing, as is the case on Friday.
But, we are seeing another gain for the Pound-to-Australian Dollar exchange rate ahead of the weekend amidst a recovery in investor sentiment and global stock markets, ensuring the pair holds onto the sizeable 0.75% advance recorded the day prior, when stock markets were in the red.
With this in mind, Mazen Issa, Senior FX Strategist at TD Securities says the foreign exchange market's relationship to equity market performance does appear to be breaking down:
"We note that the equity correlations have started to flip. We see this across much of the G10, but specifically note that 20D rolling correlations (on 5-day log returns) have seen the dollar bloc's correlation to equity returns weaken considerably."
The developments are in their infancy and therefore might fade as August commences - often month-end flows can cloud the underlying picture - but should Sterling hold around coming levels over the course of the coming week we will find ourselves turning increasingly bullish on the prospects of the pair going higher.
To be sure, the Australian Dollar has struggled somewhat of late and has not been the participant in the broader U.S. Dollar decline that we would have expected based on its April-June performances. Indeed, as we point out here, AUD/USD took all of July to get 2 cents higher!
"AUD/USD has run into a bit of brick wall, positions have shifted and the market is no longer universally short," says Kit Juckes, chief FX strategist at Société Générale. "Given it has gone up for 4 months in a row for the first time since 2014, cutting longs is the least I can do!"
With AUD/USD struggling to gain traction the door is left wide open to a recovering Sterling to take some ground and push GBP/AUD higher.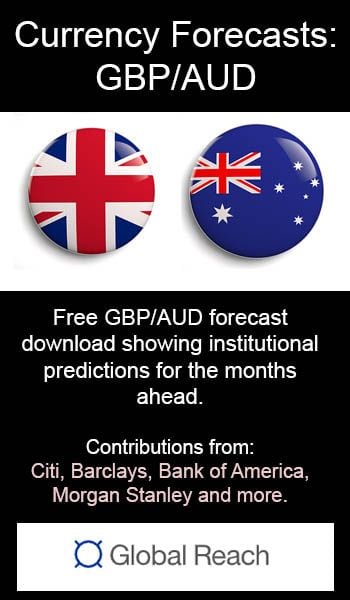 Another obvious point to make when looking at GBP/AUD is that Sterling faces an interesting few months as EU and UK trade negotiators try and zero in on a trade deal. Expectations are currently favouring a deal to be reached in October, around about the time EU leaders are expected to meet to agree on any last-minute concessions.
Until then we would expect Sterling to grow increasingly sensitive to Brexit-related headlines, which would make for heightened levels of volatility that could scramble direction in pairs such as GBP/AUD.
"Beneath the surface there has been some progress on the structure and governance of the deal. On balance we continue to see a deal as more likely as not in the autumn, though the market may first get more nervous over the prospect of a no-deal exit as noise picks up over the coming weeks," says Shreyas Gopal, Strategist at Deutsche Bank.
---
Achieve 3-5% More Currency: The Global Reach Best Exchange Rate Guarantee maximises your currency purchasing power. Find out more.
Brexit will impact your UK pension if you are living in the EU. Capital Rock Wealth have developed a comprehensive guide to help you navigate the uncertainty ahead.
Find out more

Invest in Spanish Property. A selection of discounted properties due to the covid-19 crisis, online viewings and transactions possible. Download the guide. Download the Guide
Featured Content
Mortgage Direct - a Spanish mortgage broker specialising in the provision of mortgages for expats - have confirmed they have secured their Spanish license.