Aussie Dollar Swoons as Stocks Wobble, Second Wave Swells and Analysts Call Time on Rally 
- AUD under pressure as 'lockdown' expands, stocks tumble.
- Record infections for Victoria lift AU virus count more than 5%.
- Charts call time on AUD rally as Societe Generale takes profits.
Above: Woman Wearing a Mask Crossing Road Near Flinders Street Station in Melbourne. Image © Adobe Images
Achieve up to 3-5% more currency for your money transfers. Beat your bank's rate by using a specialist FX provider: find out how.
The Australian Dollar swooned against the ropes Thursday as fundamental and technical headwinds undermined the antipodean unit while strategists at Societe Generale and Commerzbank called time on the AUD/USD rally.
The Aussie followed U.S. stocks lower Thursday as markets also cratered in Europe amid renewed concerns about the coronavirus and after rising infections in Victoria state added more than 5% to the national tally, leading Australia to declare its largest one day increase so far.
More Melbourne suburbs saw restrictions on activity tightened while Victoria announced that "face coverings" will become mandatory for all from midnight Sunday, threatening A$200 fines for non-compliance and seemingly without having specified the circumstances in which they should be worn.
"People who do not wear face coverings and do not have a lawful excuse can be fined $200," the local government said. "Guidelines will be developed about how wearing a face covering applies in different settings in regional Victoria."
723 new infections were declared on Thursday, taking the national total up to 16,298. The total has risen from 7,920 on July 01.
"Australia's current account and budget balances cushion the economy. Australia may be seeing virus outbreaks, which require renewed closing down of bits of the economy, but the fiscal position means they can offset that, for longer than in other countries," says Kit Juckes, chief FX strategist at Societe Generale.
Above: AUD/USD rate shown at 15-minute intervals with S&P 500 index futures (orange line).
Prime Minister Scott Morrisson said the numbers "are obviously very concerning," and restrictions will "come at an impact to the economy....But, equally, not containing these outbreaks will have that effect also."
Australia's coronavirus problem has gone from contained-to-uncontained in July and risks going from bad to worse if recent numbers are sustained over coming weeks, although for the Australian Dollar the international mood was as big a factor, if not more so, when it comes to Thursday's losses.
"AUD/USD has run into a bit of brick wall, positions have shifted and the market is no longer universally short," Juckes says. "Given it has gone up for 4 months in a row for the first time since 2014, cutting longs is the least I can do!"
The U.S. Dollar corrected higher on Thursday as uncertainty over whether Washington will act to prevent a rug from being pulled out from under the feet of households by month-end and a Federal Reserve that sat on its hands in July prompted what appeared to be profit-taking among investors who'd wagered heavily against the greenback.
Thursday's U.S. Dollar rebound pushed the Aussie back from its highest level since April 2018 that was reached in the prior session. AUD/USD reclaimed the 0.72 threshold, although only after having taken four days to rise from 0.71.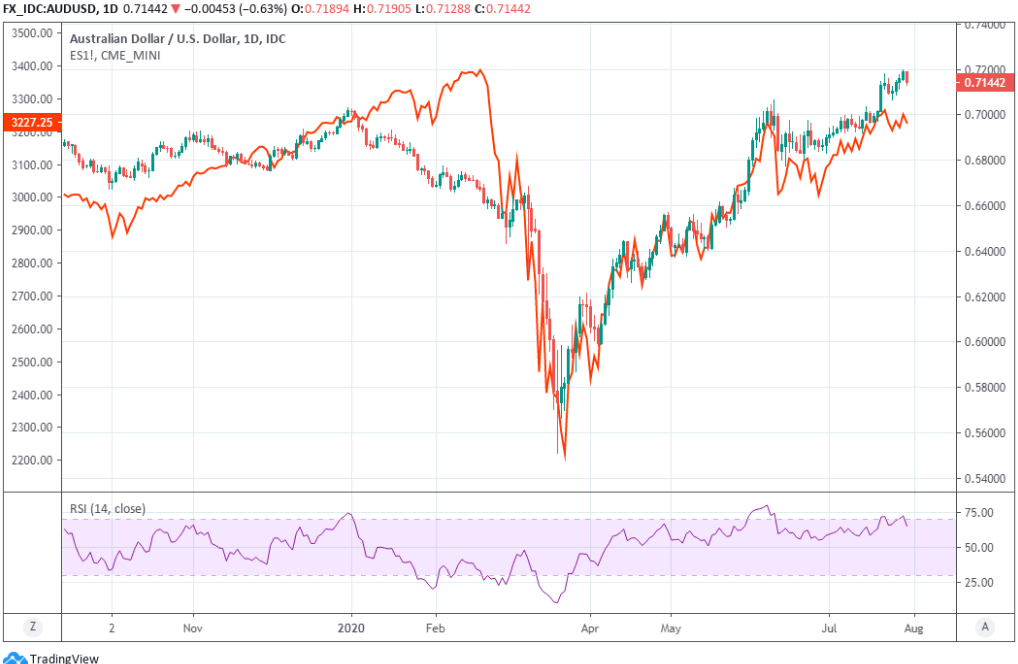 Above: AUD/USD at daily intervals with S&P 500 futures (orange line, left axis) and relative-strength-index in lower pane.
The Aussie has gained two cents over the greenback in July after having risen by six cents in June, but this slowing rally has led to what technical analysts call 'bearish divergence' on the daily charts.
"AUD/USD is faltering as it approaches the 55 month moving average at .7284, which we would expect to hold the initial test," says Karen Jones, head of technical analysis for currencies, commodities and bonds at Commerzbank. "We note the 13 count on the daily chart and that the daily RSI has diverged to reflect a loss of upside momentum and these are warning signals."
The AUD/USD rate has risen to new two-year highs this month but the relative-strength-index measure of momentum has trended sideways through much of the month and ultimately failed to achieve a new high alongside the price of the Aussie Dollar, creating the above referenced bearish divergence.
Divergence and the TD Sequential "13 count" referenced by Jones are often perceived as reversal signals on the part of the market. Like Societe Generale's Juckes, Jones has exited her bet on a rising AUD/USD rate after having bought it around 0.6857, though based on the above technical indicators.
The Australian Dollar has followed the U.S. S&P 500, gold and a range of commodity prices higher since March although all were quoted lower on Thursday as concerns mounted in European capitals about a possible second wave of coronavirus infections on the old continent. So far the recovery in appetite for currencies like the Aussie has survived the virus outbreak that's further crippled the U.S. economy through July, though largely because capital has perceived Australia and Europe as safe to flee to.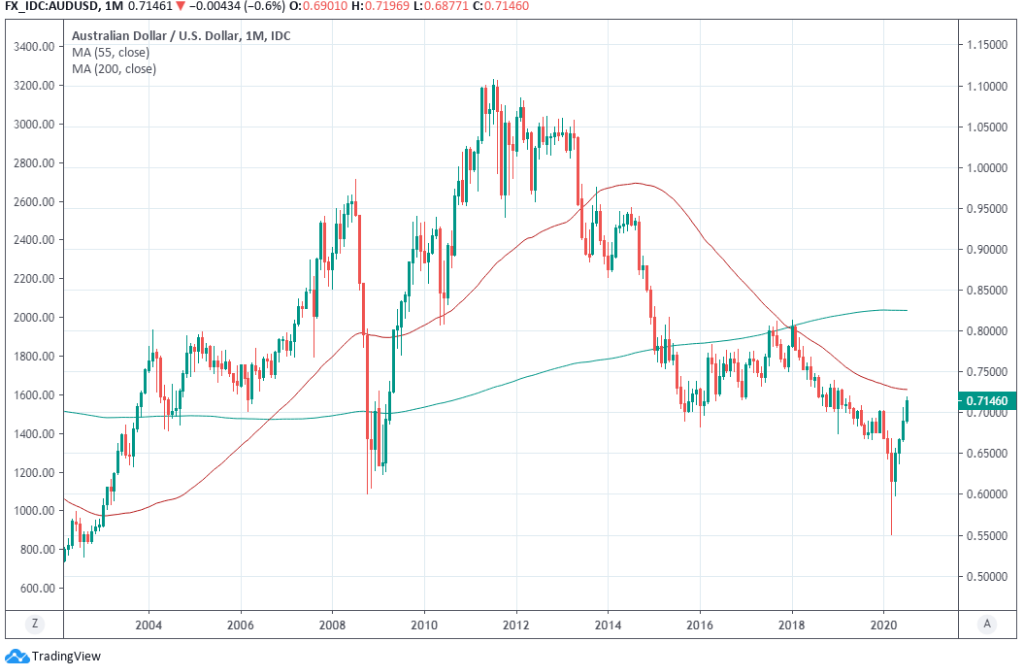 Above: AUD/USD at monthly intervals with 55 (red) and 200-month moving-averages.
---
Achieve 3-5% More Currency: The Global Reach Best Exchange Rate Guarantee maximises your currency purchasing power. Find out more.
Invest in Spanish Property. A selection of discounted properties due to the covid-19 crisis, online viewings and transactions possible. Download the Guide
Invest in Portuguese Property. A selection of discounted properties, online viewings and transactions possible. Download the Guide
Featured Content
Mortgage Direct - a Spanish mortgage broker specialising in the provision of mortgages for expats - have confirmed they have secured their Spanish license.