HSBC says Sell the Australian Dollar as Key Support Level is Set to Give Way
Image © Desiree Caplas, Adobe Stock
- AUD advances with CNY as Chinese Premier eyes growth recovery.
- But HSBC says selll AUD because 0.70 support level set to give way.
- Loss of economic momentum, threat to labour market, key drivers.
The Australian Dollar steadied on Friday after Chinese officials said recently announced stimulus measures will be implemented in April, though the Antipodean currency faces fresh losses that could drive it below a key support level in the weeks ahead, according to analysts at HSBC.
Chinese Premier Li Keqiang said overnight that tax cuts and other measures designed to support the economy in an hour of need will be implemented next month, which offered support to the Renmimbi and Australian Dollar.
"Despite acknowledging mounting downward economic pressure, he ruled out strong monetary easing. He expects the announced tax cuts worth CNY 2trn and targeted easing measures to address economic weakness and create jobs," says Richard Grace, head of FX strategy at Commonwealth Bank of Australia.
Both the Aussie and Renmimbi, which share a strong positive correlation, were offered lower on Thursday after the Peoples' Bank of China (PBoC) set its USD/CNY fixing rate higher than markets had anticipated it would.
"The PBoC fixed the USD-CNY at above 6.70 this morning, while the fixing model predict a much lower fixing towards 6.6950. This indicates that the PBoC might have used the "filtering mechanism" in today's fixing, which would adjust some factors when determining the fixing rates and smooth out the CNY exchange rates amid unusual market movements," says Hao Zhou, an analyst at Commerzbank.
Above: AUD/USD rate shown at hourly intervals alongside USD/CNY rate (orange).
The decline of the Renmimbi, as welll as general strength of the U.S. Dollar, is what has pushed the Australian currency lower into the Thursday session. Zhou says abnormal movements in Pound Sterling exchange rates overnight could have compelled the PBoC to mark down the Renmimbi relative to the U.S. Dollar, though the fixing also came hard on the heels of the latest batch of industrial production, fixed asset investment and retail sales data.
Official data showed industrial production growth falling to an annualised 5.3% during February, down from 5.7% in January and beneath the market consensus for growth of 5.5%. Growth in fixed asset investment increased to 6.1% during that month, from 5.9% previously and in line with the consensus, though this may have more to do with government fiscal stimulus than it does organic private sector commercial activity.
That said, retail sales growth held steady at 8.2% for the recent month when markets had been looking for a decline to 8.1%. Industrial output growth has fallen from an annualised pace of 7.2% this time last year, though most analysts appear to have welcomed the latest figures on Wednesday, suggesting the PBoC and U.S. Dollar were the drivers behind overnight losses for the Aussie.
"Investment growth picked up because of policy easing and front-loaded local government special bond issuance," says Commonwealth's Grace. "We expect the announced fiscal stimulus should help stabilise economic growth."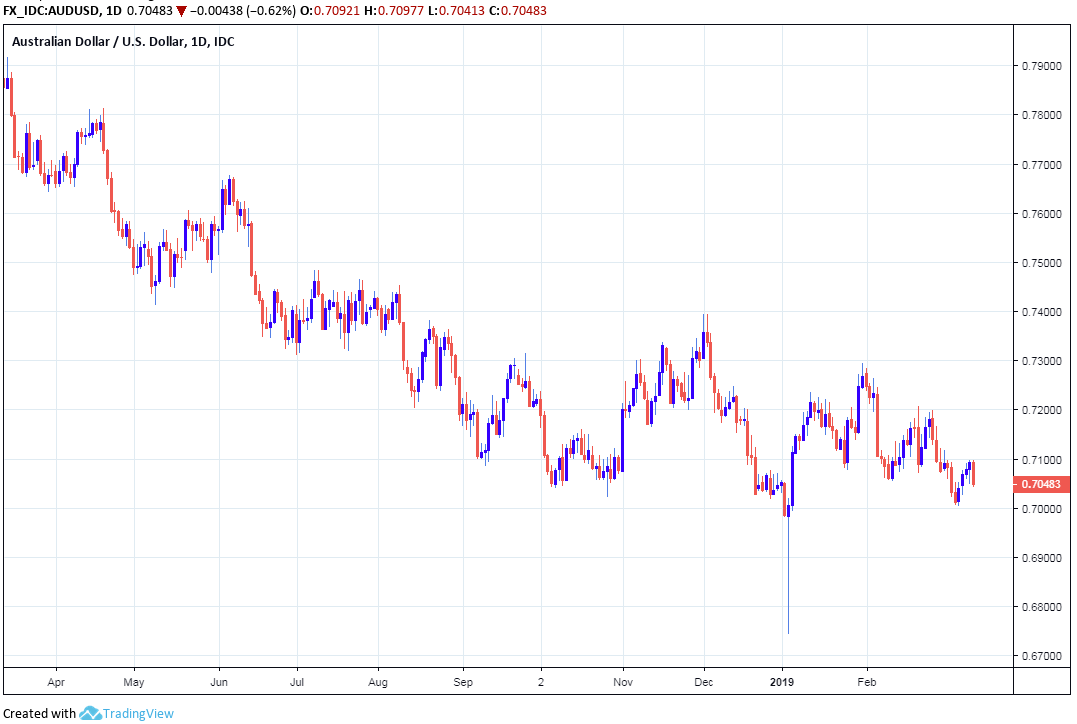 Above: AUD/USD rate shown at daily intervals.
Global factors may well have been what hurt the Australian Dollar on Thursday but the FX team at HSBC say the next meaningful leg lower by the Antipodean will be driven almost entirely by events in the domestic economy.
"The 0.70 support for AUD-USD held stubbornly in early March but we maintain that the range is more likely to break to the downside as the slew of weak data continues," says Tom Nash of HSBC. "Sub-par growth adds to below target inflation and a housing sector that continues to deflate, posing the possibility that the RBA's pivot to a neutral bias in February is already out of date."
HSBC says economic growth does not appear to have picked up this year, meaning the labour market improvement is at risk of stalling or even going into reverse, which suggests the interest rate guidance given by the Reserve Bank of Australia (RBA) in February could already be out of date.
The RBA said then that it would cut interest rates if unemployment rises in a sustained manner. Markets are already betting there is a high probability the RBA will cut its interest rate by 50 basis points this year but there is ample scope for that probability to rise further and to force the Australian Dollar lower in the process.
"Even though some easing is already priced in OIS – a 68% chance of 50bp cuts by year-end – such one-sided risks leaves lower rates and a weaker AUD as the path of least resistance," Nash writes, in a recent note to clients.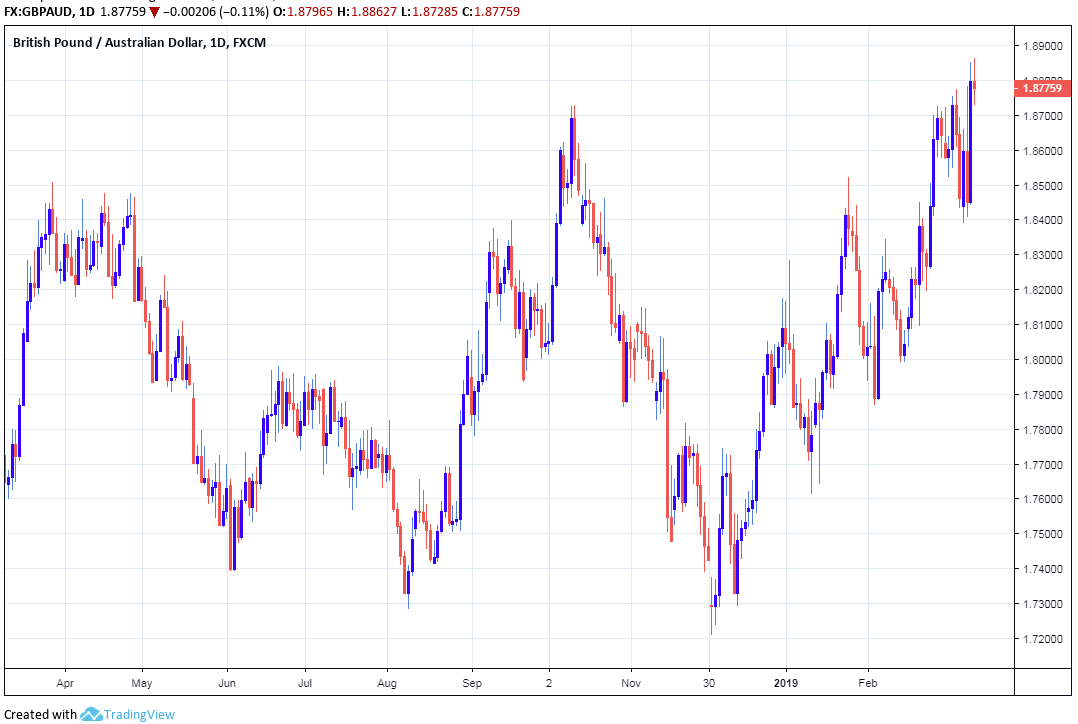 Above: Pound-to-Australian-Dollar rate shown at daily intervals.
Nash has advocated selling the Australian Dollar and targeting a move down to the 0.6910 level by the AUD/USD exchange rate. HSBC has been selling the Aussie ever since the early days of January.
HSBC's call comes barely a weak after National Australia Bank (NAB) joined a chorus of domestic lenders who are forecasting RBA rate cuts this year or next.
NAB - one of Australia's largest lenders - said last Friday that it now expects the RBA to cut its interest rate by 25 basis points to 1.25% in July. It also projects another cut, to 1%, in November. The bank also cites a loss of growth momentum and a stalling labour market for its latest forecasts.
Australia's economy grew by just 0.2% during the final quarter last year, down from an already-paltry 0.3% back in the previous period, which means GDP rose by only 2.3% for 2018 as a whole.
That's down from the 2.8% annual pace of growth seen at the end of the third quarter and beneath the RBA's February 2019 forecast for a steady 2.8%, with much of the deceleration having its roots in the household sector.
Economists are connecting Australia's slowing economy with an ongoing downturn in house prices, which now appears to be having an impact on household confidence and consumers' willingness to spend.
The cash rate has been at a record low of 1.5% for nearly three years but the rate implied by the overnight-index-swap market for December 03, 2019, is just 1.15%. That suggests investors see two cuts as a distinct possibility.
The AUD/USD rate was quoted 0.28% higher at 0.7085 Friday and is now up 0.48% for 2019, while the Pound-to-Australian-Dollar rate was -0.37% lower at 1.8690 and has risen 3.2% this year.
Time to move your money? Get 3-5% more currency than your bank would offer by using the services of foreign exchange specialists at RationalFX. A specialist broker can deliver you an exchange rate closer to the real market rate, thereby saving you substantial quantities of currency. Find out more here.

* Advertisement