The Pound Holds Gains on Vote to Delay Brexit, May's Brexit Deal now Looks Increasingly Seductive to Brexiteers
Image © David Holt, Accessed: Flikr, Licensing Conditions: Creative Commons

- Brexit delay already priced into Sterling's value

- MPs reject 2nd referendum + amendment to give parliament control over Brexit
- Brexiteers now looking on May's deal more favourably

- Pound likely to consolidate as fresh triggers awaited
Pound Sterling was seen consolidating its weekly gains after the House of Commons on Thursday evening voted 412 to 202 to approve a motion to seek to extend the Article 50 period and delay Brexit.
This extension will be until June 30 if a Brexit deal is approved by March 20.
MPs note that if a deal is not approved, the length of the extension will depend on its purpose. The vote was expected by foreign exchange markets and regular readers of Pound Sterling Live will therefore not be surprised by the lack of movement in the currency in the wake of this outcome: the Pound had absorbed it into its value over the course of recent days.
"Overall, the only decision on Brexit Parliament has taken this week is that it's not ready to make a decision! That in itself reduces the downside risk to the economy, the Pound and gilt yields. But the ball may soon be in the EU's court," says Paul Dales, Chief UK Economist with Capital Economics.
The Pound's improved performance over recent weeks is consistent with currency markets cutting back their expectation for a 'no deal' Brexit on March 29. Dales does warn readers that the decision to delay Brexit does not completely rule out a 'no deal' on 29th March. "Indeed, there's no guarantee that all 27 EU members will agree to an extension," says Dale.
"The path ahead is still uncertain. A no-deal Brexit is still on the table If the EU and UK can't reach a timely agreement to extend Article 50. In that event, the Pound could fall back sharply," says Lee Hardman, a foreign exchange strategist with global investment bank MUFG.
While there are risks, Hardman says for now "Sterling will continue to be supported by the decision to request an extension to Article 50. Gains may be dampened in the near-term, but the overall consensus towards a delayed and potentially softer Brexit remains supportive for the Pound."
Having staged its strongest advance of 2019 on Wednesday, March 13, the British Pound has fallen back to more familiar levels ahead of the weekend as consolidation takes hold of a market that has witnessed a surge in volatility over recent days and is now looking for fresh news.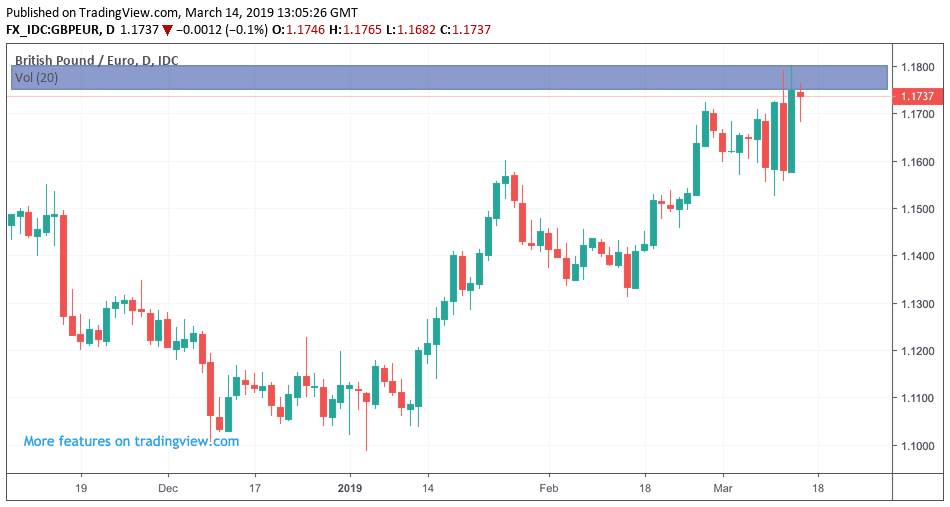 Above: The Pound-Euro exchange rate is struggling to break above a key technical resistance zone, despite much excitement of late.
The underlying tenor is nevertheless a positive one for Sterling as markets continue to price out a 'no deal' Brexit and view a lengthy delay to Brexit as an increasingly likely prospect, which in turn is seen to be pushing Brexiteers to actively consider how they can shift their stance into backing Prime Minister Theresa May's Brexit deal.
We have heard over the past 24 hours that European leaders are likely to seriously consider a request for a longer delay to Brexit, with a number of senior figures suggesting any delay would be a long one. Such an outcome would be frustrating for those wanting Brexit, but from a currency perspective, a long delay is seen as a positive for the Pound.
Reports out Friday suggest the European Union are said to be readying to tell UK Prime Minister Theresa May that she must hold a second EU referendum, or soften Brexit, in return for them granting a lengthy delay to Britain's departure date.
Bruno Waterfield at The Times says he understands May has been told by senior EU officials and other European leaders that conditions for a Brexit delay would include the option of a second EU referendum.
European Council President Donald Tusk on Thursday said he will consult EU leaders ahead of the European Council summit taking place on March 21-22 and appeal for them to be open to a long extension if the UK finds it necessary to rethink its Brexit strategy and build consensus around it.
At the same time, Ireland's Tánaiste and Minister for Foreign Affairs Simon Coveney said a Brexit extension of 21 months is a possibility.
He said a long extension would give the UK a "long reflection period" about the kind of Brexit it wants and may facilitate a fundamental rethink, or it may not.
Speaking on RTÉ's Today, Coveney said a "crash-out" could happen by accident even if most people do not want it, but he thinks the UK will get an extension as long as there is a plan to go along with that.
Ahead of the vote to 'delay' Brexit, MPs voted to reject an amendment that would have called on the government to consider holding a second EU referendum to break the Brexit impasse.
Only 85 MPs voted for a second referendum, ensuring the Noes carried the vote with a majority of 249.
Following the vote to reject the referendum, there was some rare good news for Prime Minister Theresa May as MPs voted to leave the government in control of Brexit by rejecting by 314 to 312 Hilary Benn's Amendment that sought to seize control of parliamentary time from the government on 20 March to "find a way forward that can command majority support".
Sterling is largely unmoved on the vote outcomes: the Pound-to-Euro exchange rate is quoted at 1.1728, it went as high as 1.18 in the wake of Wednesday's votes to take a 'no deal' Brexit out of play. The Pound-to-Dollar exchange rate is quoted at 1.3258 but went as high as 1.3378 on Tuesday, a day that saw Pound Sterling staged its largest one-day advance of 2019.
The Pound continues to wear the crown of 2019's best performer, and we expect the currency will likely remain supported in the near-term, particularly as there are growing signs that the EU-UK Brexit deal might be passed on a third attempt.
Time to move your money? Get 3-5% more currency than your bank would offer by using the services of foreign exchange specialists at RationalFX. A specialist broker can deliver you an exchange rate closer to the real market rate, thereby saving you substantial quantities of currency. Find out more here.

* Advertisement
A Potential Trigger to Further GBP Gains: Growing Support for May's Brexit Deal + DUP Shift
Looking ahead, the story to watch, is an apparent move by Brexiteers to find ways to finally give their support to Prime Minister Theresa May's Brexit deal. May is being tipped to bring her Brexit deal back to the House of Commons for a third vote, believing Brexiteer opponents to the deal might now ultimately fall behind it or risk losing Brexit altogether.
The prospect that Brexiteers lose Brexit altogether was made clear on Wednesday after the House of Commons backed two motions against leaving the EU without a deal. The danger posed to Brexit has been hammered home by MPs voting for Brexit to be delayed and the spectre of a multi-month delay being offered in turn by the EU. Because the EU alone can determine such an extension the prospect of a lengthy and costly delay might be seen by Brexiteers as being a far worse option than exiting the EU on March 29 under May's deal.
The passing of a deal is widely held by foreign exchange specialists to be a positive outcome for the British Pound as it 1) kills altogether the risks of a 'no deal' Brexit and 2) finally provides longterm certainty for businesses, citizens and financial markets.
If markets sense there is real momentum towards May's deal by big Conservative Brexiteers, and critically the DUP party, then Sterling could extend its gains.
The BBC's Political Editor Laura Kuenssberg reports she believes the DUP could be "on the move": the DUP leader told journalists today they're in talks with the government, "we want to make sure we get there," said the DUP's Arlene Foster, "when you come to end of a negotiation that's when you start to see the whites in people's eyes and you get down to point where you can make a deal."
Arlene Foster says to get DUP to sign up, the deal must show "the constitutional integrity of the UK is the same and we have a strong say in the future".
"She's still setting conditions, but sounding more open to budge," says Kuenssberg.
How Brexiteers Could Back May's Deal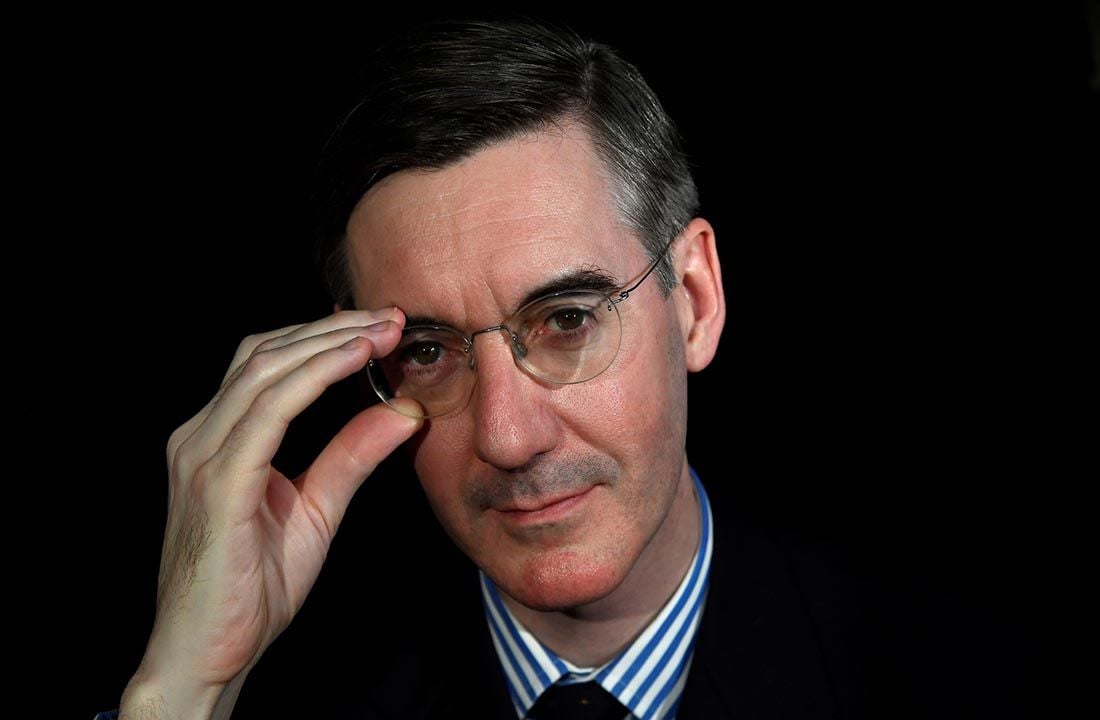 Conservative party 'Brexiteer' hints of a shifting towards backing Prime Minister May's Brexit deal. File photograph. REUTERS/Toby Melville
Conservative party Brexiteers believe they and Northern Ireland's DUO could be persuaded to back Theresa May's Brexit deal if Geoffrey Cox, the Attorney General, gave clearer legal advice about how the UK could withdraw from the Irish backstop were it to ever be triggered.
The fear is the backstop would lock the UK into the EU's orbit indefinitely, making the UK a rule-taker and drastically impinging on the country's sovereignty.
The backstop forms part of an international treaty that is the Withdrawal Agreement, therefore law governing International treaties must be considered when addressing the question of terminating such a treaty.
The Pound suffered an outsized move lower on Tuesday, March 12 following a damning legal opinion from Attorney General Geoffrey Cox who said "the United Kingdom would have no internationally lawful means of exiting the Protocol's arrangements, save by agreement" under the existing terms of the Withdrawal Agreement.
Cox's assessment fell far short of the concessions required by the DUP and Brexiteers in the Conservative party.
We reported already yesterday of talk that Cox could change his legal guidance on the Brexit deal, allowing more opponents to fall into backing the deal and suggested some of Sterling's outperformance can be tied to this development.
According to the Guardian's Rowena Mason, discussions are now taking place around a point that Jacob Rees-Mogg, the leader of the Conservative party's Brexiteer MPs, raised in the House of Commons before Tuesday's vote, relating to "how Article 62 of the Vienna Convention could be used".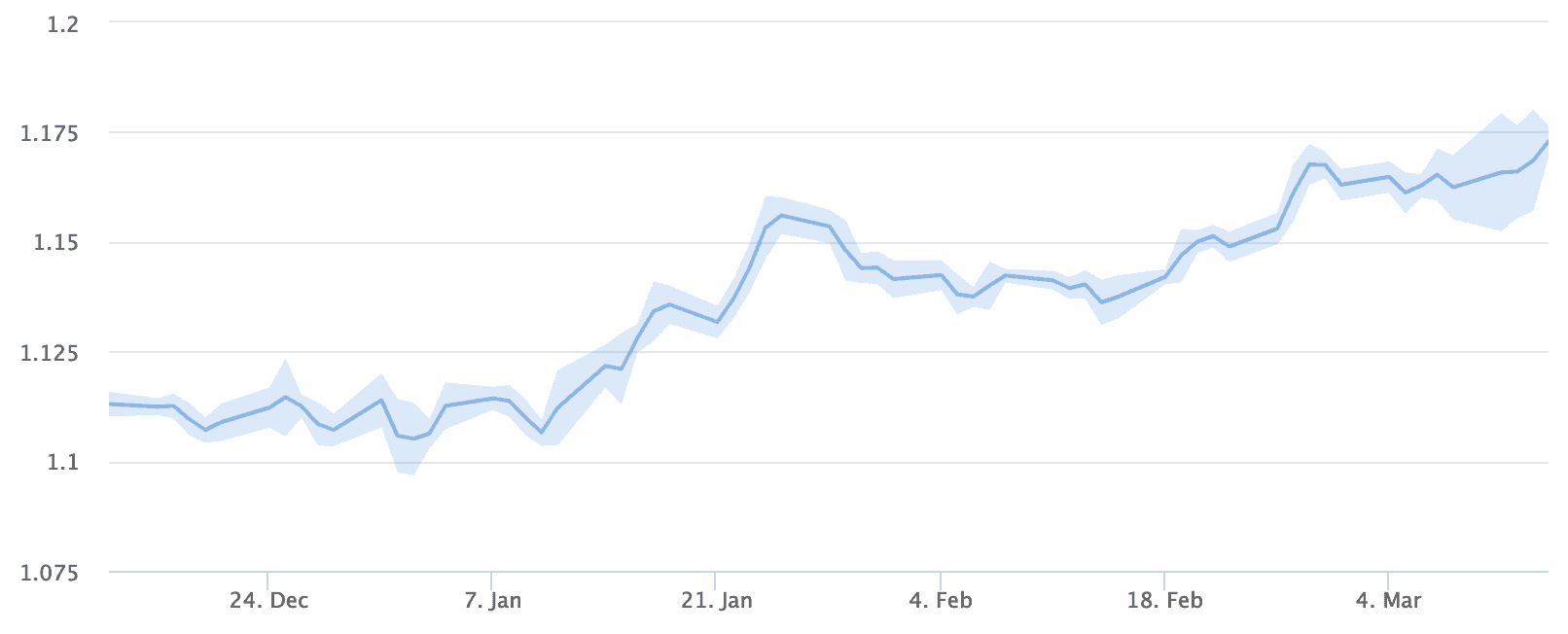 Above: The recent surge in volatility in Sterling can be seen in the expanded ranges of late.
Article 62 of the Vienna Convention provides that a country can exit an international treaty provided there is "a fundamental change of circumstances".
So Brexiteers are effectively turning to existing international treaty law as offering a way out if necessary.
Brexit Secretary Stephen Barclay told Rees-Mogg in reply that the UK would have the ability to terminate the withdrawal agreement "if the facts clearly warranted that there had been an unforeseen and fundamental change of circumstances affecting the essential basis of the treaty on which the United Kingdom's consent had been given", in line with Article 62.
A Brexiteer source tells Mason this had been written by Cox but had not made it into the final legal advice; "if we'd had it earlier in the day it could have changed the vote,".
Steve Baker, a prominent Conservative party Brexiteer, told BBC radio on Wednesday that he and colleagues had been "really yearning" to vote for a deal but Cox's bombshell legal advice on the Northern Ireland backstop meant that was impossible.
Could the Vienna Convention's Article 62 save the Brexit deal?
If yes, then May's deal is alive and a the UK could finally see an end to this period of chronic uncertainty. However, some legal minds are already suggesting this route is a non-starter. In response to the news, Lawyer Martin Howe QC told the Evening Standard:
"The leading case in the International Court of Justice (the Gabcikovo-Nagymaros case between Hungary and Slovakia) shows this requires radical change of circumstances. The fall of the Soviet Union, disappearance of the Warsaw Pact, and dissolution of Czechoslovakia, were not sufficient to satisfy this ground.
"The other issue is, under Article 62, the change of circumstances has to be unforeseeable. As we are talking about this 'change of circumstances' now, it cannot be unforeseeable."
Meanwhile, a seperate report from The Times verifies that Brexiteers are adopting a more active approach, saying Conservative party MPs who voted against the deal are understood to be having private discussions with Barclay and Cox over possible changes to the legal advice.
"It is thought that these changes could allow them and the DUP to support Mrs May's deal if another vote were held," says Francis Elliot, Political Editor at The Times.
Time to move your money? Get 3-5% more currency than your bank would offer by using the services of foreign exchange specialists at RationalFX. A specialist broker can deliver you an exchange rate closer to the real market rate, thereby saving you substantial quantities of currency. Find out more here.

* Advertisement