South African Rand seen Pushing GBP/ZAR Below 18.00, SARB Meeting will be Key
Image © Comugnero Silvana, Adobe Stock
- Break below major support zone heralds deeper declines

- 17.50-60 region now in cross hairs

- ZAR eyes SARB meeting Thursday
The Pound is seen stabilising against the Rand just above the 18.00 marker but our latest technical analysis suggests a move lower is likely over coming days.
The Pound-to-Rand exchange rate ended up weakening steeply in the previous week, moving down from the 18.86 highs to the 17.90 weekly low, mainly due to the falling Pound but also because of the weakening U.S. Dollar to which the Rand is correlated: a weaker Dollar = a broadly stronger Rand as the cost of imports fall.
GBP/ZAR has now broken down below the key 18.00-30 support lows on a closing basis and this is an especially negative sign for the pair, suggesting more downside is on the way.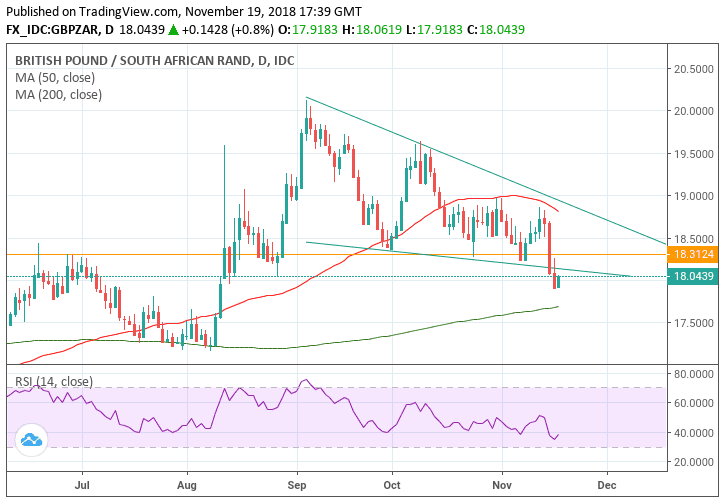 Above: Daily graph for GBP/ZAR
The break below the 18-18.30 support lows has coincided with a breach out of the bottom of a wedge pattern which has been forming since the September highs.
This is also an extremely bearish indicator.
Further downside is now forecast on the condition of a break below the 17.90 lows, to a subsequent target between the level of the 200-day MA at 17.69 and the 50-week MA slightly below at 17.52.
Above: Weekly chart for GBP/ZAR.
Both daily and weekly RSI momentum studies are extremely bearish, having fallen to levels commensurate with a much lower exchange rate level in the past.
On both charts momentum is at the same level it was at in May when GBP/ZAR was trading at around 17.00.
This suggests the possibility the exchange rate could fall to a similar level as it 'catches up' with where it 'should be at' indicated by the RSI.

The South African Rand: What to Watch this Week
Interest rates take centre stage this week as the South African Reserve Bank (SARB) meets to decide whether or not to raise them on Thursday, November 22 at 13:00 G.M.T.
If the bank's officials decide to increase rates from their current 6.5% level (probably by 0.25%) it may help support the Rand and possibly increase downside momentum for GBP/ZAR in line with the bearish technicals outlined above.
Higher interest rates are generally considered supportive because they attract higher capital inflows.
Following the decision, the governor of the SARB Lesetja Keganlago, will give a press conference explaining his view of the economic outlook and any policy decisions agreed by the monetary policy committee (MPC).
Analysts are divided over whether to expect a rate rise or not. Eight out of 15 analysts surveyed by Bloomberg expect a hike, whilst the other seven don't.
Zaakirah Ismail, an analyst at Standard Bank, is one analyst who does not expect the SARB to hike because lower oil prices and a stronger Rand have dampened inflation expectations.
Indeed, she notes that even when these factors were 'reversed' i.e. oil prices were higher and the Rand was relatively weak, the MPC couldn't quite get the votes to raise rates, deciding to maintain them unchanged in September by a vote of 4-3, so it's is even less likely to now.
Peter Worthington, an economist at ABSA bank, agrees, adding that the poorer-than-expected recent wage data is another reason not to expect a hike despite the meeting's outcome being finely balanced.
The other key release for the Rand is Inflation data for October, out on Wednesday, November 21, at 9.00 GMT.
The consensus expectation is for this to result in a 0.5% rise on a month on month basis (the same as in the previous month) and a 5.1% rise compared to a year ago. core inflation is forecast to rise 4.3% from 4.2% previously. If these show an upward surprise they could increase expectations of a SARB rate hike.
ABSA's Peter Worthington expects both core and headline to rise as a result of fuel inflation and a rise in base effects pushing up core.
Advertisement




Bank-beating GBP/ZAR exchange rates: Get up to 5% more foreign exchange by using a specialist provider to get closer to the real market rate and avoid the gaping spreads charged by your bank when providing currency. Learn more

here