Dollar-Yen Rate Looking Increasingly Vulnerable to Breakdown On Yen Strength
- USD/JPY is attacking trendline

- Which is showing signs of breaking

- A break lower would see USD/JPY fall to 110s

- Positioning data supports more downside
USD/JPY has started to weaken again on the back of further losses in the Japanese stock market, which tends to be negatively correlated with the currency U.S. Dollar but positively so for the Yen.
The trendline from the March lows is under attack and a downside break is increasingly likely.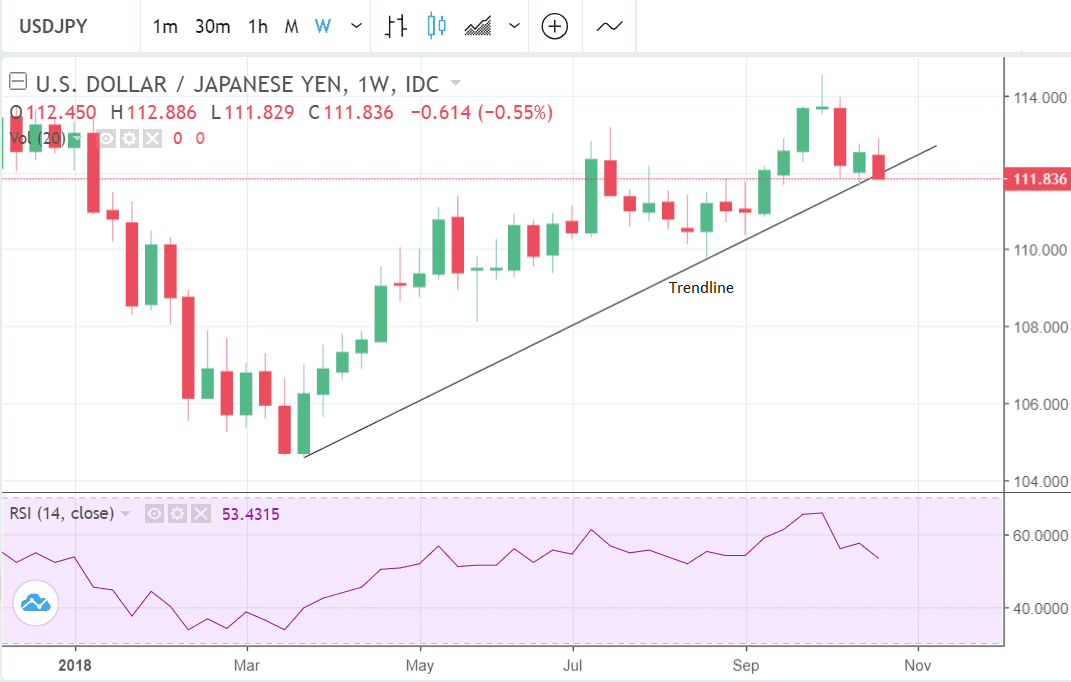 Such a break would probably lead to the start of a deeper decline for USD/JPY, and maybe even a change in the primary trend.
The exchange rate has already penetrated below the trendline on a daily basis but not yet on a closing basis, as would be necessary to confirm a break.
If it does the exchange rate would be expected to fall either an equal or percent distance (labeled 'b') as the move immediately prior to the trendline, in this case, labeled 'a'.
A fall of 61.8% of 'a' provides a conservative estimate and establishes a downside target of 110.30.
We see little chance of a recovery of any magnitude from here and expect the exchange rate to trade with a bearish bias. The early October 114.00 highs were probably a major peak for the pair.
An overweight positioning bias in favour of further Yen strength and Dollar weakness supports our bearish trendline analysis.
The number of bearish bets on the Yen in the futures market recently reached a record high and this is actually a contrarian signal that the Yen is likely to rise.
When positioning makes an extreme trough low and then starts rising as has happened with the Yen, which has put in a trough low in October, that is an even stronger bullish signal for the asset.
Advertisement


Bank-beating exchange rates: Get up to

5% more

foreign exchange

for international payments

by using a specialist provider to get closer to the real market rate and avoid the gaping spreads charged by your bank when providing currency. Learn more here