Pound Resilient After Ministerial Resignations; GBP/USD eyes 1.3500, says Commerzbank
- Sterling is up 0.3% versus the Dollar on Monday

- Fears the currency would buckle after David Davis's resignation proved unfounded

- Yet risk remains from EU rejecting May's plan
Image © Anthony Brown, Adobe Stock
The Pound is rising versus the Dollar on Monday after market's appear to have dismissed the implications of Brexit minister David Davis's resignation and focused instead on the bigger picture of Theresa May's attempt to forge unity.
Meanwhile, a broadly positive investor sentiment at the start of the new week - thanks to an absence of trade war rhetoric - is proving broadly negative for the Dollar.
Sterling peaked at 1.3340 versus the Dollar in early trade and although it has since pulled back down a touch, analysts on both the technical and fundamental side appear to be throwing their hat into the ring of a bullish call.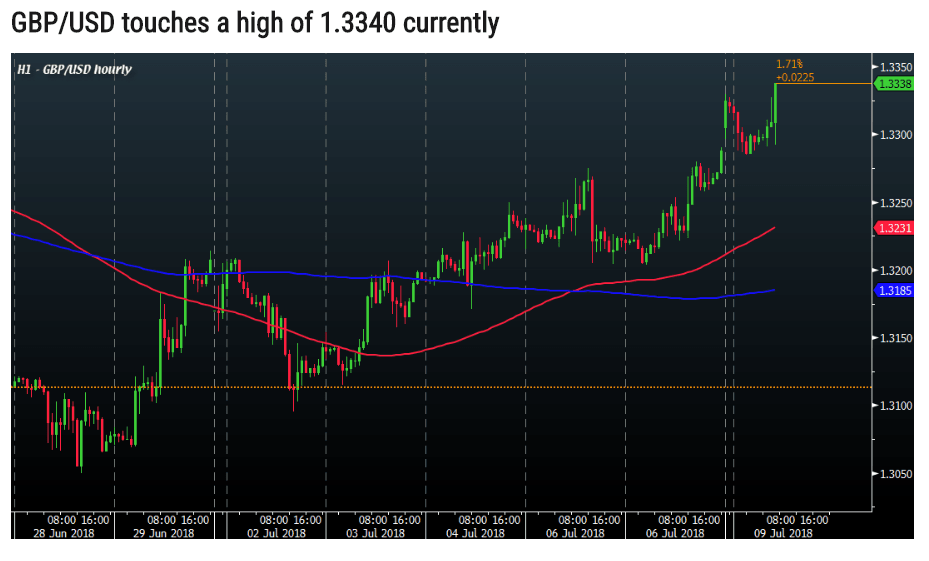 Image courtesy of Liveforex.com
"Without any challenges to May's authority and position, then, for now, the near-term trade will favour a more sterling positive nature," says Justin Lo, an analyst at Liveforex.
Karen Jones, a technical analyst at Commerzbank is also bullish GBP/USD based on analysis of the charts, forecasting a rise to 1.3470-1.3500 for the pair.
"GBP/USD is correcting higher and has reached 1.3327 the top of the near term channel. This is under pressure to give way and we would allow for a corrective rebound near term towards the 1.3470/1.3500 area and there is scope for the 1.3587 200 day ma (although this is less favoured)," she says in a note this morning.
On the main, currency analysts were a little surprised at GBP's resilience after news of David Davis's resignation brought into doubt the Prime Minister's authority and her plan to unify her cabinet behind a softer Brexit.
The Pound appeared to weather the news, however, as it became clear that Davis's departure was more an isolated incident and not the beginning of a rout.
Other prominent Brexiteer ministers such as Liam Fox, Michael Gove, and Boris Johnson all announced their support for Theresa May's softer Brexit strategy, albeit with varying degrees of enthusiasm, and Johnson emphasizing his choice to remain in the cabinet was mainly predicated by a desire to defend against further 'softening'. Yet the overarching unity displayed appeared to dilute the impact of the resignation.
"Ostensibly it looks like bad news just three days after the cabinet meeting but perhaps we will get a more unified Cabinet around the UK position," says Paul Sheard, former vice-chairman at S&P Global, regarding the news, adding,"Presumably the minister has decided he cannot buy into that Cabinet unity."
The 'conciliatory tone' and non-backstabbing thrust of Davis's resignation letter was also seen as a factor.
Jacob Rees Mogg's decision, thus far at least, to not to attempt a vote of no-confidence in the prime minister, despite many seeing this as an ideal time for such a move, seemed to further take the pressure of Sterling.
News this morning that even opposition party policymakers had been invited to No 10 for a briefing on the new Brexit strategy, in what is seen as an attempt to garner bipartisan support for the plan, may also have been a factor in stabilising Sterling.
The currency is substantially (circa 10-15%) undervalued based on economic fundamentals purely due to fears over the impact of a hard Brexit on inbound investment and the economy, and any news that reduces the likelihood of such an outcome is likely to lead to a rapid appreciation in the Pound.
Yet many loose ends remain with the EU's response to the new plan a major risk factor.
When asked about how he expected the EU to respond to the UK plan, Sheard says:
"I suspect there will be a lot of commentary around cherry picking or maybe wanting to have their cake and eat it too.
"My guess is that the EU will come back with a fairly hard stance here and play hardball," he adds.
Another scenario to consider is that the EU actually becomes more accepting of May's proposals, eyeing the alternative Brexit stance's they might be faced with were May to be replaced by an advocate of a harder Brexit; an outcome that is not in the EU's interest.
Nevertheless, Sheard sees the provision of an unified UK approach as ultimately being constructive.
"The UK was supposed to have been negotiating with the EU and yet the common observation has been that it has been negotiating with itself. So they were trying to put that behind them and really come to a position which they can take to the EU," says Sheard.
Advertisement




Get up to 5% more foreign exchange by using a specialist provider to get closer to the real market rate and avoid the gaping spreads charged by your bank when providing currency. Learn more

here