Pound Bounces Back Amidst Reports E.U. Keen to Strike Brexit Transition Deal Sooner Rather than Later
Above: Michel Barnier, (C) European Commission.
European Union and United Kingdom Brexit negotiators might be closer to a achieving a transitional deal than markets had initially assumed.
Pound Sterling has traded in sizeable ranges over the course of the past 24 hours with a drop being reversed in an impressive recovery which was then built upon ahead of the weekend.
The dramatic shift in fortunes for Sterling comes on the back of reports that the European Union and United Kingdom are actually on the cusp of agreeing a two-year transition period.
Following the finalisation of the fifth round of talks which completed on Thursday, October 13 the Pound fell on EU negotiator Barnier's comments that talks were at deadlock. But it seems markets mistakenly overlooked another key message from Barnier - that a breakthrough is very possible before the end of 2017.
That this phrase was ignored by traders who defaulted to selling the Pound and confirms to us markets are guilty of showing a confirmation bias towards Sterling pertaining to the talks where only the worst-case scenarios are factored.
Indeed, reports late in the London close confirm the EU is in fact looking to offer a two-year transition deal.
"The most exciting move today was GBP/USD which shot up nearly 100 pips in a matter of minutes after the London close on the back of reports that the European Union may be offering the U.K. a 2 year Brexit transition period which was exactly what Prime Minister May is asking for," says Kathy Lien, Director at BK Asset Management.
Ahead of a European Union summit, draft conclusions submitted by summit chair Donald Tusk to the 27 other EU governments confirmed Brussels would not yet allow talks proceed to issues of future trading arrangements.
But the document - seen by Reuters - says they would do so in December which verifies and adds weight to Barnier's hint of imminent progress within the next two months.
The draft says if the UK increase their offers on divorce terms, the EU will be ready to start talking almost right away.
"Despite tough demands from EU governments on what they want from London, the Union is ready to talk about how to avoid a "hard Brexit" and to ease Britain out with less disruption - probably by agreeing to keep it in the single market for a couple of years, diplomats say," say Alastair Macdonald and Gabriela Baczynska at Reuters.
The news suggests the prospect of no deal being reached between the two sides is unlikely and for the Pound this is significant as a 'no-deal' outcome represents the worst-case scenario.
"The sands are shifting in the EU's hitherto resolute position, says Chris Beauchamp, Chief Market Analyst at IG. "Internal discussions about trade talks with the UK, plus Barnier's hints about making progress in talks in coming months, have all combined to provide what is a relatively optimistic appraisal of the situation."
What Next for the Pound: Potential Next Moves vs. Euro and Dollar
The developments are certainly good news for those hoping for a stronger Pound.
"We continue see progressive steps towards a Brexit transition deal as being GBP supportive via three channels – in particular via the channel of higher short-term UK rates," says analyst Viraj Patel at ING Bank N.V. who says markets will now be able to shift focus towards the Bank of England and whether or not they will raise interest rates in November.
ING look for the GBP/USD exchange rate to move up towards 1.35-1.36 as markets increase expectations for higher UK interest rates in the future, in and around the November Bank of England meeting.
EUR/GBP is predicted to remain within the 0.88-0.90 range over the coming weeks, "as hawkish ECB and BoE policy steps are likely to counteract each other in the near-term," says Patel who argues a sustained breakout above 0.90 would only materialise if discussions over a Brexit transition deal were thwarted or delayed in some way.
EUR/GBP at 0.88-0.90 gives us a GBP/EUR exchange rate range of 1.1360-1.11.
A Supportive a Floor
From a technical perspective, Sterling's reversal against the Euro and Dollar solidifies the floor under the currency and Lien says the Pound-to-Dollar exchange rate could now contemplate going higher.
"While this is great news for the U.K., it is not clear how much near term impact it will have on the currency as Brexit is a long-term process. What we do know however is that GBP/USD's recent price action has not reflected rate hike expectations. Now that the August high of 1.3269 has been broken, the next key resistance level for GBP/USD is the 20-day SMA near 1.3350," says BK Asset Management's Lien.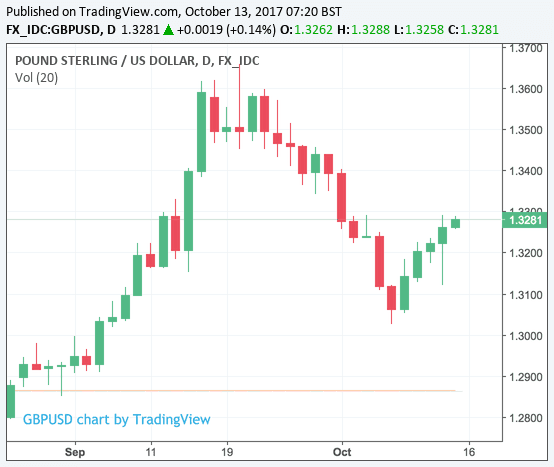 Above: GBP/USD looking constructive on medium- and shorter-term timeframes.
The Pound-to-Euro exchange rate has meanwhile "reached a dense band" of support says technical analyst Karen Jones at Commerzbank in London. This support is offered by the 55 day moving average at 1.1094, the ceiling of the cloud of support at 1.1080 and the 50% retracement at 1.1077 and has succeeded to keep Sterling bid "on the initial test" lower.
So there is no suggestion of a broader recovery yet, but for now GBP/EUR appears well supported.
Get up to 5% more foreign exchange by using a specialist provider by getting closer to the real market rate and avoid the gaping spreads charged by your bank for international payments. Learn more here.