Pound in Strong Comeback vs. Dollar, Euro on Report EU to Offer Two-Year Transition Period: Handelsblatt
Pound Sterling has performed an impressive reversal over the course of the past 24 hours on reports the European Union are looking to offer the UK a two-year transition period.
Germany's Handelsblatt reports the European Union's chief Brexit negotiator Michel Barnier is willing to offer the UK to a two-year transition period, a development that casts the status of Brexit talks between the EU and UK in a decidedly more positive light.
The news comes on the same day Barnier says negotiations between the two sides have effectively stalled; the dour note triggered a notable fall in Sterling exchange rates as markets saw the prospect of no deal being reached.
Handelsblatt reports that the offer is being pursued by Barnier and he will suggest it to European ambassadors in Brussels at a meeting due October 13. The EU's offer will be tied to the UK meeting all of its obligations as a member country, but giving up its voting rights.
It's worth pointing out that media reports - and markets it appears - chose to ignore Barnier's clear suggestions in his earlier statement to the press that he believes a breakthrough is possible within two months. This suggests a confirmation bias amongst traders and commentators towards the whole process being ultimately doomed.
The reports on a willingness to enter a transition period confirms the two sides might actually be closer together than appears.
Ahead of a European Union summit, draft conclusions submitted by summit chair Donald Tusk to the 27 other EU governments made final Brussels' rejection of opening free trade talks now.
But the document - seen by Reuters - says they would do so in December which verifies and adds weight to Barnier's hint of imminent progress.
The draft says if May ups her offers on divorce terms, the EU will be ready to start talking almost right away.
"GBP spikes & does a full 180 on news that Barnier will offer UK 2-year transition period," says Viraj Patel, an analyst with ING Bank N.V. in London on his personal Twitter account.
"The most exciting move today was GBP/USD which shot up nearly 100 pips in a matter of minutes after the London close on the back of reports that the European Union may be offering the U.K. a 2 year Brexit transition period which was exactly what Prime Minister May is asking for," says Kathy Lien, Director at BK Asset Management.
The news suggests the European Union is unwilling to let a no-deal Brexit occur noting the severe disruption it would present the region's long-awaited recovery. Furthermore, risking the continuation of British budget contributions would seriously compromise the Union's fiscus.
The UK have for some time now made it clear they are willing to enter a transitional period.
Following the news report, the Pound-to-Euro exchange rate rose to a high of 1.1216 having been as low as 1.1070 earlier in the day.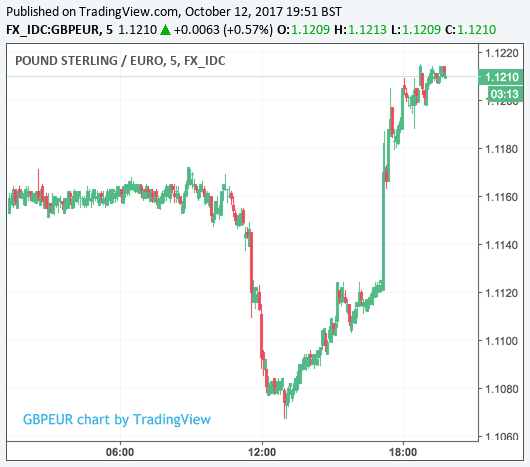 The Pound-to-Dollar exchange rate hit a best at 1.3289 having gone as low as 1.3122.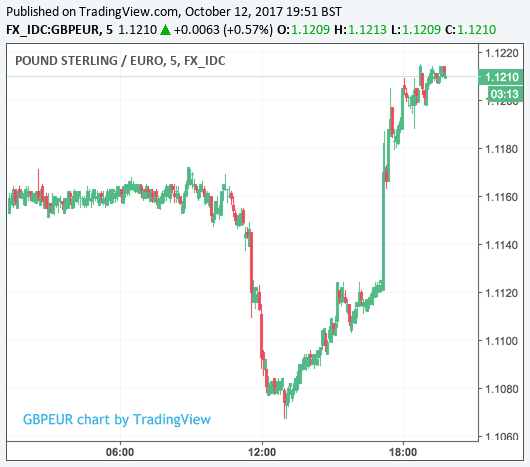 Get up to 5% more foreign exchange by using a specialist provider by getting closer to the real market rate and avoid the gaping spreads charged by your bank for international payments. Learn more here.