The Pound / Dollar Rate Unlikely to Break 1.30 Near-Term say Charles Stanley
The British Pound's eye-catching rally against the US Dollar and other major currencies has brought welcome relief to those watching Sterling over recent months with an eye to a better exchange rates.
The leap above 1.28 of course brings hope that momentum can take the exchange rate to higher levels.
Indeed, the fact that the Pound to Dollar exchange rate rose by more than 2% yesterday is technically significant says analyst Bill McNamara at Charles Stanley, a brokerage based in London.
The rally has lifted the UK currency through the top of a trading range that has been in place since last autumn, and during the course of which it has been experiencing persistent resistance in the region of 1.27.
As things stand, momentum indicators suggest that further gains are likely even if we are witnessing the Pound ease lower and give back some of its gains.
"While the move in GBP/USD is overdone and the polls will most certainly narrow, it is important to remember that GBP can be a very trending currency and after today's move, there is no resistance until 1.30," says analyst Kathy Lien at BK Asset Management.
We have seen there is increasing focus on the 1.30 level in the analyst community - it is a round number that has had significance in the past and it is natural that markets will gravitate towards it.
Whether or not a break of this level will occur, and be sustained, is another question altogether.
"It is by no means clear that there will be significant follow-through to this sudden jump and the chart does not yet support the view that cable is heading back towards $1.30 any time soon," says McNamara.
However David Sneddon at Credit Suisse has his eyes set on levels above 1.30.
The analyst notes GBP/USD has surged higher to brush aside the key range highs at 1.2617/24, trendline resistance from December last year and the falling 200-day average, to test medium-term resistance at 1.2839 – the 38.2% retracement of the June/October 2016 decline.
"An extension through here is required to confirm a large base which would then signal a bullish core trend change for 1.3059 initially, then 1.3121. A bigger obstacle is seen at the 50% retracement level at 1.3255," says Sneddon in a note dated April 19.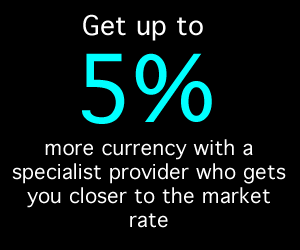 Pound's Rally Could be Overdone
After UK Prime Minister May called for an early June 8 election, the Pound rallied to hit a best of 1.2906 against the USD.
The move makes sense for her as she is widely popular and will very likely win and give her more leverage in Parliament.
A victory would leave her in a stronger position to negotiate Brexit.
She won't have the 2018 election interrupting the negotiations and she can make the Brexit negotiations her main focus.
She will also be able to avoid relying on those elements of her party that would try and engineer a tougher-than-necessary position in Brexit negotiations with the European Union.
"May believes more in a softer Brexit strategy and winning the election could make it easier for her to pursue that angle as well," says Stephen Simonis Sr., chief currency consultant for FXDD Global and former Managing Director of Global FX Markets at BNY Mellon. "It seems to us that this announcement caught the market a bit by surprise as the Pound had been mired on either side of 1.25 for quite some time now."
"While this election does seem a positive for the UK a two-cent move seems like an overreaction and we look for the Pound to return towards the 1.2550-1.2600 level," says Simonis.
The strength of the rally in Sterling has also been attributed by many commentators to be a result of the closing of bets against the currency.
Recall that the Pound remains one of the most bet-against financial products in the world; when these bets are closed they create demand for the Pound which drives the currency higher.
"The most recent data shows that barely 40% of those GBP shorts have been covered and indeed speculators were actually adding to GBP shorts in the most recent reporting week," notes Viraj Patel, an analyst with ING Bank N.V.
"Today's news has been a good enough reason for another squeeze in short GBP positions – in our opinion the most credible explanation for GBP's post-announcement rally," says Patel.
Credit Suisse Upgrade GBP/USD Forecast
We can report that Credit Suisse have just upgraded their forecast for the Pound against the Dollar.
Three weeks ago Credit Suisse upgraded their 3m and 12m GBPUSD forecasts to 1.25 from 1.20 previously.
We argued that GBPUSD is trader a wider 1.20-1.30 range, and had favoured fading the extremes. With the latest developments, we are inclined to revise higher our GBP forecasts vs USD," says a note authored by Research Analyst Shahab Jalinoos.
We will update when the forecasts are released.
The move comes a day after Deutsche Bank said they were dropping their bearish view of Sterling and told clients they would be upgrading their projections over coming days.