The US Dollar Surges on Exceptional Manufacturing Data
The US Dollar rose versus all major counterparts on Tuesday after data showed Manufacturing in the US in December ripped higher.
"The ISM manufacturing index came in better than expected in December, rising from 53.2 to 54.7 – the fourth straight gain to the strongest level in two years – and continuing its recovery from a contractionary 49.4 in August," says Nordea Markets' Johnny Bo Jakobsen in a note seen by Pound Sterling Live.
EUR/USD forged new 14-year lows of 1.0341 following the news, GBP/USD fell to 1.2211 after the release and USD/JPY rose to a two-year peak of 117.66.
Of note was the gain in the New Orders component of the ISM data which is seen as the most important and forward-looking component of the ISM.
New Orders rose to 60.2 in December, well above the previous 53.0 November figure.
New Orders outpaced Inventories which actually fell from 49.0 to 47.0, indicating manufacturers would have to ramp up activity to meet the newfound demand.
The improvement in Manufacturing came on the back of better-than-expected Manufacturing data from around the world.
Chinese Private Manufacturing also rose higher than forecast and Manufacturing PMI in the UK rose to a two and a half year high in December.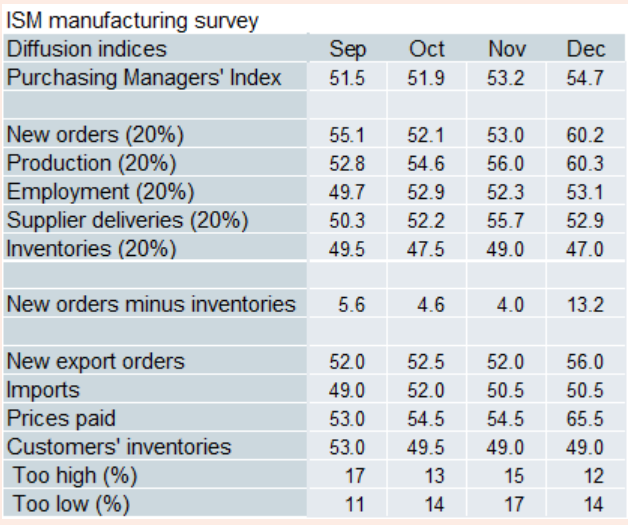 Food for an Early Rate Hike?
The question for many analysts is whether the strong ISM reading will be enough to push up interest rates earlier than previously expected.
This is important from a Dollar point-of-view in that any indication of the Fed ramping up the pace of interest rate rises in 2017-2018 would fuel the current rally.
Nordea's Jacobsen was not so sure, wishing to see further confirmation.
"Evidence of a stronger US manufacturing sector bolsters the case for more Fed rate hikes in the course of 2017. However, due to the continued uncertainty about the fiscal policy outlook we continue to believe that the Fed will wait until June before hiking rates again," said Jakobsen.
More optimistic was Paul Sirani, Chief Market Analysts at FXtrade, who said he expected an early interest rate rise if Non-Farm Payrolls (NFPs) also beat expectations on Friday:
"In the short term we could see a nice little boost for the dollar, at least until Friday's non-farm payrolls data adds further food for thought.
"Although interest rates were only raised less than a month ago, additional positive news coming from the jobs market on Friday could leave analysts penning in an another rate rise sooner rather than later," said Sirani.
But the strong rise in the employment component of 53.1 over 52.3 in November, of the ISM already provides a clue that NFP's are unlikely to disappoint.
"The employment index rose 0.8 point to 53.1 in December. We continue to expect a 175k gain in payrolls in Friday's jobs report," commented Nordea.
The rise was all the more impressive given it was against the backdrop of an appreciating Dollar, which would be expected to lessen US export competitiveness, however, Nordea's Jakobsen, argues this was offset by "narrowing credit spreads", which lessened borrowing costs and negative risk sentiment.
Save