1985 Lows Hit by Pound to Dollar Exchange Rate on Tuesday, More Losses Forecast
GBP/USD has recorded its lowest level in over 30 years on Tuesday and studies suggest further losses are now likely.
At the time of writing the Pound / Dollar rate trades at 1.2769, the previous 2016 multi-year low was set at 1.2796.
Pound Sterling has been sold agressively on confirmation by the UK's Prime Minister May that Article 50 of the Lisbon Treaty will be triggered before the end of March 2017 which will begin a two-year negotiation process to leave the EU.
While clarity is welcomed, it appears that traders sold GBP on May's tough stance on the nature of negotiations.
The Government appears keen to make control over EU immigration a red line in negotiations which will likely mean the UK loses access to the European single market.
The freedom of movement of people between members of the single market is a fundamental cornerstone of the agreement.
The imposition of tariffs on UK imports by Europe, and potential loss of financial passporting, would likely have a negative impact on economic growth over coming years.
Details on what the UK will aim for in negotiations remain thin.
May says it won't be a Swiss or Norwegian model (Norway has full single market access; Switzerland access for most industries) but claims, "I want to give British companies the maximum opportunity to trade in and operate in the single market".
"The more limited the access to the single market, the worse for GBP," says Elsa Lignos at RBC Capital Markets.
The Government also said it would introduce a Great Repeal Bill which would remove the 1972 European Communities Act and convert all existing EU legislation into UK law on the day of departure from the bloc.
From a technical perspective, the triangle pattern on GBP/USD looks close to completion, with the final 'e' wave in progress:
Triangles normally have a minimum of five waves - a,b,c,d and e, and so once the current wave is complete the triangle will have its minimum complement.
There will then probably follow a breakout to the downside since triangles are more likely to fall in the direction of the trend previous to their formation.
Commerzbank's technical analyst Karen Jones also notes the triangle:
"GBP/USD is seeing a tiny bounce from the base of a symmetrical triangle at 1.2925. We have a near-term resistance line at 1.3069 (nearby high is 1.3119). And will consider the market remains directly offered below here."
Karen Jones sees the possibility of deeper declines, potentially to 1.22.
This takes us back to levels not seen since 1985: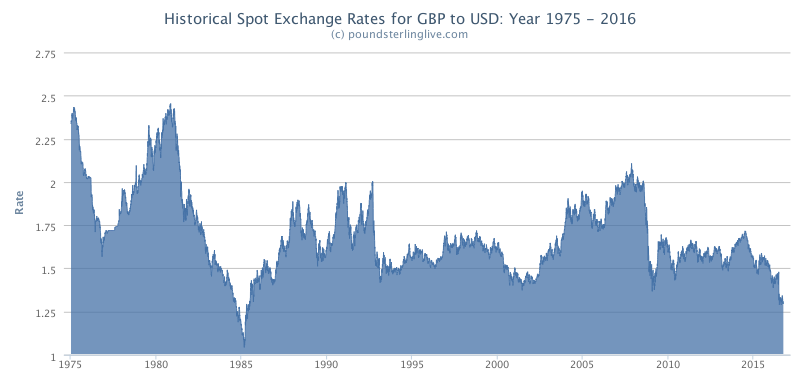 "A close below 1.2925, will trigger loss to the 1.2797/50 July low and the long term Fibonacci support. A close below here would be regarded as very negative and target circa 1.22."
From our analysis of the charts, we would be looking for a close below 1.2900 for confirmation of a bearish breakout from the triangle, with a downside initial target at robust support at 1.2800.
Latest Pound / US Dollar Exchange Rates
* Bank rates according to latest IMTI data.
** RationalFX dealing desk quotation.
The US Dollar Outlook: US Non-Farm Data, Fed Expectations, Trump
USD is generally firmer overnight, USD/JPY rallying through 102 and EUR/USD falling back through 1.12.
The implied probability of a Fed hike by year-end has risen to a recent high of 60%, despite cautious comments from NY Fed's Dudley late yesterday.
Dudley said "a risk management approach to monetary policy would suggest that the more concerned one is with the effectiveness of these policies at the zero lower bound, the more cautious one would be in the process of removing accommodation".
Only when expectations for a rate hike start growing again will we expect the broader US Dollar complex to start appreciating.
The Trump factor still has potential to influence the dollar this week, with the consensus now appearing to be that the currency would probably rise following his election given his protectionist agenda and the fall in imports that would cause.
However, not all analysts agree, with some pointing out that the currency could suffer a lack of confidence after a Trump victory.
Nevertheless, keeping an eye on polling data and whether or not Trump is improving his standings is advised.
Data in the coming week centres on the release of Non-Farm Payrolls on Friday, October 7, which is expected to show a 170k rise.
A rise above expectations is likely to have a very positive impact on the dollar as it will increase the chances of a Federal Reserve rate hike before the end of the year.
The next most important result is ISM Manufacturing and Non-Manufacturing on Monday and Wednesday respectively.
UK Economy Strong Now, but Weakness Inevitable say UniCredit
The UK economy continues to defy pre-referendum predictions that it would weaken substantially in the case of a Brexit, and this continues to keep the pound well anchored in its current 1.14-1.20 range.
The September UK manufacturing PMI report, released on October 4th, was at the highest level for over two years with indications that economic activity continues to be stimulated by incoming foreign orders owing to the weakened Sterling.
Friday's UK Services Output data resoundingly beat forecasts of 0.1% by rising 0.4% in July, the month after the referendum.
Unicredit's UK Economist, Daniel Vernazza argued the data was a strong positive sign for growth since Services Output has a major impact on the economy.
"Services output accounts for almost 80% of GDP and today's number suggests the UK economy was much stronger than we had initially expected in the immediate aftermath of the vote," said Vernazza.
Other data released by the Office for National Statistics (ONS) on Friday, revised up growth in Q2 to 0.7%, from 0.6% previously, which is also, remarkably, above the long-term average of 0.5-0.6%.
Overall, longer-term the Unicredit economist is sceptical about whether the economy can continue to lay golden eggs:
"Services output release for July suggests the risks to even our upward-revised forecast are now to the upside, but importantly it's still early days.
"Looking ahead, we expect the UK economy to slow materially, with GDP growth of 0.2% in 2017, as it faces a lengthy period of heightened uncertainty ahead," he said.
Indeed, many believe it is not until Article 50 is triggered that Brexit will become an economic reality, with more impact on the economy.
Whilst Unicredit has an upbeat, short-term take on the data which infers pound strength, Citibank's analysis focuses more on Brexit negotiations as a driver of sterling, which it concludes is likely to lead to weakness.
"The current consolidation in sterling is likely to give way to lower levels.
"GBPUSD triggers stops below 1.3000 overnight as the unit remains highly sensitive to UK – EU trade negotiations later this year," said CIBC.
They also fear a 'Hard Brexit' devaluing sterling.
"As time has progressed, the likelihood of a so-called 'hard-Brexit' has increased.
"That situation would involve giving up single market access for control over immigration.
"While the Bank of England can't offset the long-term growth implications of such a scenario, it is increasing the chances that the MPC decides to take rates down to its effective lower bound of 0.10% in the coming months."
The main hard data releases in the week ahead for sterling come in the form of September Manufacturing, Construction and Services PMI's on Monday,
Tuesday and Wednesday respectively.
Manufacturing is expected to fall to 51.2 from 53.3, Construction to 49.0 from 49.2 and Services to 52.0 from 52.9.
Manufacturing and Industrial Production on Friday Oct are also key metrics to follow.