Pound / Dollar Forecast to Trade in 1.10 - 1.30 Range by Leading Analysts

The British pound to dollar exchange rate should gravitate towards 1.30, and even 1.10 in the more pessimistic scenarios, reveal a number of post-Brexit institutional forecasts.
Analysts continue to warn that the important level of support to watch for in the pound to dollar exchange rate is the 1.30-1.3040 level which represents the July and September 1985 low.
"We cannot downplay ongoing political and macro-economic uncertainty detailing the risk of Sterling testing further fresh 31 year lows, key support comes in at 1.3040. However, unless we can close back above 1.3450 we would expect investors will continue to sell GBP rallies," says Jeremy Stretch at CIBC Markets.
There is clearly something important about this 31 year low at 1.3040 - the market suddenly appears incredibly oversold when the level comes into view, an observation that stimulates bargain buying.
No wonder then that a host of big-name analysts are drawing their post-Brexit line in the sand for GBP/USD at 1.30.
"With the UK voting in favour of leaving the European Union, the GBP's outlook appears to be subject to heightened uncertainty. We stressed previously that in the unexpected case of a Brexit, majors such as GBP/USD should approach levels closer to 1.30 and EUR/GBP around 0.85," says a strategy note released by Credit Agricole.
Of the below ten analysts surveyed by Bloomberg, six place their post-Brexit GBP/USD forecast target at 1.30: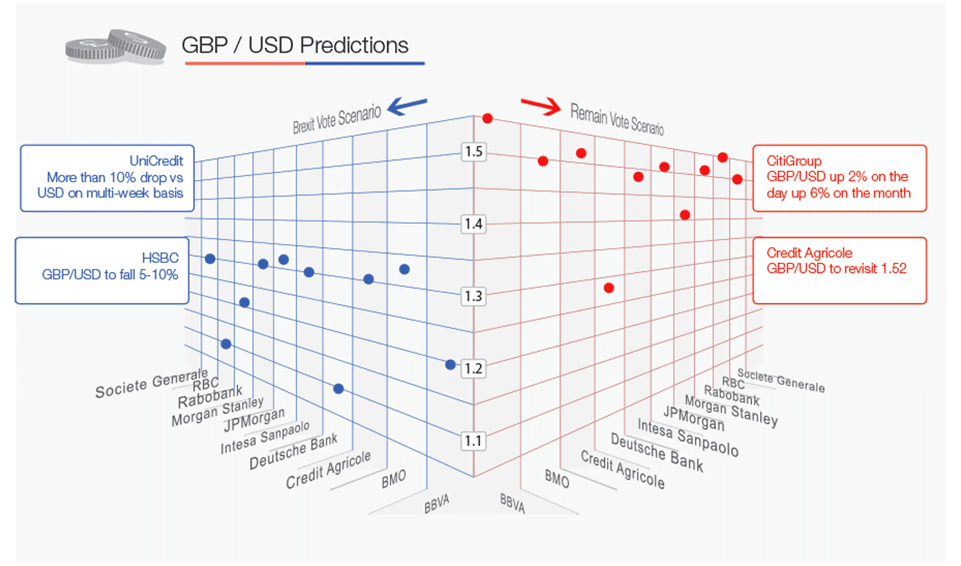 Above: GBP/USD scenario matrix, courtesy of Bloomberg and Investec.
There are however some that place it as low as 1.10 - so be warned, there could well be notable declines in store yet.
"Looking ahead, it cannot be excluded that the BoE will have to act anew in order to prevent conditions from destabilising further," say Credit Agricole. "All of the above suggests that the GBP will remain subject to downside risks."
RBC Capital Markets have a particularly bearish outlook according to the forecast matrix.
Why?
"It will be months or even quarters before we have sufficient data to make an assessment of how hard UK activity has been hit by rising uncertainty and for now, we stick with our pre-referendum call that markets are likely to assume a 'typical' UK recession, with the shock to confidence causing output to fall somewhere between 2% and 4%," says Adam Cole, head of G-10 FX strategy at RBC Capital Markets.
Hill says it is highly unlikely that this drop in economic performance, or the policy response to it from the Bank of England, has been fully priced into GBP yet.
"The risks for GBP are still to the downside and $1.20-$1.25 is now our objective for GBP/USD in late-Q3," says Cole.
Kathy Lien at BK Asset Management says while she acknowledges how important support at 1.3040 will be over the near-term, she anticipates another 4 to 5% decline over the coming days/weeks.
"In the near term, investors, business and consumers hate uncertainty. It is safe to say that all three will avoid major investments over the next few months in fear that the forecasters are right about Brexit triggering recession," says Lien.
Latest Pound / US Dollar Exchange Rates
* Bank rates according to latest IMTI data.
** RationalFX dealing desk quotation.
Signs of Stabilisation
On Tuesday the pound has managed to rise against the euro and dollar as there is a growing sense that markets would be getting too pessimistic if they were to push GBP lower at this stage.
"There are some signs of stabilisation this morning and the pound has recovered slightly it is still too early to expect a more sustained rebound for the pound. Both the effect of the Brexit vote on the UK economy and the political situation is still very uncertain although Prime Minister Cameron yesterday ruled out the possibility of a new Brexit vote," says Andreas Johnson at SEB in Sweden.
The positive vibe has spread to stock and commodity markets.
"The sun is out in London, the FTSE 100 is rallying and even the pound is moving higher this morning. You might almost think there had been no Brexit vote, and no downgrade of the UK economy overnight. The FTSE's unwillingness to stay below 6000 is remarkable, and while the damage to individual shares is still immense, some of that has been repaired today," says Chris Beauchamp at spread betting providers IG.
Beauchamp believes a bounce was overdue but it doesn't change the short-term narrative of uncertainty and fear, nor the longer-term bear market in equities that has been ticking along for over a year now.
"Nonetheless, the sight of so many major companies trading at remarkably low multiples, such as Next and Prudential on 10 times earnings, and the juicy dividend yields on offer, has clearly been too much for some investors to resist," says Beauchamp.
Beauchamp notes that at times like this, it can pay to look at fundamentals and ignore the day-to-day noise, which is exactly what house builder Redrow appears to be doing.
"After all, despite Friday's volatility, the UK housing market remains short of new homes, which should support prices. Perhaps the selloff of recent days was just what the broader sector needed, alleviating worries about pricey valuations and limited upside," says the IG analyst.