Pound to Dollar Rate: Desperately Seeking Support
Above: File image of Fed board member Neel Kashkari. Image Dan Nguyen / ProPublica. Reproduced under CC 2.0 licensing.
---
The British Pound has fallen to new six-month lows against the Dollar as the selloff extends into a tenth week, leaving analysts wondering if there is any prospect of relief before the big 1.20 level comes back into play.
The Pound to Dollar exchange rate (GBPUSD) has now fallen 7.0% - from highs at 1.31 - over the course of the past nine weeks, taking it into oversold territory, according to analyst George Vessey at Convera.
"Despite being in oversold territory according to the daily relative strength index, GBP/USD continues to slide and has printed a fresh 6-month low. The $1.22 handle has broken, meaning the pound has depreciated over 7% against the US dollar over the last nine weeks," he says.
The analyst looks to 1.20 as a key psychological level, "but we're eying two long-term retracement levels prior to that which may offer decent support."
The fall in the Pound owes itself to a rapid repricing lower in UK interest rate expectations ever since the Bank of England quit its interest rate hiking cycle and provided little evidence it intends to raise rates any further.
"There is now less than a 50% chance of another Bank of England rate hike in this cycle, meaning markets are pricing the current 5.25% as the peak Bank Rate compared to the 6.5% peak priced in just a couple of months back when GBP/USD was trading above $1.30," says Vessey.
---
Above: Rising U.S. 30-year bond yields are surging (top), taking the Dollar index - a measure of broad USD performance - higher.
---
At the same time, the U.S. Dollar continues to dominate its peers thanks to rising U.S. bond yields, which reflects an investor realisation that the Federal Reserve is not going to cut interest rates soon.
Indeed, Federal Reserve board member Neel Kashkari said Monday that another interest rate hike was necessary before year-end as the U.S. economy is proving stronger than expected.
He was one of 12 policymakers who forecast one more rate hike this year.
The prospect of 'higher for longer' interest rates in the U.S. has pushed U.S. bond yields higher, which sucks foreign capital into U.S. bonds, thus driving the Dollar higher.
"Surging US Treasury yields as a result of US exceptionalism is keeping dollar demand buoyant, but the pound is also being sold across the board as UK gilt yields slide with UK rate expectations," explains Vessey.
---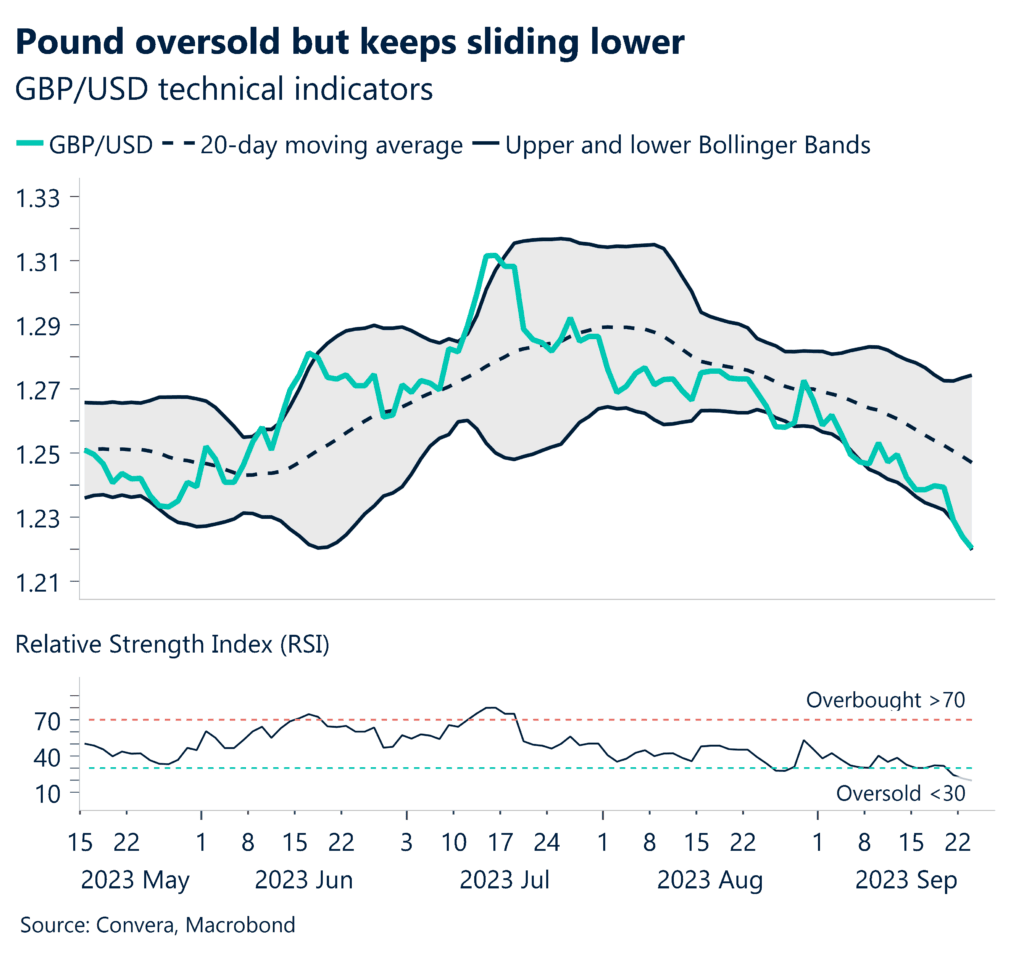 Image courtesy of Convera.
---
Rising bond yields meanwhile make the cost of borrowing more expensive, raising fears for a U.S. and global slowdown, which also boosts the Dollar via safe-haven demand.
Despite the strength of the Dollar rally, some are now looking for a rebound, albeit one that would be strictly limited in scope and duration.
"I continue to think the USD is due for some form of correction, just a percent or two amid such a powerful rally off of the July lows. It's been 11 straight weeks of a higher USD and that sort of winning streak does not usually persist this long without a correction," says W. Brad Bechtel, Global Head of FX at Jefferies LLC.
Vessey looks to some potential key technical levels in the Pound-Dollar exchange rate to offer the support that can facilitate a rebound.
"The 38.2% retracement level from its all-time low of sub-$1.04 to its year-to-date high of $1.3144 is $1.2089, but ahead of that, the 76.4% retracement of this year's low to high sits at $1.2120. Both these levels are key downside targets but should also offer much-needed support for sterling," he says.
"Having broken below critical daily and weekly moving averages over the past few weeks, we see these as having flipped from support to resistance levels, which makes any form of a GBP recovery a tough task in the short-term. This is especially true given speculative traders are still heavily net-long sterling," he adds.