Pound-Dollar Rate in Tug-of-War On Key Average amid Upset Over U.S. Job Losses and Brexit Talks
- GBP/USD in battle to hold 200-day average at 1.27 in choppy markets.
- After U.S. jobless claims jump and ongoing Brexit deadlock confirmed.
- U.S. weekly claims erase prior week's fall as UK agrees more EU talks.
- GBP/USD in recovery mode while above 1.2480, is resisted by 1.2814.
Image © Federal Reserve Bank of New York
Achieve up to 3-5% more currency for your money transfers. Beat your bank's rate by using a specialist FX provider: find out how.
The Pound-to-Dollar rate was engaged in a tug-of-war on top of its recently reclaimed 200-day moving-average Thursday as investors mulled an increase in U.S. job losses a and confirmation of ongoing deadlock in the Brexit talks.
U.S. labour markets entered reverse gear in the week ending July 18, Department of Labor data showed Thursday, as the number of new unemployment claims rose sharply, more than wiping out the prior decline.
New unemployment claims rose to 1.416 million that week, from 1.307 mn previously which left the number of new welfare claimants higher than the upwardly-revised 1.375 mn seen in the week to July 04.
The week to July 18 coincided with a volley of new record highs for daily coronavirus infection numbers and the reintroduction of restrictions on activities of businesses and citizens including in California, the largest state in the country in both GDP and population terms.
"The initial claims numbers exclude claims under the Pandemic Unemployment Assistance - PUA - program, which makes benefits available to freelancers, gig workers, and others who don't qualify for regular unemployment benefits but lost their jobs because of Covid. Initial PUA claims this week rose by 20K to 975K, but they fell last week and the trend seems to be about flat," says Ian Shepherdson, chief economist at Pantheon Macroeconomics. "Regular and initial claims together suggests that nearly 2.4M people lost their income last week, slightly more than the entire population of Houston."
Above: Pound-to-Dollar rate shown at 15-minute intervals alongside Dollar Index (orangel line.)
There were 16.19 mn continuing in the prior week, down around 1.1 mn from earlier levels, which is the Department of Labor number that is the best predictor of changes in the official unemployed population and unemployment rate published by the Bureau of Labor Statistics on the first Friday each month.
Continuing claims point to further declines in the official measure of unemployment in early July but more recent escalating job losses underline the threat posed to the job market by the second wave of coronavirus infections that topped four milllion this week.
Unemployment claims are rising as Washington lawmakers flounder and feud over whether to extend emergency financial support to coronavirus impacted workers beyond month-end. Failure to do so would sap spending from the economy and effectively pull the rug out from under the recovery.
"USD remains broadly under pressure but today it is no longer universal. There are pockets of consolidation with some of the high-flyers like NOK and AUD on the back foot while EUR holds above 1.15. The focus remains on the tug-of-war between CV-19 growth, reopening rollbacks, and politics," says Mark McCormick, global head of FX strategy at TD Securities. "The USD pullback dovetails well with the rise of Biden's presidential prospects. One reason lies in the fact that Biden would usher in a shift back to standard foreign policy."
The weekly claims report enabled the Dollar to briefly recover lost ground against a range of risk currencies, though not the Yen, Franc and Euro. The rebound quickly gave way to fresh selling of the greenback, which enabled even the Pound-to-Dollar rate to swing back into the black for the session.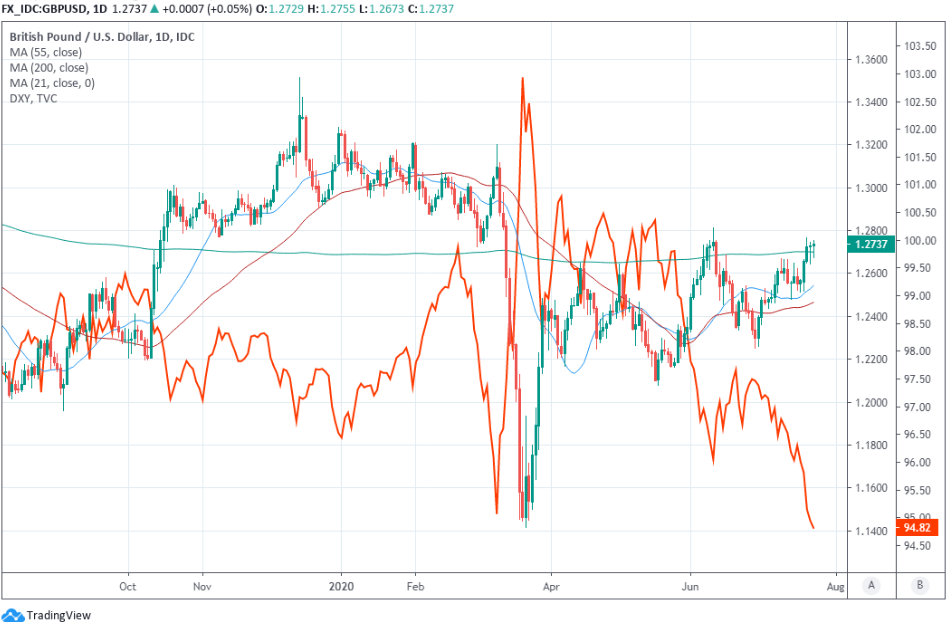 Above: Pound-to-Dollar rate shown at daily intervals alongside Dollar Index (orangel line) and with 200-day average in green.
The Pound was already on the back foot Thursday when the Brexit talks knocked the Pound-to-Dollar rate below its 200-day moving-average at 1.27, which was only just recaimed this week, although Sterling recovered above that level as the North American session got underway.
"Another bout of failed Brexit talks have seen the pound underperform," says Chris Beauchamp, chief market analyst at IG. "The lack of any sharp sterling deterioration does highlight that todays breakdown in Brexit talks are almost a given. With the opportunity to extend the transitional period passed up, the question is whether markets will remain as blasé as we move into the final months of 2020 without any progress."
Previously, Sterling had wallowed in the red investors mulled the latest statements from Brexit negotiators David Frost and Michel Barnier. Little progress has been made on key roadblocks to a free trade agreement but with concerns about the domestic economy also mounting, a question mark may have been placed over the outlook for Sterling.
A daily close below the 200-day moving-average might herald a deeper correction although technical analysts say that so long as the Pound-to-Dollar rate remaines above 1.2480, the outlook for it will be "neutral-to-positive".
"GBP/USD continues to trade around the 200 day moving average and has not seen any follow though. Further up sits the June peak at 1.2814 and the market will need to clear here in order to generate some real some upside interest to the 1.2905 55 week ma and the 1.3186 the 2015-2020 downtrend," says Karen Jones, head of technical analysis for currencies, commodities and bonds at Commerzbank. "Only a slip below the May low at 1.2072 would negate our view for a slide to the 1.1409 March low."