Brexit Trade Negotiations Deadlocked, "Skinny" Trade Deal Most Likely Outcome
- GBP losses deepen against most majors as Brexit deadlock confirmed.
- EU doubles down in pursuit of 'level playing field, 'ongoing fishing rights.
- UK holds line on Brexit "fundamentals," prepares for "all possibilities".
- Brexit risks, lagging economy warn of GBP more weakness ahead.
Above: David Frost, Michel Barnier. Photographer: Dati Bendo, © European Union, 2020. Source: EC - Audiovisual Service
Achieve up to 3-5% more currency for your money transfers. Beat your bank's rate by using a specialist FX provider: find out how.
Pound Sterling slipped deeper into the red against most major rivals Thursday after Brexit negotiators confirmed that little progress has been made in the pursuit of a UK-EU trade deal after both sides doubled down behind their respective red lines, risking further underperformance for the British currency.
Investors were already eschewing Sterling when the final round of acclerated Brexit talks came to an end, although losses picked up after negotiators David Frost and Michel Barnier set out their respective appraisals of the outcome in remarks that laid bare the "substantial areas of disagreement" that remain.
"At [the high level] meeting, the Prime Minister set out once again the fundamental principles which we have repeatedly made clear would need to underpin any future agreement and which are intrinsic to the UK's future as an economically and politically independent country. Any agreement needs to honour these principles in full. The EU's proposals so far, while a welcome response to the Prime Minister's statement, do not do so," says David Frost, the UK's negotiator. "We have heard the EU's concerns about a complex Switzerland-style set of agreements and we are ready to consider simpler structures, provided satisfactory terms can be found."
Negotiators met for several rounds of talks through July in the hope of reaching an "early understanding on the principles underlying any agreement," although the European Commission's Michel Barnier said the two sides remained "far away" from one on Thursday, before hitting out at the UK's stubborn resistance of European Council demands for a near status quo settlement on fishing and a continued whip hand in a range of policy areas.
"UK/EU-27 FTA negotiations stalled, but sources from within the UK government were not optimistic of a political declaration before the end of July anyway. Even if a 'skinny FTA' can be reached over the coming weeks, the evidence from the ongoing talks suggests that Brexit will be on the 'harder' end of the 'soft/hard' scale. That will have implications for EUR/GBP heading into 2021," says Stephen Gallo, European head of FX strategy at BMO Capital Markets.
Michel Barnier said in a press conference the European side could live with a 'no deal' Brexit from the transition at year-end and that this would be better than a "bad deal" before warning that so long as the UK rejects EU demands on fishing and the so-called level playing field, such an exit risk will exist.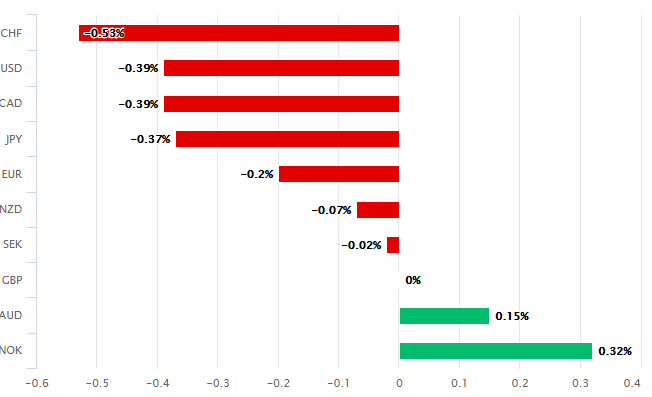 Above: Pound Sterling performance against major rivals Thursday. Source: Pound Sterling Live.
Demands for a substantial share of British sustainable fishing opportunities and a role for itself as a kind of supervisory probation officer to a post-Brexit UK economy, via a 'level playing field' agreement, have seen the accelerated talks descend into deadlock since their beginning earlier in July.
"We have always been clear that our principles in these areas are not simple negotiating positions but expressions of the reality that we will be a fully independent country at the end of the transition period," Frost said Thursday.
Despite the impasse negotiators did agree to keep talking, with informal discussions scheduled for next week and another negotiating round on August 17. That could explain Sterling's limited losses on Thursday, although without a compromise from one side or the other, losses could soon mount.
The Pound-to-Euro rate was -0.31% lower at 1.0974 but with technical support nearby in the form of the 61.8% Fibonacci retracement of the March recovery rally, which is located around 1.0911.
Smaller European currencies as well as the New Zealand and Canadian Dollars all clocked up even larger gains over Sterling, although the Pound was higher by a fraction against an underperforming Australian Dollar and Norwegian Krone.
"The improved coordination of EU officials has provided the EUR with a boost. Since the 2016 Brexit referendum EUR/GBP has spent relatively little time above the 0.90 level. That said, currently we would favour buying dips. We retain our 3 month forecast of EUR/GBP0.92," says Jane Foley, a senior FX strategist at Rabobank, who looks for the Pound-to-Euro rate to fall to 1.0869 on a three-month view. "The failure of the UK government to provide reassurances on the outlook for trade and the impact of the UK's high covid-19 death toll on confidence provides a grim backdrop for the UK economy."
Sterling underperformed Thursday and was also just inches away from the becoming the worst performer of 2020, with a meagre 0.70% year-to-date gain over the Norwegian Krone being the only thing standing between the British currency and the bottom of the major currency bucket for the year.
Above: Pound-to-Euro rate shown at daily intervals with Fibonacci retracements of March recovery.
"The Brexit endgame will likely determine how strong the economic recovery will be, but with the two likely outcomes revolving around a no-deal Brexit and a skinny FTA, supply-side pressures are likely to dampen the UK's growth prospects over the next few years, compounding the COVID-19 shock," says Sanjay Raja, an economist at Deutsche Bank.
Underperformance has escalated since The Telegraph reported Wednesday that London has all but abandoned hope of reaching an agreement.
Thursday's talks focused on nuclear energy, "thematic cooperation" and UK participation in EU programmes, after the more contentious issues were addressed earlier, although they came amid claims the government now assumes World Trade Organization terms and most-favoured-nation tariff rates will be the order of the day from 2021.
"We are choosing the euro as the currency to sell the pound against. EUR/GBP looks to be on a gradual trend higher since the start of May and we are now close to breaching the resistance trendline from the postCOVID high in March and the high toward the end of June. A breach of that resistance would open up a test of that June high," says Derek Halpenny, head of research, global markets EMEA & international securities at MUFG, who's looking for a Pound-to-Euro rate fall to 1.0683 up ahead. "Incoherent government policy on COVID, the 2 nd worst COVID death rate by population in the world, high frequency data that indicates a more subdued recovery, a budget deficit profile that is worse than most other major economies and rising Brexit uncertainties all point to GBP being singled out as higher risk than most other G10 currencies."
The UK's services heavy economy has been badly damaged by the coronavirus containment which when combined with the impact on confidence of the comparatively more severe outbreak, is thought to be holding back the recovery. This would be a headwind for any currency at the best of times but with the seemingly rising prospect of something like a 'no deal' Brexit playing out at year-end thrown into the mix, Sterling's losses could escalate.
"The PM promised in his election manifesto that he was committed to negotiating a trade deal with the EU and it is likely that he won many votes on the back of that pledge. However, these hopes are wearing thin. In addition, increased tensions with China, an acknowledgement by the government that a trade deal with the US this year is unlikely, continued criticism of its handling of the covid-19 crisis, increased talk of another potential push by Scotland towards independence, not to mention recession and lingering fears of negative interest rates all paint a bleak picture of UK fundamentals," Foley says.
Above: Pound-to-Dollar rate shown at daily intervals, slips back below 200-day moving-average (green).
---
Achieve 3-5% More Currency: The Global Reach Best Exchange Rate Guarantee maximises your currency purchasing power. Find out more.
Invest in Spanish Property. A selection of discounted properties due to the covid-19 crisis, online viewings and transactions possible. Download the Guide
Invest in Portuguese Property. A selection of discounted properties, online viewings and transactions possible. Download the Guide
Featured Content
Mortgage Direct - a Spanish mortgage broker specialising in the provision of mortgages for expats - have confirmed they have secured their Spanish license.