New Zealand Dollar Advances on Pound as New Poll Confirms Voters Leaning to "Safe Hands" of National Party Government on Saturday
A National Party victory means a continuation of the status quo and, according to strategists, will remove the risk premium built into NZ FX and fixed income through the summer.
The New Zealand Dollar rose broadly in London Wednesday after the latest turn in pre-election opinion polls showed a National Party government prevailing in Saturday's election.
Wednesday's One News/Colmar Brunton opinion poll put the incumbent National Party out in front by almost ten percentage points, at 46% support, at the expense of the opposition Labour Party which has seen its support fall from 44% to 37%.
Earlier, Labour had retaken the lead and remained on the front foot throughout the summer, since new party leader Jacinda Ardern took the helm in July.
"A National victory means policy status quo is maintained and the risk premia built into the NZD curve dissipates," says David Adams, a strategist at Morgan Stanley.
A Labour coalition government could mean, among other things, a nationwide clampdown on immigration that economists have said will hit economic growth.
In this context, Wednesday's poll lead for the National Party suggests the economy may remain in what is possibly the safer pair of hands, given a July climbdown on restrictive immigration policies.
"Ultimately, however, a Labour government's proposed policies have a mixed and less easily determined FX impact," says Adams. "On the one hand,a reduction in immigration acts as a drag on growth (with a less clear inflationary impact), but on the other hand, increased fiscal spending could counteract these forces."
Adams flags uncertainty over whether a Labour victory would ultimately be that bad for the NZ economy but also observes a marked weakening of the Kiwi Dollar in the wake of the party's last election victory in the 1990s.
The Pound-to-New-Zealand-Dollar rate dropped 0.64% during London trading, amid broad gains for Sterling over other currencies, while the USD/NZD rate slid by 1% to 1.3540.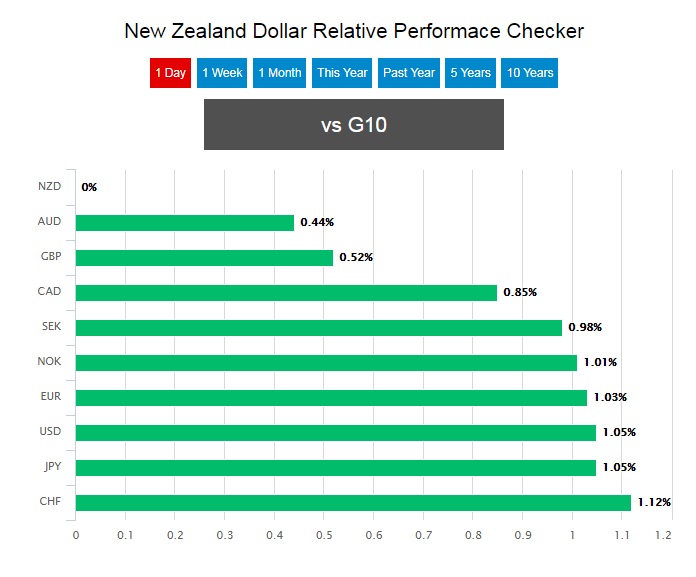 Wednesday's price action comes ahead of second quarter GDP data, which is expected to show momentum in the NZ economy rising during the three months to the end of June.
The consensus estimate of economists is for NZ growth to have picked up from 0.5% in the first three months of the year, to 0.8% in the second quarter. Statistics New Zealand will release the number at 23:45 pm London time.
Get up to 5% more foreign exchange by using a specialist provider by getting closer to the real market rate and avoid the gaping spreads charged by your bank for international payments. Learn more here.