New Zealand Dollar Projected to Give Ground to the Pound this Week
GBP/NZD is consolidating but there are a number of events due this week that could spark notable moves in the exchange rate this week.
The Bank of England's rate-setters are scheduled to meet this Thursday and their deliberations, published right after the meeting, could very well produce substantial movement for GBP/NZD.
Regarding the New Zealand Dollar, the Current Account and Q3 GDP data are also hefty releases in the week ahead. We could therefore see some volatilty in an exchange rate which has been settling within a tight range of late.
Recent days have proven to be a time of consolidation for GBP/NZD which is found to be in a broadening sideways range between 1.7400 and 1.8000: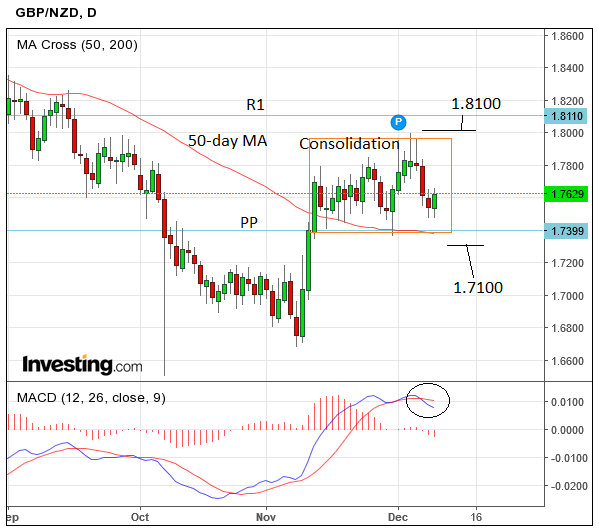 The exchange rate has just sold off down to the bottom of that range where the 50-day MA is situated and underpins price action with further support.
There is a possibility given the robust support zone currently below the exchange rate that it could recover and move back up towards the 1.8000 highs.
A break above the 1.8000 highs would then signal a clear upside breakout from the range, with an initial target up at resistance from the R1 monthly pivot at 1.8100.
This could therefore be a decent target for those looking to buy NZD to aim for via a limit order which would capitalise on any spike in the exchange rate.
Alternatively, the bearish looking MACD suggests the possibility of a bearish break too, and a move below the 1.7250 level would confirm a move down to a target at 1.7100, generated by extrapolating the height of the consolidation lower.
Latest Pound / New Zealand Dollar Exchange Rates
* Bank rates according to latest IMTI data.
** RationalFX dealing desk quotation.
Data to Watch for the New Zealand Dollar
The main release for the New Zealand Dollar in the week ahead is GDP data for the third quarter, which is out at 21.45 (GMT) on Wednesday, December 14.
This is followed by the Current Account Balance in the 3rd quarter, which is scheduled to be released at 21.45 on Tuesday, December 13.
And disappointments in these data readings could weigh on the antipodean currency.
The Pound: Key Events this Week
The Bank of England (BOE) interest rate meeting on Thursday, December 14 at 12.00 (GMT) is the main economic data event in the week ahead, and although no change of policy is expected the minutes, released immediately afterward could be instructive in showing members thinking on future policy.
The Pound has been supported over recent months as markets have started to discount the potential for another interest rate cut at the BoE in 2017 owing to the robust nature of UK data and steadily rising inflation.
UK inflation will be brought under the spotlight on Tuesday, December 13 when November CPI is released at 09.30.
The annualised figure is forecast to read at 1.1%, up from the previous month's 0.9%.
A beat on this figure would prove beneficial to the Pound in that it would imply the Bank of England may have to raise interest rates at some point in the future in an attempt to keep inflation settled.
However, if the figure underwhelms then Sterling could struggle.
On Wednesday, December 14 at 09.30 the ONS release unemployment data, which is forecast to show a 4.8% unemployment rate (Oct), a 5k rise in the Claimant Count (Nov) and Average Earnings Including Bonuses (Oct) rising by 2.3%.
On Thursday, December 14 at 09.30 Retail Sales in November is released and expected to come out at 0.2% month-on-month.
If these data remain robust then Sterling should be able to enjoy the fundamental support required to keep its recent recovery move in place.
Save