FSR & the NZD: Why Extent of RBNZ Aggression on Rising Property Prices Matters for the Kiwi Dollar

The New Zealand dollar will be tested this coming week when the Reserve Bank of New Zealand briefs the country on a range of monetary and economic issues with red-hot housing prices likely to take centre stage.
All eyes on the FSR - will the RBNZ introduce more measures that will allow it to cut interest rates again?
RBNZ could announce further restrictive mortgage lending conditions that apply beyond Aukland's borders
For now markets are selling the NZ dollar on the basis that further interest rates are forthcoming
The New Zealand dollar was the third-worst performing currency in the G10 forex space in the first week of May and the second week of May is likely to result in further declines.
A good deal of the NZD's weakness can be blamed on its trans-Tasman cousin, the Australian dollar.
The Aussie fell sharply as the Reserve Bank of Australia (RBA) surprised first with a rate cut and then with a downbeat monetary statement in which inflation expectations for 2016 were slashed.
Analysts are in agreement - the RBA is likely to cut interest rates again as it tends to follow the 'cockroach principle' on delivering policy changes.
With the prospect of Australian interest rates at 1.5% this year, the Reserve Bank of New Zealand will become incredibly nervous at being left stranded with a 2% base interest rate.
Australia and New Zealand have long attracted foreign currency inflows as investors seek to earn yield on higher interest rates which are underpinned by the high base interest rates set at the respective central bank.
A 2% yield at the RBNZ confirms New Zealand's attraction in this regard will only rocket, putting upward pressure on the NZD, something the RBNZ is desperate to avoid as the expensive kiwi has the effect of stifling export demand and deterring tourism.
Markets are betting that the RBNZ will have to chase the RBA and cut interest rates again, thereby undermining the attraction of the New Zealand dollar.
Such bets are justified as low inflation and an under-pressure dairy sector are also proving problematic for New Zealand and lower interest rates will certainly provide a boost.
The move lower in the NZ dollar is based on the premise that the RBNZ will cut interest rates over coming months. But…
There is One BIG Problem
The RBNZ would certainly have already cut interest rates further than it has were it not for the persistent headache that is the increasingly expensive property market.
The property market remains red-hot and presents the RBNZ with a conundrum:
It needs to keep rates low to stimulate inflation back up to the target range of 1 to 3 per cent while being wary of the impact low interest rates are having on the heated housing market.
Typically, you deal with a hot housing market by raising interest rates which in turn subdues demand for mortgages. But this would knock the economy into recession, so other measures have been sought in order to deal with the housing market.
The New Zealand government introduced a capital gains tax on investment properties bought and sold within two years while the RBNZ introducing a 30% loan-to-value restriction on borrowing.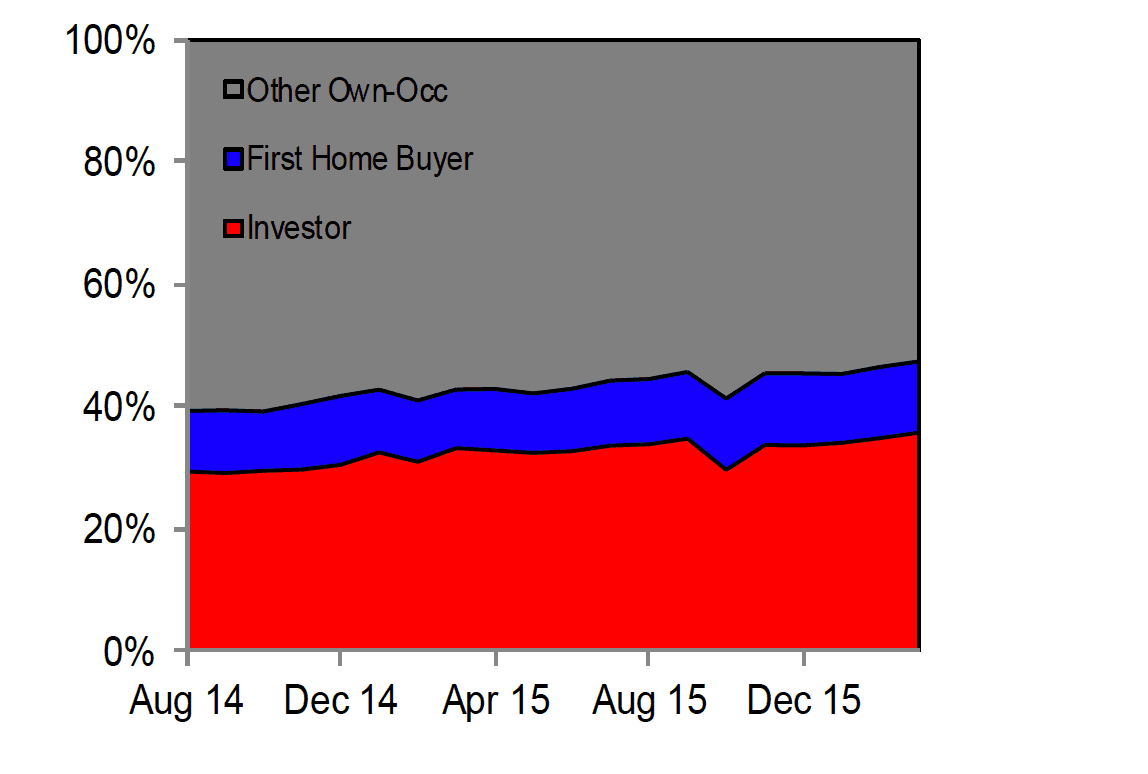 Above: Mortgage borrower by type. Source: RBNZ and ASB
"At first, the Auckland housing market appeared to slow. But, more recently, evidence points to renewed momentum in Auckland," says Nick Tuffley, Chief Economist at ASB.
Indeed, the initial dampening impact appears to have been temporary – RBNZ data shows that investor share of new lending lifted to a new high in March.
"Further tightening of Auckland-only measures will also likely have just had a temporary effect as it increases the incentives to invest elsewhere. A broadening of measures across NZ may have more of an impact," says Tuffley.
Tuffley believes that any respite in house prices, "would help counter the impact of further interest rate reductions in light of renewed tensions between financial stability and monetary policy."
Latest Pound / New Zealand Dollar Exchange Rates
* Bank rates according to latest IMTI data.
** RationalFX dealing desk quotation.
What to Watch at the FSR
So with already introduced measures failing to have the desired dampening effect the RBNZ will have its thinking cap on once more.
This week's RBNZ Financial Stability Review (FSR) will bring macro-prudential regulation back into the spotlight and give us a clue as to just how aggressive the Bank intends to be.
At the time of the November report risks had increased due to offshore volatility, weakened dairy cash flows and housing market imbalances.
Recent housing data suggest house price overvaluation related risks have increased since November.
"The RBNZ may opt to continue to watch and wait at this point as it can tweak the rules anytime, not just at a FSR. Nonetheless, renewed tensions between monetary policy and financial stability suggest the odds are growing of further tightening in Auckland investor restrictions and potentially a broadening to nationwide investor restrictions," says Tuffley.
Regional housing markets have also gained further momentum since November but these housing markets are still not considered overvalued on the basis that incomes can justify the prices.
Above: Affordability according to house prices vs income. Source: REINZ, StatsNZ and ASB.
They are therefore arguably less vulnerable to a correction than Auckland's.
However, research from CoreLogic show that some of the increase in housing market activity in the regions has been led by 'Auckland money.'
For the May FSR, ASB judge the RBNZ won't have enough data to be convinced that the Auckland market needs further action taken against it right now.
"But, there is a growing risk over coming months that the RBNZ ups the Auckland investor deposit requirement from 30%. If the RBNZ did that, we find it hard that the RBNZ could leave the rest of the country untouched," says Tuffley.
The Auckland-focussed restrictions are funnelling demand elsewhere in the country and ASB believe added restrictions in Auckland would just compound that redirected demand.
Although the RBNZ has been content to note that price-to-income ratios are contained in the regions, ASB still see the re-channeled demand as creating some new issues:
1) The outside demand risks pushing regional prices up to levels not fully justified by local economic conditions, and at risk of getting overstretched if Aucklanders' investment demand halted.
2) Some of the added borrowing for ex-Auckland purchases will be secured against Auckland properties, so leverage against Auckland home equity will still be increasing.
ANZ Research believe that the RBNZ will act on house price inflation this Thursday with an eye regional house price growth.
"We believe the chances are growing that the RBNZ will respond by implementing further macro-prudential tools," say ANZ Research in a note to clients at the head of the week, "we don't have any specific expectations, but it would be easy for the RBNZ to broaden the Auckland investor LVR restriction to apply across the country."
ANZ note the Bank also has the ability to increase risk weights on specific sectoral lending.
Other options would be restrictions to interest-only lending and debt-to-income or debt servicing restrictions.
"The key is whether the RBNZ will announce new macroprudential measures to help alleviate this pressure and any announcement of such measures would be seen as opening the door wider to rate cuts since it could help offset the stimulative impact on the housing market of lower borrowing rates and reduce concerns that RBNZ policy might feed financial stability," say Citigroup in a foreign exchange briefing ahead of the event.
Currency Outcomes
Those with an interest in the New Zealand dollar's outlook therefore have a great chance to gauge whether the RBNZ is about to lay down new conditions that will allow it to cap house price growth.
If deemed aggressive enough expect the NZ dollar to fall as markets will start betting that a number of interest rate cuts lie ahead once the prime objective is achieved.
This could in turn open a path to a weaker exchange rate over coming weeks and months.