New Zealand Dollar Outperforms, RBNZ's Orr says "No Concern" With Exchange Rate
- NZD a relative outperformer after RBNZ's Orr plays it cool on currency.
- Reiterates threat of unconventional measures but says little about NZD.
- RBNZ risks fostering perception of indifference to NZD and FX strength.
Above: RBNZ Governor Adrian Orr. File Image © Pound Sterling, Still Courtesy of RBNZ
GBP/NZD spot rate at time of writing: 1.9838
Bank transfer rate (indicative guide): 1.9138-1.9277
FX specialist providers (indicative guide): 1.9535-1.9654
More information on FX specialist rates here
The New Zealand Dollar outperformed on Wednesday after Reserve Bank of New Zealand (RBNZ) Governor Adrian Orr was interpreted as having given investors a green light to bid the Kiwi currency higher.
Orr set out in an address to an audience at Victoria University Wellington School of Management how the RBNZ is using a range of tools to achieve familiar policy objectives in unprecedented circumstances, however there was no attempt to 'jawbone' the NZ Dollar lower.
"NZD gained support on-the-day with RBNZ Governor Orr expressing no concern with the level of the currency," says Bipan Rai, North America Head of FX Strategy at CIBC Capital Markets.
He reiterated a now well understood warning that the bank is actively preparing a package of unconventional policy measures to support the economic recovery "in the near future" including a negative cash rate and foriegn asset purchases that would see large amounts of Kiwi Dollars sold on the market.
But most notable for investors was the Governor's reported remarks on the New Zealand Dollar, which is widely thought to have been a key motivator of the RBNZ's increasingly 'dovish' policy bent.
The official transcription of the speech doesn't contain any reference to the currency although analysts listening overnight have quoted the Governor as having said "there is 'no concern with the exchange rate," among other things.
Such a remark is contrary to popular perceptions, not least of all because the Bank has commented several times on what are now double digit increases in New Zealand exchange rates, which have endangered the RBNZ's inflation target and risk weighing on the export side of the economy.
Despite no overt attach on the Kiwi, the RBNZ looks set to maintain a broader monetary policy stance that is unsupportive of sustained gains for the local unit.
The Bank increased its quantitative easing allowance from NZ$60bn to NZ$100bn in August amid a tightening coronavirus related restrictions, but it'd already telegraphed that such a move was likely before restrictions were reimposed and has since made clear that it doesn't intend to stop there.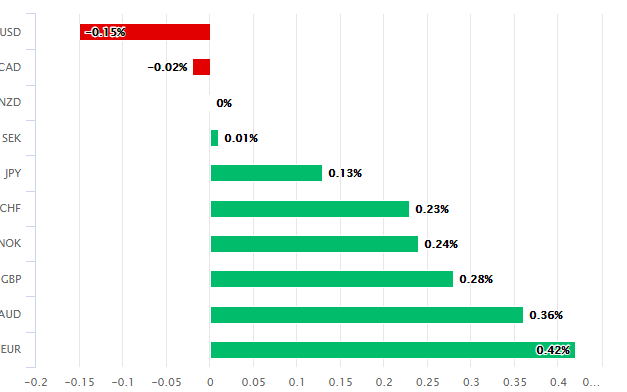 Above: New Zealand Dollar performance against major currencies on Wednesday. Source: Pound Sterling Live.
"The dovishness of the RBNZ and Governor Orr is well known and hence the indifference to NZD has been taken as a green light to keep buying," says Derek Halpenny, head of research, global markets EMEA and international securities at MUFG. "NZD is in fact pretty close to fair-value. That suggests to us, the RBNZ will steer clear for now of any attempt to directly influence FX. Of course NZD appreciation is disinflationary, just like with EUR above, and continued appreciation will bring forward the time for further RBNZ easing. However, the indifference to Orr's speech today points to further near-term gains before policy expectations play a role in curtailing strength."
Above: Pound-to-New Zealand Dollar rate at hourly intervals alongside NZD/USD (black line, left axis)
NZD/USD has risen 24% from its trough in March while other Kiwi exchange rates have also risen too, although the New Zealand Dollar has gained nearly four percent on the greenback in the last week after the Federal Reserve (Fed) made clear it intends to continue crushing 'real' U.S. bond yields for years yet, wounding the Dollar in the process.
The GBP/NZD exchange rate meanwhile fell a further 0.20% mid-week to reach 1.9740, having been at 2.02 as recently as August 21. (If you would like to lock in current exchange rates for future use, thereby protecting your budget, please learn more here).
"For someone who is seen as actively trying to weaken the currency, the last statement was very confusing and has done nothing for NZD bears. While I don't actually believe that Orr is unconcerned by a stronger currency, shorts will likely be a little more nervous this morning and a break of 0.6800/10 will see more positions reduced," says the J.P. Morgan dealing desk in London.
The Kiwi is attractive to yield hungry investors because it offers something like the liquidity of a major currency but yields that are typically higher than those in other major advanced economies, although perceived RBNZ hostility to rising exchange rates has thus far acted as a break on the Kiwi currency.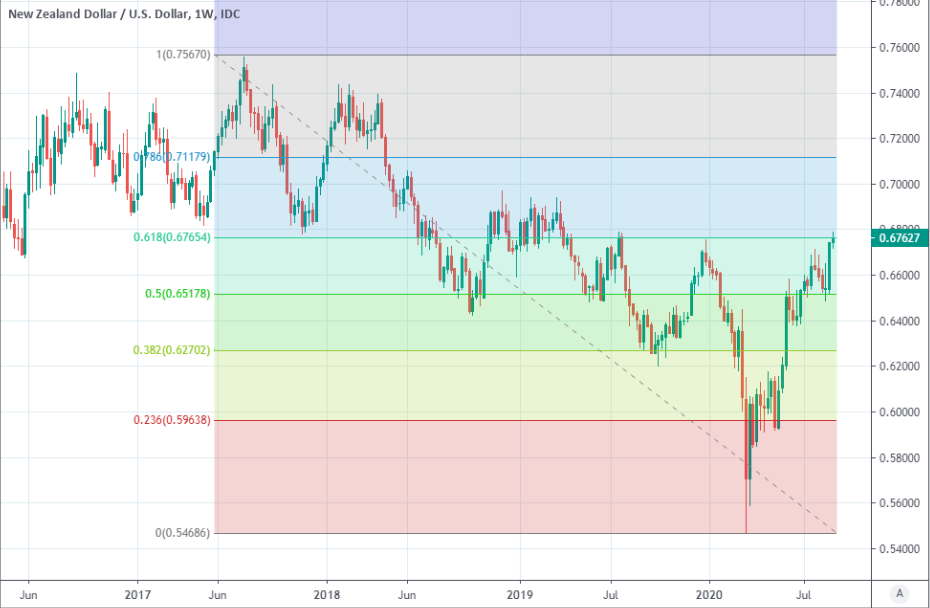 Above: NZD/USD rate shown at weekly intervals with Fibonacci retracements on July 2017 downtrend.
"July and Augusthave produced diminishing gains. This is likely the result of material resistance at 0.6756/91," says David Coloretti, a technical analyst at The Markets Academy. "We await a weekly close above 0.6756 to confirm a much clearer positive [medium-term] outlook for NZD/USD."
Now the RBNZ risks fostering perceptions of indifference to rising exchange rates, which could then become a self-fulfilling prophecy that puts further wind in the sails of the Kiwi.
Wednesday's remarks have already helped to push the Pound-to-New Zealand Dollar rate back from its highest levels since May.
"It's less about 'FX policy' or directly addressing the level of the NZD and more about collective policy settings that will ease financial conditions while also undermining NZD strength," says David Croy, a strategist at ANZ. "NZD/GBP is struggling a bit too. Having broken the downtrend in fairly spectacular fashion it has simply failed to maintain any momentum."
The Pound-to-New Zealand Dollar rate rose from around 1.90 to trade above 2.0 over the course of August as RBNZ dovishness constrained the Kiwi while Pound Sterling caught up with the rest of the major currency class after having underperformed previously.
Above: Pound-to-New Zealand Dollar rate shown at daily intervals with Fibonacci retracements of 2020 downtrend.
"Sterling remains very weak in real effective terms which means it can only go down 't go down with the help of big short positions, that result in the kind of squeeze we're seeing. But if negative GBP (Brexit) news can't be felt in the currency, it will have to be felt either in a steeper gilt curve or in a weaker equity market instead," says Kit Juckes, chief FX strategist at Societe Generale.
With Reserve Bank of New Zealand policy to one side, what matters most for the Pound-to-Kiwi rate going forward is how soon, if at all, the Brexit trade talks fall apart. Pound Sterling has mostly ignored adverse Brexit news since early July but as the end of the transition period draws closer at year-end, the British currency might not remain so sanguince if progress in the talks remain lacking.
For Kiwi exchange rates more broadly, the market's bearish outlook for the U.S. Dollar has been a boon but with the greenback at more-than two-year lows and the November presidential election fast approaching, a corrective rebound could be lurking on the path ahead. The U.S. Dollar tends to strengthen in the eight weeks ahead of an election although the trajectory of stock markets will also be key given the inverse correlation between the greenback and S&P 500.
"The currency market is now universally short the USD. Our short-term valuation tools maintain a steady USD discount, highlighting the now one-sided nature of the trade. A Trump bump in the polls is the most direct avenue of a washout, though again, that offers acceptable levels to resell the USD. For now, the trend is your friend," says Mark McCormick, head of FX strategy at TD Securities.
---
Achieve 3-5% More Currency: The Global Reach Best Exchange Rate Guarantee maximises your currency purchasing power. Find out more.
Invest in Spanish Property. A selection of discounted properties due to the covid-19 crisis, online viewings and transactions possible. Download the Guide
Invest in Portuguese Property. A selection of discounted properties, online viewings and transactions possible. Download the Guide
Featured Content
Mortgage Direct - a Spanish mortgage broker specialising in the provision of mortgages for expats - have confirmed they have secured their Spanish license.