Rupee Advances after Pakistan Pledges Release of Indian Pilot, Further Recovery to Come says TD Securities
© Adobe Stock
- INR recovers lost ground after Pakistan says will release captured pilot.
- TD says INR volatility to increase with tensions as election draws closer.
- But INR to recover as investment returns after 2019's general election.
The Rupee advanced against the Pound and U.S. Dollar Thursday after Prime Minister Imran Khan said Pakistan will release an Indian pilot shot down earlier this week, although analysts at TD Securities say the currency will rise even further in the coming months.
The Associated Press reported Thursday that India's captured pilot will be released on Friday as a peace gesture aimed at de-escalating tensions between the two nuclear armed nations, which follows two separate skirmishes between militaries of both countries earlier this week.
There is only one pilot under Pakistan Army's custody. Wing Comd Abhi Nandan is being treated as per norms of military ethics. pic.twitter.com/8IQ5BPhLj2

— Maj Gen Asif Ghafoor (@OfficialDGISPR) February 27, 2019
The annoncement was made during an address by Khan to both houses of Pakistan's parliament, although there is yet to be an official Indian response. Tensions between the two countries have escalated following an insurgent attack on Indian police forces on February 14.
"The announcement by Pakistani Prime Minister Imran Khan that he will release the Indian pilot shot down over Kashmir on Wednesday should help to ease tensions between the two countries, and remove one of the key tail risks facing the economy," says Shilan Shah, an economist at Capital Economics.
India's government said Wednesday its armed forces had shot down one Pakistani military aircraft overnight in an effort to foil an attack on an Indian military installation, although it also admitted to having lost one of its own aircraft in the process. Pakistan claimed to have shot down two Indian aircraft.
The skirmish came barely 24 hours after the government admitted to having attacked a suspected terrorist training camp across the border in Pakistan, in what it said was a retaliation for the attack that claimed the lives of 44 Indian police officers a fortnight ago.
India says the attack was carried out by the Jaish-e-Mohammad (JeM) group, a UN-proscribed terror organisation that Pakistan is allegedly harbouring on its territory. The air raid targeted what India said was a JeM training facility, though Pakistan claims the bombs landed in uninhabited woodland.
India and Pakistan exchanged gunfire through the night into Thursday morning in the disputed Himalayan region of Kashmir — a day after Islamabad said it shot down two Indian warplanes and captured a pilot https://t.co/HhQcA1a7wk

— POLITICO (@politico) February 28, 2019
"The tensions do not come at a good time for Indian assets. The INR was already the worst performing Asian currency prior to the terrorist attack on February 14 and its performance has worsened since then," says Mitul Kotecha, an emerging market strategist at TD Securities. "During past frictions between the two countries, INR generally weakens while FX volatility rises."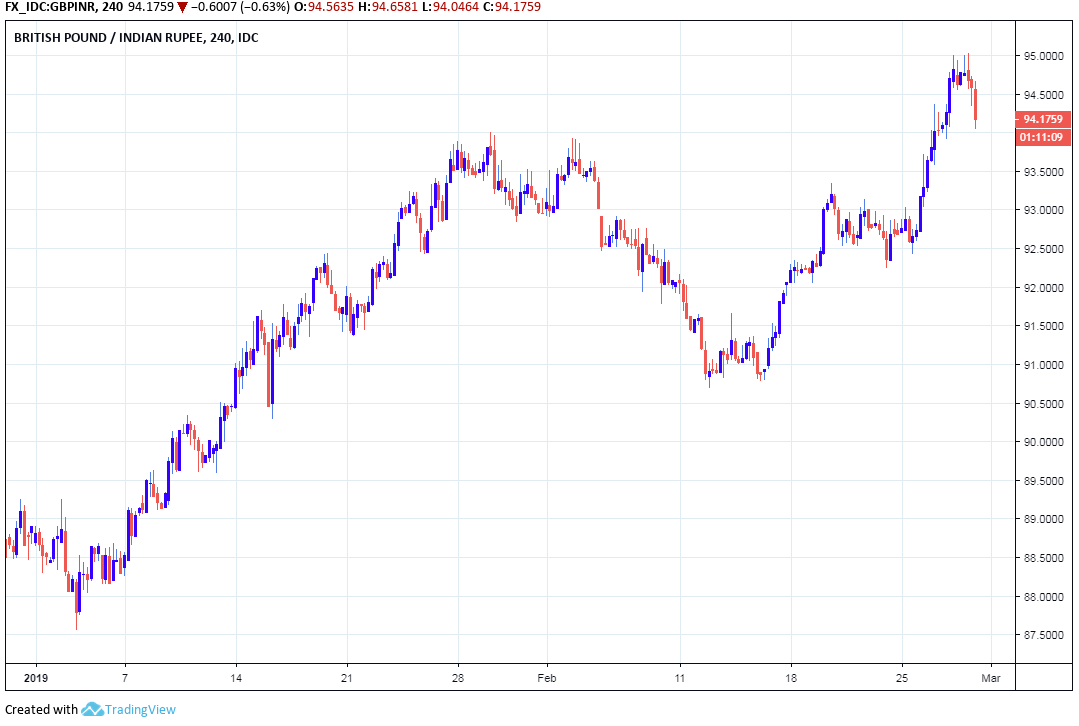 Above: Pound-to-Indian-Rupee rate shown at daily intervals.
The Pound-to-Rupee rate was quoted -0.65% lower at 94.16 Thursday and is now up 6.65% for 2019, while the USD/INR rate was -0.50% lower at 70.83 but has risen 1.8% this year.
Indians will go back to the polls at some point in April or May to choose the next government and given the long history of insurgent attrocities to have emanated from Pakistan, being seen as tough on India's smaller neighbour could easily be viewed as a vote winner by Prime Minister Narendra Modi ahead of the ballot.
This creates scope for a steady deterioration of relations between the two over the coming months, as well as for continued military skirmishes. And the outlook for the Indian Rupee was already challenging enough even before the latest geopolitical developments.
"Prime Minister Modi faces elections by May 2019 and is already in a more difficult position following the poor performance of his BJP party in state elections towards the end of last year. Modi was lauded for previous tough actions against Pakistan and his government has been under pressure to show a similarly strong reaction, which in turn could help shore up support ahead of elections," Kotecha says.
Tensions between India and Pakistan are increasing during what Kotecha says is a "bad time for Indian assets amid portfolio outlows". India has fallen from favour with investors over recent months, leading to capital outflows, given a multitude of adverse international and domestic factors.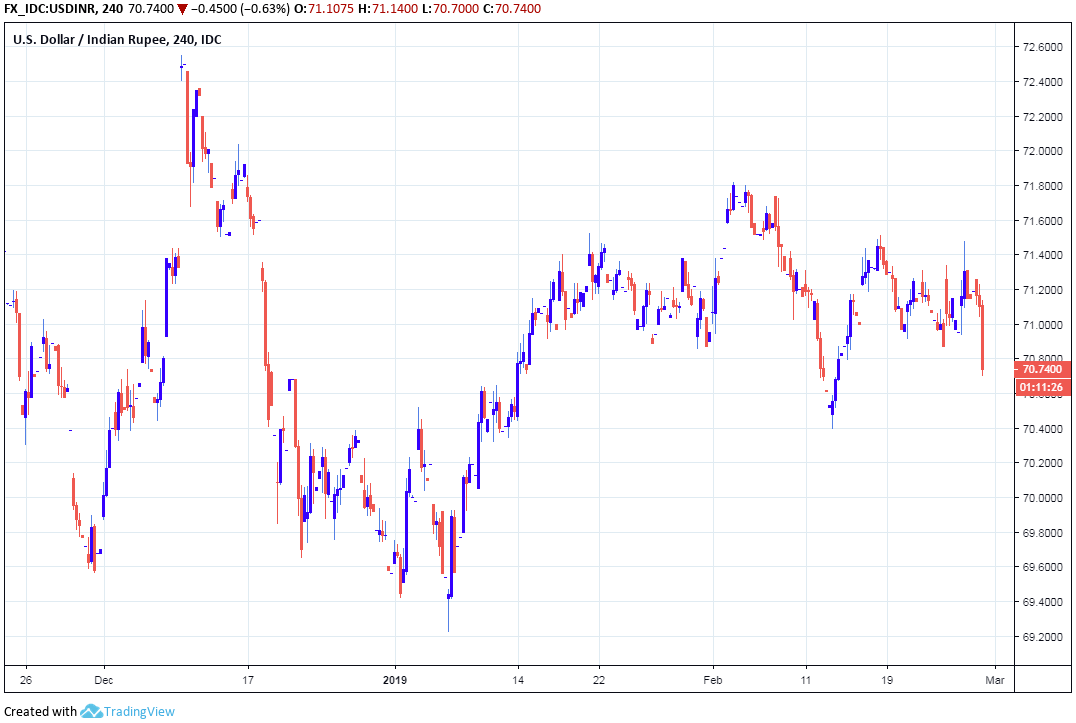 Above: USD/INR rate shown at daily intervals.
Federal Reserve interest rate policy sucked capital out of the emerging world last year, although India suffered disproportionately due to a concurrent increase in oil prices that widened the trade and current account deficits.
Government fiscal policy and its interference in the affairs of the Reserve Bank of India (RBI) were also at play too. As a result the Pound has risen by 6% against the Rupee in 2019, while the Dollar has gained nearly 9% over the Indian currency in the last 12 months.
"Concerns about upcoming elections have led to weakness in foreign bond and equity inflows," Kotecha writes, in a note to clients. "The near-term outlook for inflows does not look positive especially given the escalation of tensions. Even if tensions ease, political worries will remain but if the conflict is seen as boosting PM Modi's chances of a strong victory, inflows could resume."
This year's looming general election is seen as one factor behind why the government is spending more on subsidies and welfare, as well as explaining its interference in RBI policy. The RBI's efforts to contain inflation and clean up bad loans in the banking sector were making life more difficult for some Indian companies and households.
However, TD's Kotecha says all of this weakness is unlikely to last and that the Indian Rupee can recover some of its 2019 losses toward the end of the second quarter, once the general election is out of the way.
"Once there is some clarity around elections and if there are stronger indications that Modi will return as Prime Minister, we expect Indian markets to rally. We expect inflows to India's bonds and equities to resume, helped by India's resilience to the global slowdown, low inflation and prospects for further RBI easing. We think the INR will similarly rally into Q2 reversing its underperformance," the strategist writes, on Thursday.
Time to move your money? Get 3-5% more currency than your bank would offer by using the services of foreign exchange specialists at RationalFX. A specialist broker can deliver you an exchange rate closer to the real market rate, thereby saving you substantial quantities of currency. Find out more here.

* Advertisement