Construction PMI Beats, Provides Temporary Support for the Pound
- British Pound rises at start of week, after latest UK construction PMI.
- UK Construction PMI holds at 52.5 in May as recovery continues.
- Data suggests UK economic growth may have rebounded in Q2 2018.
© aallm, Adobe Stock
Pound Sterling was seen to be supported at the start of the new week as markets rediscovered their appetite for risk and traders responded to a better than expected May IHS Markit construction PMI, which showed one of the UK's largest economic sectors continuing to recover from its first-quarter slump during the recent month.
Monday's construction PMI came in at 52.5, unchanged from the month of April, when economists had been looking for it to decline back to the 52 level.
This came as activity in the commercial construction segment reached a three-month high while the residential and civil engineering segments saw a moderation in activity.
However, and on the downside, new order books contracted for the fourth time in five months suggesting recent gains in the activity index may not be sustained for much longer.
"Some firms suggested that unusually good weather conditions had supported activity and enabled them to continue catching up after prior months' weatherrelated disruptions," IHS Markit says.
The construction PMI measures changes in industry activity by asking respondents to rate conditions for employment, production, new orders, prices, deliveries and inventories. A number above the 50.0 level indicates industry expansion while a number below is consistent with contraction.
"Housebuilding remains the only sub-sector with any real upward momentum, though the housing PMI fell to 55.7, from 57.4 in April. The Help to Buy Scheme will continue to incentive new home purchases, even though overall housing market demand will remain depressed by rising mortgage rates," says Samuel Tombs, chief UK economist at Pantheon Macroeconomics.
The data comes on the back of better-than-forecast manufacturing PMI numbers out ahead of the weekend, put together they suggest the economy is improving and this is in turn feeding back into Sterling which has suffered over recent weeks owing to underwhelming data releases.
Above: Pound-to-Dollar rate at hourly intervals, showing Sterling continues to recover.
The Pound was quoted 0.34% higher at 1.3369 against the US Dollar ahead of the release while the Pound-to-Euro exchange rate was 0.26% lower at 1.1413 amidst a broad-based recovery by the single-currency.
Sterling was also quoted higher against the Japanese Yen, Swiss Franc and Canadian Dollar.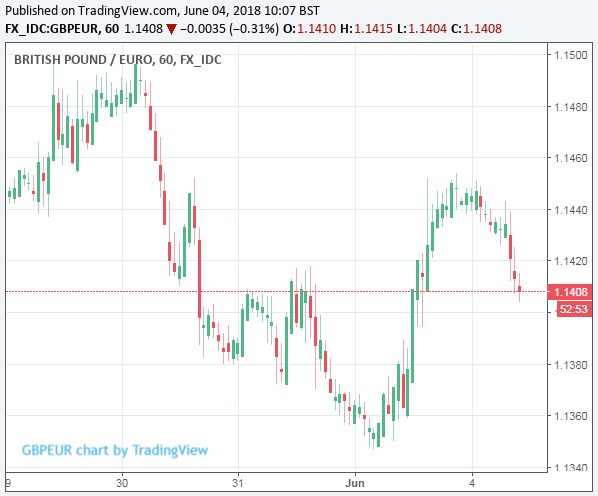 Above: Pound-to-Euro rate shown at hourly intervals.
The data comes following a week that saw fears over the stability of the Eurozone and of a so called trade war become resurgent, which had originally supported the Dollar but later saw it forced onto the back foot.
Monday's data is important for the Pound because, although only the UK's third largest economic sector, an ongoing recession in the construction industry saw it subtract an estimated 0.21% from the rate of UK GDP growth during the first quarter so economists were looking to the PMI for an early steer on the condition of the economy this quarter.
"The long investment time horizons for both commercial and civil engineering projects mean that both sectors likely will remain depressed until some clarity emerges over the U.K.'s long-term relationship with the EU," says Tombs.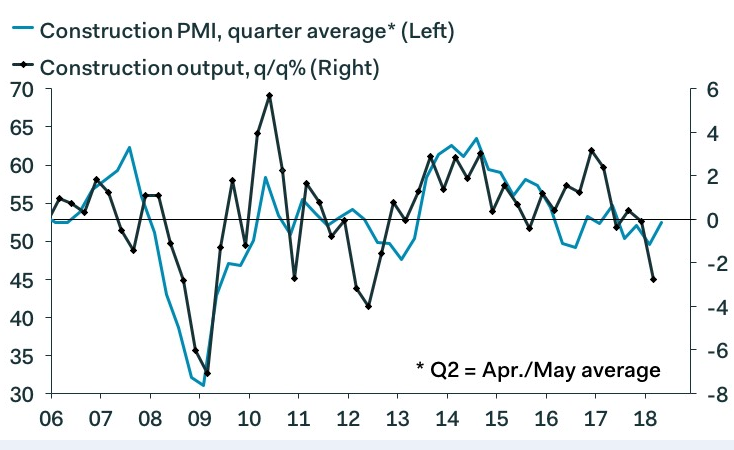 Above: Pantheon Macroeconomics graph showing UK construction activity.
The construction industry recession, brought about by a slowdown in new commercial construction work and the London housing market, was a big factor behind why overall UK economic growth slowed from 0.4% to just 0.1% during the first three months of the year.
A recovery in growth will be key to rejuvinatig inflation and interest rate expectations during the months ahead however, Pantheon's Tombs says that with public sector investment budgeted by government to fall more than 5% during 2018 the construction sector will see lower output in 2018 and will pose as a further headwind to broader economic growth.
Pricing in interest rate derivatives markets, which enable investors to protect themselves against changes in interest rates and also provide insight into expectations for monetary policy, implies there is now less than a 20% probability of a UK interest rate rise in August.
This is a deterioration from the situation that existed at the beginning of April, when the implied probability of a rate hike having been announced by the August 02 Bank of England (BoE) meeting was more than 80%. And it's also what drove Pound Sterling to reverse what was previously a 4% 2018 gain over the Dollar and take up a 0.93% year-to-date loss.
After all, inflation fell faster than was expected during recent months, pushing the consumer price index down to 2.5% when the BoE had forecast it would be 2.8% around this time.
This, combined with the economic slowdown, has driven markets to abandon expectations for an interest rate rise any time soon. A recovery of economic growth to more normal levels is the minimum needed if markets are to become more optimistic about UK interest rates.
Advertisement




Get up to 5% more foreign exchange by using a specialist provider to get closer to the real market rate and avoid the gaping spreads charged by your bank when providing currency. Learn more

here