Pound Sterling Rises after UK Manufacturing PMI Posts Surprise Upturn for May, but Sharp Slowdown for Sector Beckons
- UK manufacturing PMI posts surprise increase in May, rising to 54.4.
- Rising output, inventory-building and backlog rundown drive increase.
- GBP advances against G10's but but "trade war" fears temper gains.
© freepeoplea, Adobe Stock
Pound Sterling advanced against its developed world rivals during morning trading Friday as markets responded to surprise increase in the IHS Markit manufacturing PMI, which came after production at the UK's manufacturers rose faster than was expected during the recent month.
The IHS Markit manufacturing PMI rose to 54.4 for the month of May, up from 53.9 previously, when economists had forecast it would fall to 53.5. The manufacturing PMI measures changes in industry activity by asking respondents to rate conditions for employment, production, new orders, prices, deliveries and inventories. A number above the 50.0 level indicates industry expansion while a number below is consistent with contraction.
"Growth of incoming new business remained solid in May, but the pace of expansion eased to an 11- month low. The slower trend reflected a softer increase in new work from the domestic market, as inflows of new business from overseas strengthened slightly. Companies reported growth of new work from mainland Europe, North America, China, India, South America and Africa," says IHS Markit.
"May's Markit/CIPS manufacturing survey suggest that the industrial sector is still growing at a decent pace. Indeed, the survey was upbeat with most of the key balances improving," says Ruth Gregory, an economist at Capital Economics. "What's more, solid global demand and Sterling's fall still seems to be providing strong support for manufacturers, with the new export order balance picking back up from 53.4 to 54.2."
However, the survey compiler says this increase in production led to the steepest build-up of finished goods inventories in the 26-year survey history and a sharp reduction in backlogs of new work.
Economists have interpreted this as a warning that the sector is facing a sharp slowdown in coming months, and this could well be putting a cap on any enthusiasm for Sterling.
"This growth, however, relied upon firms building up their stocks of finished goods at the fastest rate in the survey's 26-year history. In addition, work backlogs fell at the fastest rate since August 2016, while new orders increased at the slowest rate since June 2017. Growth in manufacturing output, then, likely will slow over the coming months," says Samuel Tombs, chief UK economist at Pantheon Macroeconomics.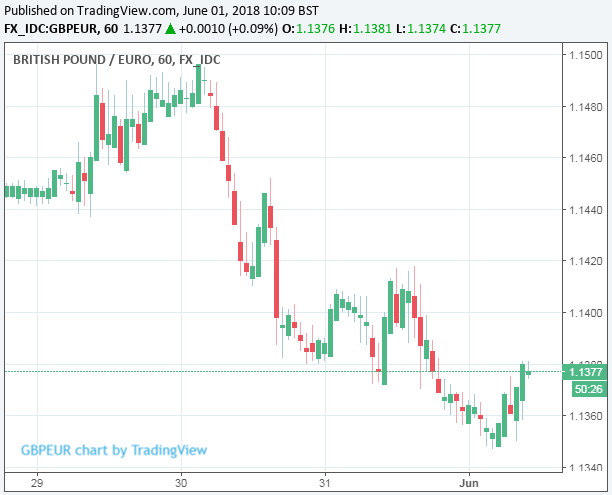 Above: Pound-to-Euro rate shown at hourly intervals.
Sterling was quoted at 1.3303 against the Dollar after the release, having been as low as 1.3255 earlier in the day, the Pound-to-Euro exchange rate was at 1.1373 having been as low as 1.1347 earlier in the day.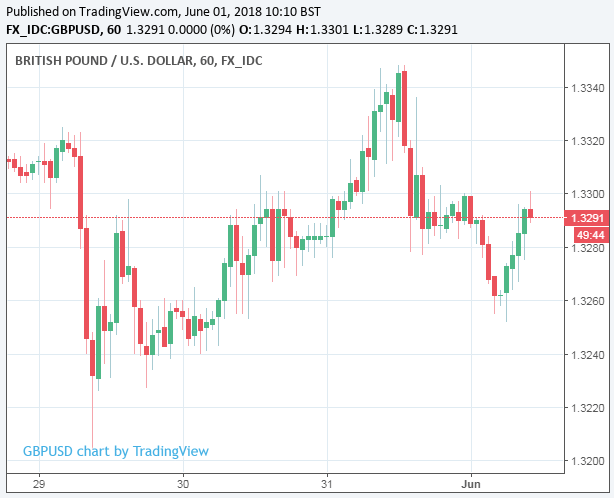 Above: Pound-to-Dollar rate shown at hourly intervals.
Manufacturing has been a relative bright spot in the UK economy ever since the Brexit vote of June 2016. The double digit fall in the Pound has made British goods cheaper for overseas customers to buy while a robust domestic economy has also fuelled demand. This saw industrial firms experience eight consecutive quarters of output growth in the period to the end of 2017, marking the longest expansion for the sector since 1988, although momentum has waned recently.
"Admittedly, it was not all good news. The input prices balance surged, from 62.5 to 65.7, thanks to the recent rise in oil prices. This will clearly put more pressure on firms to raise their output prices which could dampen demand for manufacturing goods ahead," the economist adds.
Gregory at Capital Economics says Friday's rise in the manufacturing index places the sector on track for growth of around 1% in the second quarter, which could adds as much as 0.1% to UK gross domestic product (GDP) during the period. But other economists are flagging the potential for a manufacturing slowdown during the months ahead.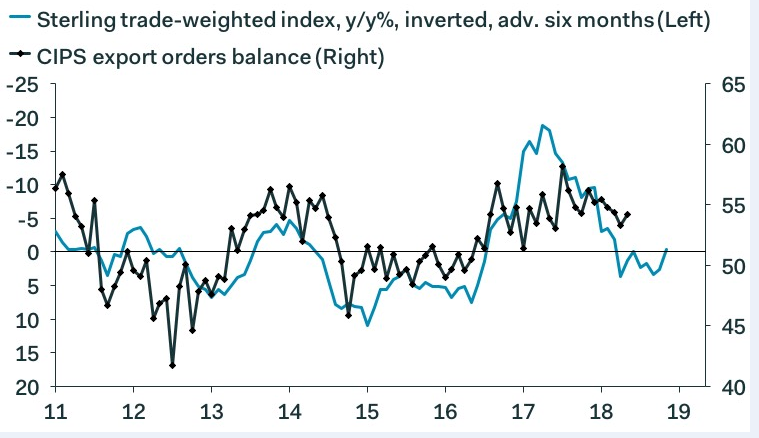 Above: Pantheon Macroeconomics graph showing new work order correlation with GBP.
Friday's data comes mid-way through the second quarter which, it is hoped will bring a rebound in UK economic growth. This is after GDP growth slowed from 0.4% in the final quarter of 2017 to just 0.1% during the first-quarter as poor weather during the February and March period hit both retail sales and construction activity.
Expectations of a rebound have been fuelled by a sustained decline in UK inflation during 2018. The consumer price index fell to 2.5% in March and is down from a peak of 3.1% in November 2017, although it had previously crimped "real GDP" growth, which is economic growth after the rate of inflation is taken into account.
IHS Markit surveys of the construction and services industries, due Monday and Tuesday next week, will provide important insight into the outlook for the economy this quarter. The data also comes amid escalating fears over a so called trade war, which may, if prolonged, pose as a further headwind to growth during the coming quarters.
Advertisement




Get up to 5% more foreign exchange by using a specialist provider to get closer to the real market rate and avoid the gaping spreads charged by your bank when providing currency. Learn more

here