British Pound, Euro and US Dollar: Consensus Forecasts at the Start of June
© kasto, Adobe Stock
Where are the Pound, Euro and US Dollar headed over coming months? At the start of June we look at the numbers gathered from the polling of some the world's major financial institutions for an insight on where consensus expectations lie.
The Euro and Pound Sterling continue to track each other, leading to a choppy sideways action in the exchange rate, and it appears that more of the same might just be on the cards if the forecast targets for the Pound-to-Euro exchange rate are anything to go by.
The Dollar on the other hand is hands-down an out-performer and near-term forecasts covering the next three months suggest the currency should retain a robust nature.
However, looking further ahead and looking at the twelve month profile, the Dollar is seen giving back its recent gains, so it is certainly a case of gains for now, losses down the road.
The below consensus forecasts come courtesy of a research paper published by Swiss bank Julius Baer on May 31.
Euro vs. Dollar
Consensus for September 2018 is at 1.22 and for June 2019 it is at 1.24.
We would imagine that given the recent sell-off in the Euro that has taken it towards 1.15 once more we will see consensus forecasts lowered. Indeed, we have seen a number of research notes hit our deck detailing such moves and would expect this to increase around the turn of the month.
"While the probability of an Italian exit from the eurozone is still low, the political events have created large uncertainty producing a sharp sentiment swing from euphoria to pessimism," says David Kohl, a foreign exchange strategist with Julius Baer in Frankfurt.
Julius Baer forecast EUR/USD at 1.10 in September and 1.23 in June 2019.
"Recent develops thus give us reason to extend our bearish EUR/USD view," says Jane Foley, foreign exchange strategist with Rabobank. "With market attention firmly back on political risk in Italy and also Spain, given the forthcoming vote of no confidence in PM Rajoy, the outlook for the EUR has clearly soured."
Rabobank have revised down their 12 month EUR/USD forecast to 1.12 from 1.15.
Euro vs. Pound Sterling
The consensus forecast for September 2018 and June 2019 is at 0.88.
Note that should forecasts for EUR/USD be lowered then we would expect corresponding forecasts for EUR/GBP to be lowered, provided the given institutions maintain their GBP/USD forecasts.
Pound Sterling vs. Euro
Flipping the above number, we get a forecast for 1.1364.
"We hold a neutral GBP stance as the upside of an eventual rate hike will be limited and the downside of Brexit's full impact (loss of EU single-market passport) will unfold beyond our 12-month forecast," says David A. Meier, at Julius Baer in Zurich.
Pound Sterling vs. Dollar
Consensus forecasts place the GBP/USD exchange rate at 1.38 by September 2018 and 1.41 in June 2019.
Above: The Pound is undervalued according to various data points.
"Ill-timed expansionary fiscal policy is a longer-term headwind for the currency as the global USD supply will rise via a larger budget and external deficit," says Julius Baer's Kohl. "The USD remains fundamentally overvalued, a headwind for the longer-term outlook."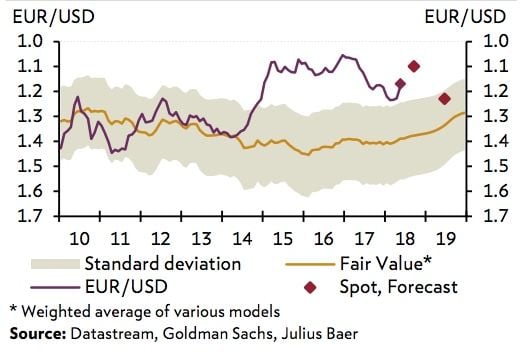 Above: The Dollar is overvalued according to various data points.
"We still expect the Dollar to weaken against the Euro and Sterling during our forecast period, as monetary policy and 10-year government bond yields in the US and Europe eventually re-converge," says John Higgins, an economist with independent economics consultancy Capital Economics looking at the twelve month picture.
Advertisement


Get up to 5% more foreign exchange by using a specialist provider to get closer to the real market rate and avoid the gaping spreads charged by your bank when providing currency. Learn more here.