Pound Sterling Slips after ONS Confirms First-quarter Slowdown but Economists say UK Poised for Q2 Rebound
- UK first-quarter GDP slowed to 0.1%, down from 0.4%, says ONS.
- Weak construction sector and lower business investment to blame.
- But economists say worst is in the past, UK now poised for Q2 rebound.
© IRStone, Adobe Stock
The Pound weakened during early trading Friday as markets responded to the second estimate of first-quarter GDP growth for the U.K, which appeared to confirm the economy slowed markedly during the first three months of the year.
Markets were apparently erring on the side of a potential positive revision in the data.
UK GDP growth was just 0.1% during the period, according to what was the second of three estimates by the Office for National Statistics, which is down from the 0.4% growth seen in the final quarter of 2017 and has pushed the annual growth rate to just 1.2%.
Much of the drag on growth came from a 2.7% fall in construction sector output and a 0.2% decline in business investment during the period. Equally, much the positive contribution to growth came from a still-meagre 0.2% increase in household spending and an increase in services sector output of around 0.3%.
"Quarterly growth in household spending, of 0.2%, was the weakest since Q4 2014. But at least the fact that household spending picked up was something of a relief after the 0.4% fall in retail sales seen in Q1 – non-retail spending must have risen strongly. And since a large part of the weakness probably reflects the severe weather around the start of March, it should prove transitory," says Ruth Gregory, an economist at Capital Economics.
Further on the downside, GDP per head actually fell during the first quarter, which points to another downward move in the economic productivity. The Office for National Statistics attributes the latest slide to the population having grown faster than the rate of overall GDP growth.
Second estimate of UK GDP brings some reassurance that households' spending can improve on Q1's modest growth in Q2: employees' nominal compensation jumped in Q1 by most since Q2 2016 pic.twitter.com/hCFWZ9dmLd

— Samuel Tombs (@samueltombs) 25 May 2018
"We still think that the figures are under-estimating the true strength of the economy and will be revised up in time. Note that the MPC thinks that quarterly GDP growth was more like 0.3%. Meanwhile, we doubt that it will take too much to convince those MPC members – who are waiting for confirmation that the slow patch will prove transitory – to switch from the no-change to the rate-hike camp," Gregory adds.
Above: Pound-to-Dollar rate shown at hourly intervals.
The Pound was quoted 0.12% lower at 1.3362 against the US Dollar a short time after the release while the Pound-to-Euro rate was 0.16% lower at 1.1398. Sterling was down against all developed world currencies during early trading Friday barring the Japanese Yen, against which it scored a meagre 0.08% gain.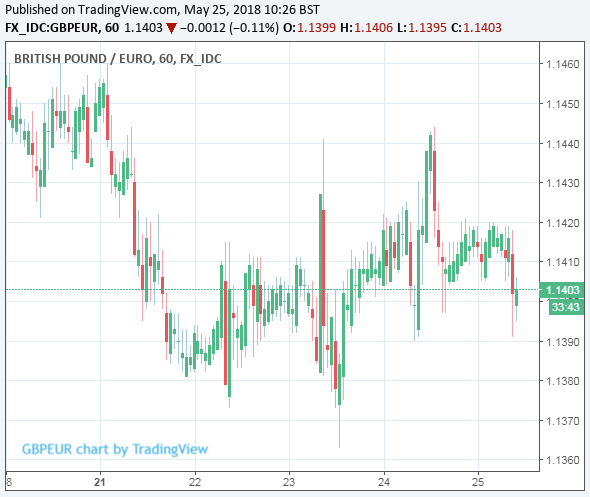 Above: Pound-to-Euro rate shown at hourly intervals.
Friday's data confirms a broad-based slowdown in the UK economy during the first quarter of the year, which is not out of sync with events seen elsewhere in the developed world, given even the stimulus-supported US expansion moderated and German GDP growth halved to 0.3% during the period.
Nonetheless, signs of the slowdown had been building for a while before the GDP data first emerged and, combined with a steeper than expected curtailment of UK inflation during recent months, were enough to persuade the Bank of England not to raise its interest rate again at its latest monetary policy meeting earlier in May.
"There have already been promising signs that the consumer spending growth has regained some pace in April. If the firmer tone of the activity data continues, then we still think that a rate hike in August is more likely than not," Capital Economics Gregory adds.
Reviving market expectations for a rate rise at the Bank of England are crucial if Pound Sterling is to recover ground lost during recent months any time in the near future.
Since the middle of March, when UK domestic inflation was first revealed to be in retreat, markets have gone from betting the BoE would raise rates at least twice in 2018 to betting the central bank sits on its hands until the first quarter of 2019.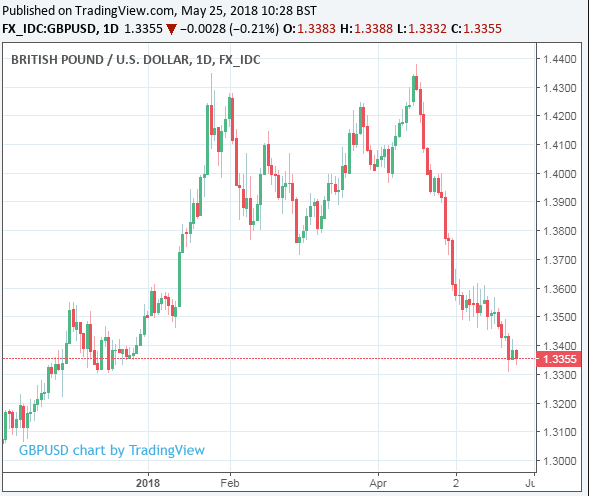 Above: Pound-to-Dollar rate shown at daily intervals.
This has helped drive Pound Sterling to around a 6% loss against the US Dollar and seen the UK currency locked into a and restrained range against the Euro, despite renewed political risk having dragged the Euro lower against many of its other developed world rivals.
Above: Pound-to-Euro rate shown at daily intervals.
"Spending has scope to rebound, though, in Q2, because the compensation of employees jumped by 1.6% quarter-on-quarter—the biggest rise since Q2 2016—greatly exceeding the 0.7% increase in nominal spending. As a result, the saving rate likely rose to its highest level since Q3 2016, leaving households' financial position looking less precarious than before," says Samuel Tombs, chief UK economist at Pantheon Macroeconomics.
As noted by Capital Economics' Gregory and Pantheon's Tombs, there could now be some hope on the horizon for Pound Sterling. Not only have household incomes continued to trend higher in the first quarter, but there have also been more recent signs of renewed life on British high streets.
This is after the ONS said Thursday that UK retail sales rose by 1.6% during April, a faster pace of growth than the 0.8% expected by economists, which puts the economy on the front foot when it comes to second quarter retail and GDP numbers.
Moreover, with consumer price inflation now firmly in retreat from the peaks seen in late 2017, expectations are that consumer spending could be supported by a return to "real income" growth for British households during the months ahead.
Advertisement




Get up to 5% more foreign exchange by using a specialist provider to get closer to the real market rate and avoid the gaping spreads charged by your bank when providing currency. Learn more

here